March 28, 2020 at 3:04 PM
There were huge differences in people's lives after both World War I and II in the world. Those world wars affected all circles of life including social lives, people's behaviour, crisis management, economic measures and polices.
The post-war era also changed collaborations among countries, with enemies becoming friends and working together becoming the new norm. By the end of 2019, the world had become a global village with nearly all countries coordinating, doing business and connecting to each other in one way or another. However, 2020 has not begun well due to the epidemic of the corona virus in Wuhan (China) that would later become a global pandemic.
At the time of writing this article, about 500,000 people around the world have been infected, 22,000 have died and 118,000 have recovered from this deadly virus. Many countries have declared this crisis a war against an invisible enemy. COVID-19 is affecting 198 countries around the world.
The following map from the Center for Disease Control and Prevention (CDC) in the USA shows the global spread of coronavirus.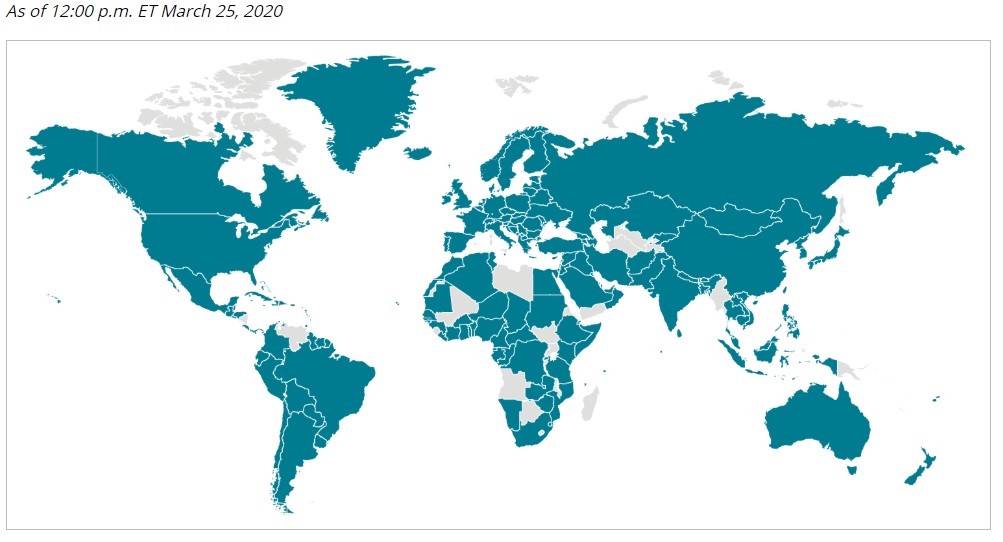 The following phrase fits well in the current pandemic situation: "Desperate times call for desperate measures".
Soft measures Vs strict lockdowns
Governments have instructed people to remain in their homes; many countries have taken soft measures while others have put in place strict lockdowns and even curfews. It is also a fact that in such situations, life always takes priority over the economy and business.
However, the whole world is well connected now digitally compared to twenty years ago. Businesses have amazing tools available for meetings (Skype/Zoom/Adobe Connect/Google Hangouts/Teams and many more) to carry on their daily activities unless involved in an essential industry (healthcare workers/retail grocery stores/food chains, etc.) or where jobs cannot be carried out remotely (construction workers, lab scientists, service industry workers, etc.).
Most schools and universities have shifted from contact learning to virtual classes, assignments and home-based exams. Both in the business and education sectors, people are adapting despite initial difficulties and resistance.
Time will decide if companies are going to benefit from this mass online work experiment, cutting office costs and asking more workers work from home
Until recently, remote and flexible working was just an option, but has mostly been introduced and demanded by millennials. Initially, companies that advocated the traditional working environment in offices were critical of remote working. However, in the present pandemic, remote working is no longer an option but compulsory. Now those companies, managers and employees have to adapt to it even though they did not like it in the past.
This situation is similar to a test that aims to find out what are the things really needed by people in meetings or the things that can be simply managed via email or a quick Zoom meeting. Everyone has to try this way of working no matter whether they like it or not.
Finland has been a leader in remote and flexible work from home for many years. Many companies offer flexible and remote work from home options.
Finland was in third place in 2017 and climbed to second place in 2018 in Europe in the ranking of employed persons working from home. With 14% of its workforce working from home in 2018, the Netherlands topped the list of EU Member States, closely followed by Finland (13.3%), Luxembourg (11%) and Austria (10%).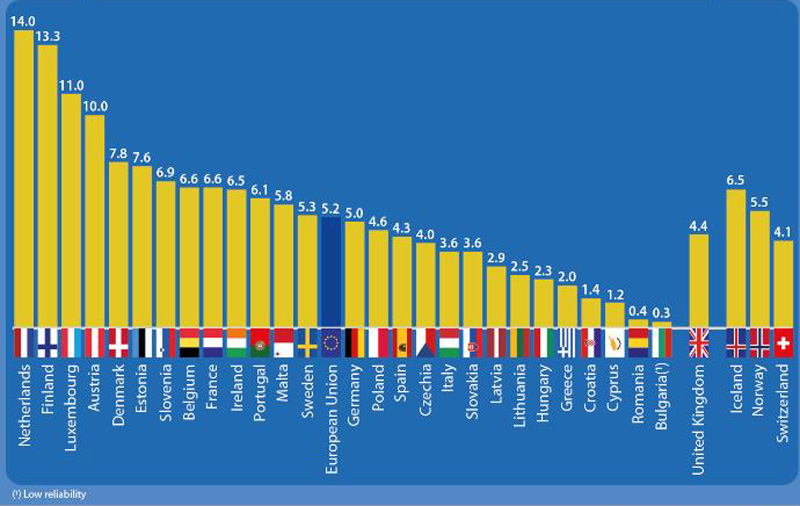 Source: Eurostat.
Globally, the situation is not very different either. A survey conducted by International Workplace Group in 2018 of 18,000 professionals in 96 countries suggested that working from home or flexible working really helped professionals. Around 82% of professionals said they were more productive.
On the other hand, businesses reported in the same survey that they benefited strategically and financially. Around 89% said it helped grow their business and 87% said it made them more competitive in the market. This can in turn make businesses be more sustainable in the future.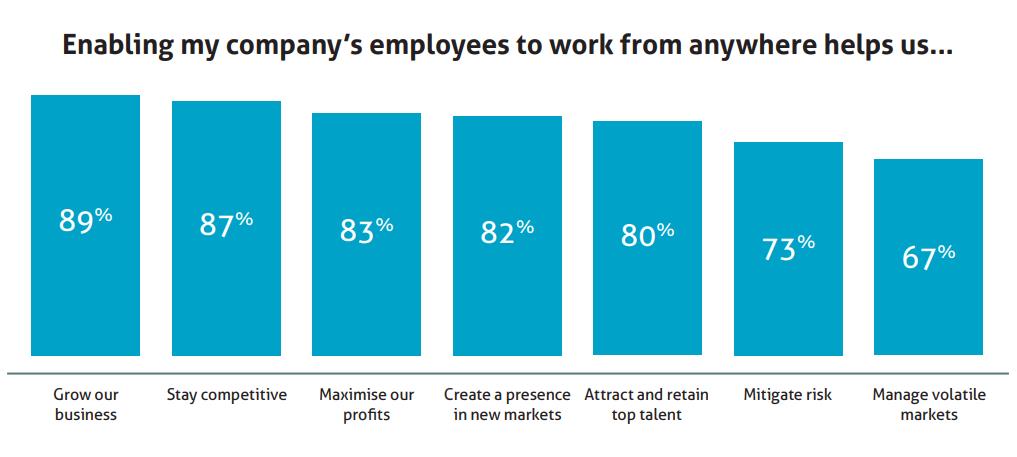 Source: International Workplace Group.
The question is: what will the world's working environment look like when the pandemic is over? No one knows the answer yet.
Time will decide if companies are going to benefit from this mass online work experiment, cutting office costs and asking more workers work from home. Will things go back to the previous normal or will we define a new normal after this pandemic?
Please let us know if your work has shifted to the online environment during the lockdown by answering these questions. How is your experience of working online? Do you think you want to continue to work in this way when the pandemic is over? Are you more productive or less productive then before?