October 11, 2021 at 5:59 PM
Tunisian President Kais Saied swore in a new government on Monday, more than two months after he sacked the previous prime minister and took a series of measures that tightened his grip on power.
Since July 25, Saied has suspended parliament, sacked Prime Minister Hichem Mechichi, expanded his legislative and executive powers, and suspended some parts of the country's constitution.
Last month, he appointed former geology professor Najla Bouden to be Tunisia's first female prime minister and tasked her to form a cabinet.
Taoufik Charfeddine was appointed Interior Minister in the new cabinet, having previously held the post until he was sacked in January by Mechichi.
Foreign Minister Othman Jerandi retained his position, which he has held since September 2020.
Bouden also kept Ali Mrabet, who was appointed by Saied in August as interim Health Minister.
The new 25-member government includes nine women.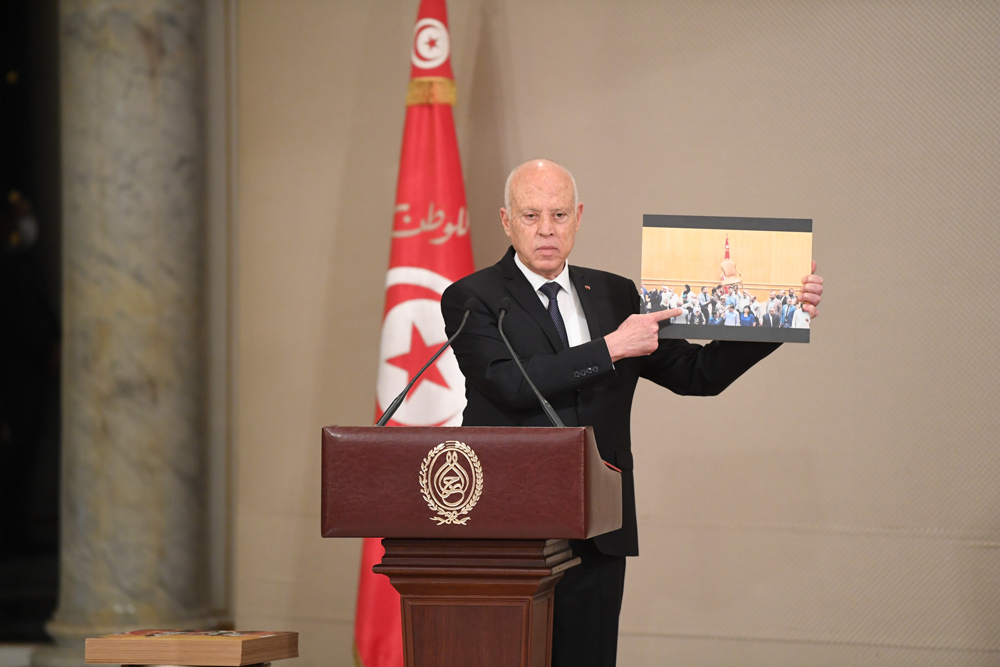 Tunisian President Kais Saied holds a picture showing scuffles in the previous parliament. Photo: Chokri Mahjoub/dpa.
'Save the country'
The main challenge is "to save the country," Saied said, addressing the new government.
"I am certain we will cross together from despair to hope, and from frustration to work," Saied added.
Saied's measures have divided the country. His opponents, led by the Islamist Ennahda party, the largest group in parliament, have described his actions over the past few months as a "coup."
Saied, a former law professor, took office in 2019 and has been locked in a political dispute over the powers of the government and parliament ever since.