October 6, 2020 at 10:09 PM
An attack on a Jewish student outside a synagogue in the German city of Hamburg is being treated by authorities as attempted murder.
Police and the public prosecutor's office said on Monday that initial findings indicate the attack was motivated by anti-Semitism.
They added that the alleged suspect in the attack, a 29-year-old German citizen with Kazakh roots, was being held in a psychiatric facility under a court order. He is reported to have been wearing a uniform of the German Army at the time.
He stands accused of attempted murder and causing grievous bodily harm.
The victim, a 26-year-old student, was struck on the head with a shovel on Sunday night as he was about to enter the synagogue.
Sources told that the alleged attacker was carrying a piece of paper in his trouser pocket with a picture of a swastika on it. Police said he was acting in an "extremely confused" manner.
The investigation into the suspect's motive and mental health are ongoing.
He will undergo evaluation in the pyschiatric ward of the hospital he was sent to on Monday, according to Nana Frombach, the spokeswoman for the public prosecutor's office said.
It must be assumed that he committed the crime due to a mental illness while in a state of significant impairment, Frombach said.
Security sources said that the man had lived in a transit centre for refugees and Jewish immigrants in Berlin last year.
He is reported to have been involved in an incident there with a knife.
Hamburg Chief Rabbi Shlomo Bistritzky described the attack as "a step back" after the Jewish community had expanded its activities in the city.
"Over recent years we have built up Jewish life a lot in Hamburg: school, kindergarten, youth work," Bistritzky after meeting Hamburg acting mayor Katharina Fegebank on Monday.
The attack was a setback, "because people start to wonder whether to come (to the synagogue) or not," he said.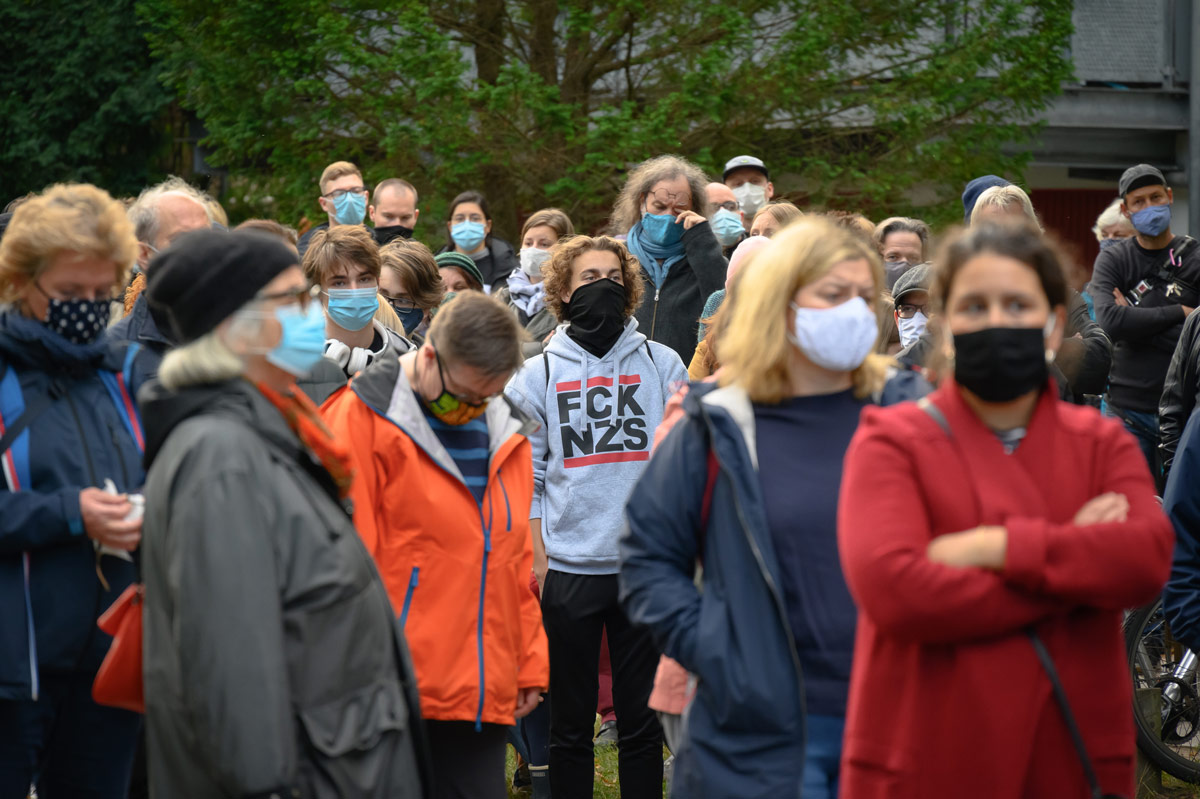 People take part in a vigil as a sign of solidarity with the Jewish community. Photo: Jonas Walzberg/dpa.
Government condemns the attack
German Foreign Minister Heiko Maas was quick to condemn the attack, which he stressed was "not an isolated incident," describing it in a tweet as "disgusting anti-Semitism."
And government spokesman Steffen Seibert said in Berlin: "In Germany every individual crime of this kind is a shame."
Germany has seen a rise in anti-Semitic incidents, most recently at protests against coronavirus restrictions, which have been partially fuelled by conspiracy theories about a nefarious global elite and have also attracted support from right-wing extremists.
Last year, an armed man tried and failed to storm a synagogue in the city of Halle on Yom Kippur, the holiest day in the Jewish calendar, before going on to shoot dead two people nearby.
Sunday's attack in Hamburg occurred as worshippers were celebrating the Sukkot holiday.
The suspect is a registered resident of Berlin, although investigators have since discovered that he hasn't lived in the German capital since 2019.
"Further investigations led us to a flat in Hamburg-Langenhorn, in which the accused had been living without registration," a statement from the authorities said.
The flat was searched overnight and data storage devices were taken for assessment, it added.
Police said the attack victim was not critically injured in the attack, although the local Hamburger Abendblatt newspaper reported that the young man was being treated in intensive care.