November 4, 2020 at 12:07 PM
US President Donald Trump claims there is a "major fraud" ongoing in counting ballots, without offering proof, and says that "as far as I'm concerned, we already have won," even as no major media outlet has called the election for him.
Ballots are still being counted in a number of key swing states up for grabs and the race for the White House is tight between Trump and Democratic presidential candidate Joe Biden, who earlier urged his supporters to be patient and let officials tally the votes.
"We were getting ready to win this election. Frankly, we did win this election," Trump said, as he complained that officials have halted ballot counting in Pennsylvania until the morning.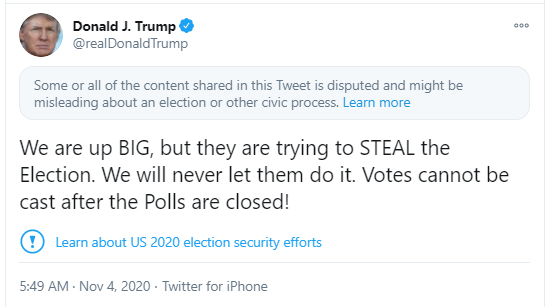 A screenshot of a tweet by US President Donald Trump. Twitter has placed a notice about potentially misleading content.
"Embarrassment"
He said the delay was "an embarrassment to our country," and pledged to take the issue to the US courts.
Trump has long complained about voting by mail, even as it is a fully legal method of voting which tens of millions of US citizens utilized in this election.
However, the postal votes will likely cause swing states to take longer in tallying ballots.