June 24, 2020 at 10:37 AM
A 7.5-magnitude earthquake rocked southern Mexico, the National Seismological Service said on Tuesday, with six people reported killed and dozens of buildings damaged.
Oaxaca's Governor Alejandro Murat said late on Tuesday that six people had been killed in the southern state and four people had been injured.
Earlier, civil protection coordinator David Leon had told W Radio that four people had been killed and five people had been injured.
The victims reportedly included two who were hit by a landslide while driving in Huatulco. One of them was killed and the other injured, Murat told Foro TV earlier in the day.
Murat also said there were reports about 15 people being stuck underneath a collapsed building in Santa Maria Zaniza in southern Oaxaca.
Buildings in Oaxaca were damaged, including about 500 homes, four hospitals and 15 health centres, four schools and 51 historical monuments, the state's government said in a statement.
The statement also carried photos showing stones fallen off buildings and collapsed walls in the state capital Oaxaca de Juarez.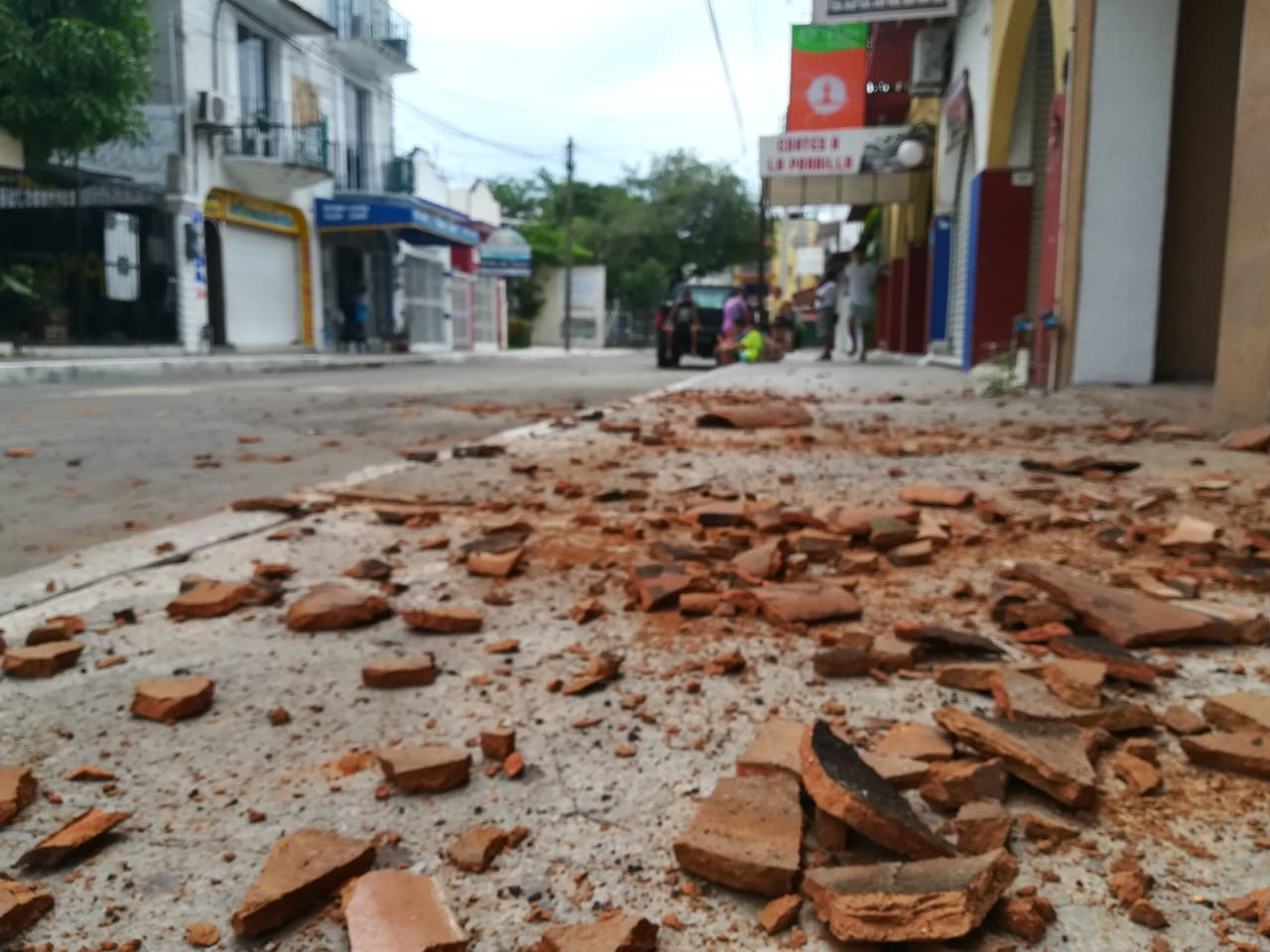 Broken tiles are lying on the road, after the earthquake, in Crucecita. Photo: Carlos Ramos/dpa.
147 aftershocks
Electricity was almost completely re-established after going off across the state after the earthquake hit at 10:29 am.
The quake occurred off Oaxaca's Pacific coast, with its epicentre 23 kilometres south of Crucecita, at a depth of five kilometres.
The National Seismological Service reported 147 aftershocks during the following hour, the strongest of which had a magnitude of 4.6 points.
The US Pacific Tsunami Warning Center lifted its earlier warning that there was a tsunami threat.
The earthquake was felt as far as Mexico City, some 750 kilometres from Crucecita, where many people rushed out into the streets and parks after an alert was activated.
Buildings damaged
About 30 buildings suffered minor damage, Mayor Claudia Sheinbaum said at a press conference. Around 120 people were reportedly evacuated from a damaged apartment building, while the Obregon hospital moved coronavirus patients elsewhere as a preventive measure.
Mexico's President Andres Manuel Lopez Obrador said strategic installations such as airports and oil refineries suffered no damage.
A fire erupted at a refinery of the state-owned oil giant Pemex in Salina Cruz, but it was put out "immediately," the company said.
On September 19, 2017, a 7.1-strong earthquake claimed 369 lives in Mexico City and elsewhere in the south and centre of the country.
It coincided with the 32nd anniversary of another quake, which left 10,000 people dead in 1985 in the Mexican capital.