August 5, 2019 at 2:17 PM
Between 2008 and 2018, the European Union (EU) ran a trade deficit with Russia. This means that, in aggregate terms, European Member States imported more goods from the Eurasian giant than they exported.
A look of the records of the last decade shows that this trade deficit was highest in 2011 (93 billion euros) and lowest in 2016 at (46 billion euros). In 2018, the EU's trade deficit with Russia was 83 billion euros, according to the latest figures published by the statistical office of the European Union (Eurostat).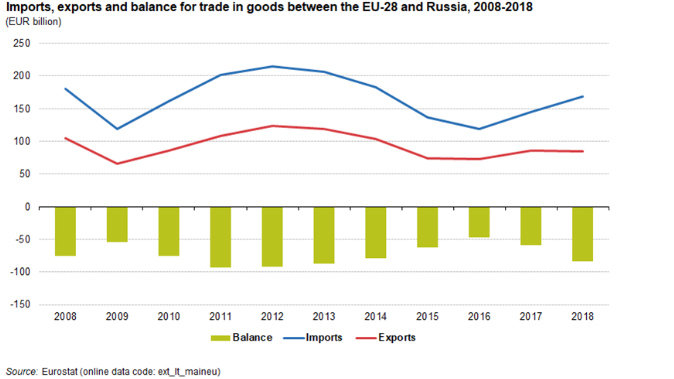 Last year Russia was the EU's third largest partner for imports (8% of total extra-EU imports) and the 4th largest for EU exports (4% of total extra-EU exports).
EU exports medicines, imports oil
The data published by Eurostat details that EU exports to Russia were dominated by 'machinery and vehicles', 'chemicals' and 'other manufactured products', which together accounted for 90% of EU exports to Russia.
EU imports from Russia were dominated by primary goods (72%), mainly 'energy', 'raw materials', and 'food and drink'.
At a more detailed level, 'medicaments' were the EU's most exported product to Russia, while the most imported product from Russia were 'petroleum oils, crude', said Eurostat.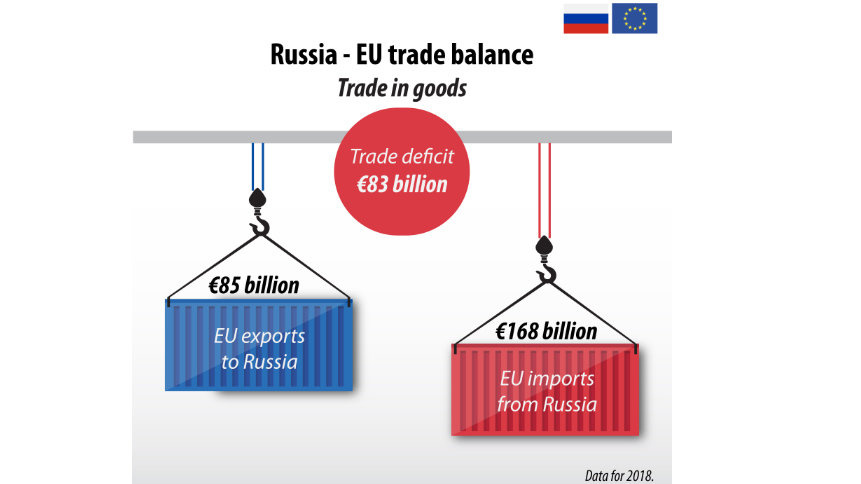 Image source: Eurostat.
Among the Member States, Germany was both the largest importer of goods from Russia (€33 billion), and the largest exporter to Russia (€26 billion) in 2018.