September 6, 2020 at 9:37 PM
One man was killed and seven others were injured, two of them seriously, after a stabbing attack early on Sunday in the central English city of Birmingham, police said.
Police arrested a 27-year-old man in Birmingham on suspicion of murder and attempted murder early Monday in connection with the stabbings after working overnight to identify and trace a suspect.
A murder investigation has been launched. None of those injured are considered to be in life-threatening condition, but one man and one woman were "seriously injured."
There is "absolutely no suggestion at all that this is terror related" and victims attacked in Birmingham appear to "have been chosen at random," said chief superintendent Steve Graham of West Midlands Police, the PA news agency reported.
Graham said police are looking for one suspect, adding that he said the stabbings were "not motivated by hate."
His statement was echoed by Foreign Secretary Dominic Raab, who said there was no information linking the incident to terrorism.
Otherwise, police released few details, but noted that the attacks happened between 12:30 am and 2:20 am on Sunday and were all linked.
"We're doing all we can to find whoever was responsible," read a statement released on Twitter.
"We can confirm that at approximately 12:30 am today we were called to reports of a stabbing in Birmingham city centre," West Midlands Police tweeted earlier.
"We immediately attended, along with colleagues from the ambulance service. A number of other stabbings were reported in the area shortly after," they added.
There was no immediate information on the background of the stabbing incident or the identities of the individuals involved.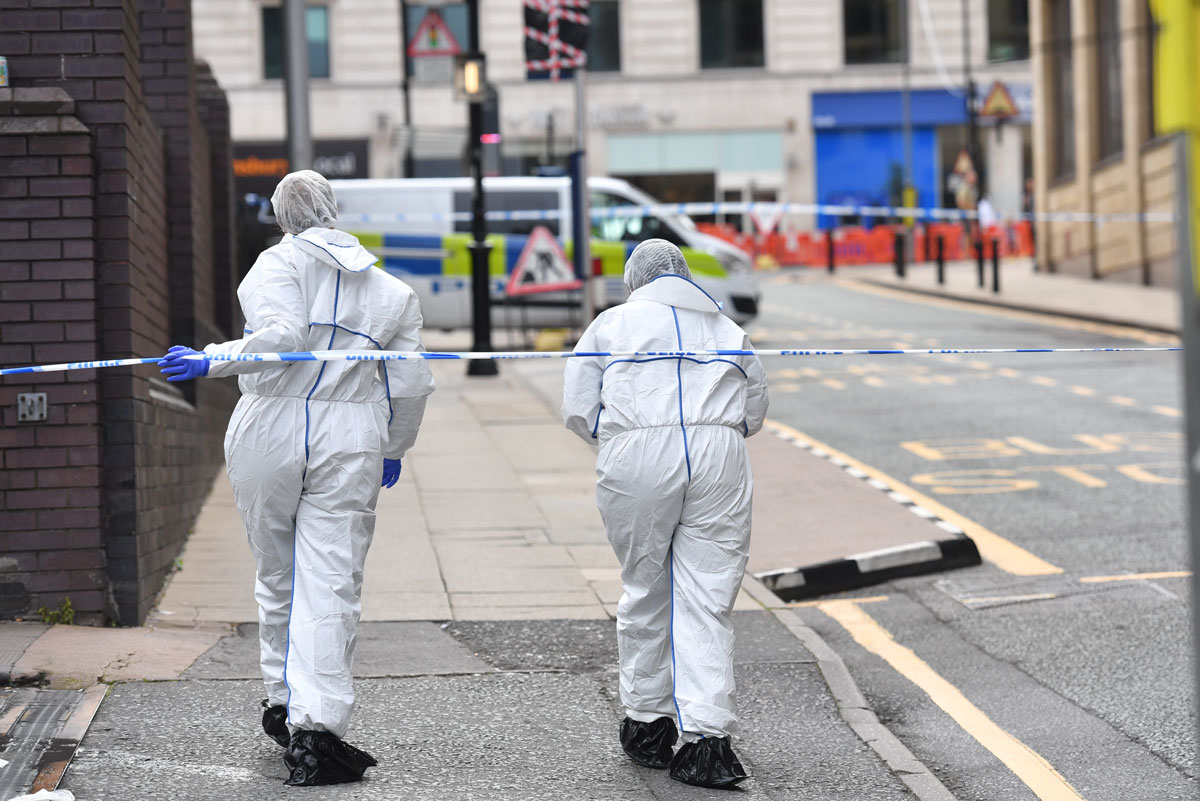 Two police forensics officers enter the cordoned area on Livery Street. Photo: Jacob King/dpa.
Motive still unknown
"Work is still going on to establish what has happened, and could take some time before we are in a position to confirm anything. At this early stage it would not be appropriate to speculate on the causes of the incident," the police said.
West Midlands Police said all emergency services were working together at the scene, and making sure that those who are injured receive medical care.
Police asked people to remain calm but vigilant, and to stay away from the area.
They said they had increased their uniformed and armed response in the city and called for anyone with information to get in touch.
In unrelated events, five people in London were arrested after five stabbings, also on Saturday night.
One person was seriously injured in Bexleyheath town in the greater London area, according to a police tweet.
Five suspects were arrested on suspicion of causing grievous bodily harm, police said and appealed for witnesses.