Even in a European Union (EU) country, Hungary, has been shifting from the democracy to authoritarianism.
Prime Minister Viktor Orbán has been using the coronavirus crisis to increase his power. Last February, the Hungarian parliament passed a coronavirus bill that gave Orbán the power to rule by decree (with no end date) and established chilling new penalties on speech and on those who violate quarantine.
US democracy watchdog group Freedom House said in a report this week that Hungary is no more democracy.
According to the report, "The 2020 adoption of an emergency law that allows the government to rule by decree indefinitely has further exposed the undemocratic character of Orbán's regime. Hungary's decline has been the most precipitous ever tracked in Nations in Transit; it was one of the three democratic frontrunners as of 2005, but in 2020 it became the first country to descend by two regime categories and leave the group of democracies entirely."
Freedom House said that Hungary is a "hybrid regime" right now, which means the form of government is in a kind of gray area between authoritarianism and a democratic state.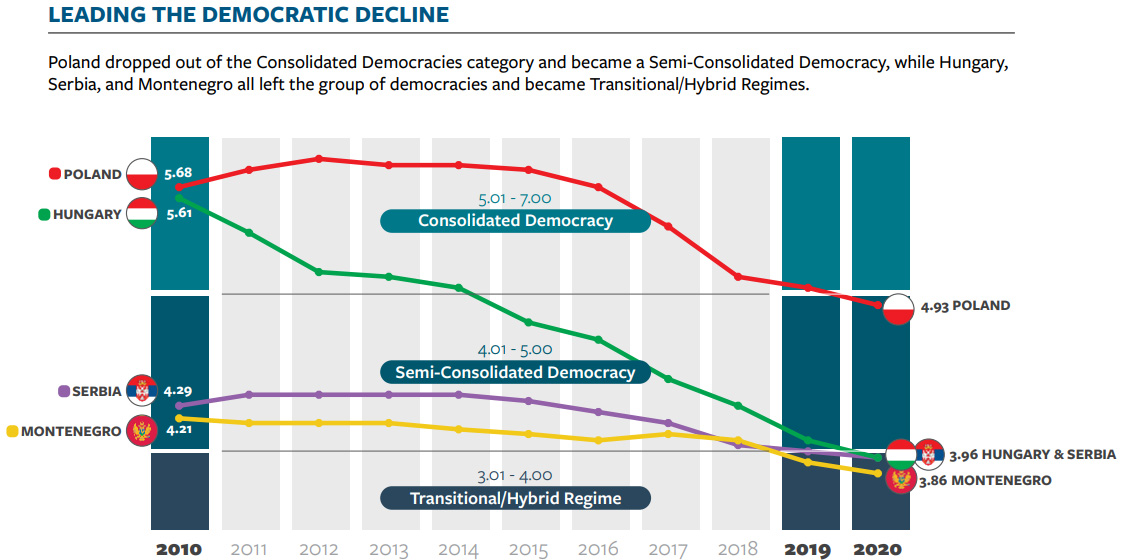 Graphic source: Freedom House report.
Hungary blamed Soros
Hungarian government immediately criticized the report and said Freedom House operates under the "Soros Network," referring to the Hungarian born US billionaire George Soros.
Hungary has been making a campaign against George Soros and its foundation for a long time.
Serbia and Montenegro 'hybrid regimes'
Not only Hungary but also Serbia and Montenegro could no longer be classed as developing democracies but rather "hybrid regimes" without proper checks and balances on executive power, according to Freedom House.
The report pointed out that, "in the Balkans, years of increasing state capture, abuse of power, and strongman tactics employed by Aleksandar Vučić in Serbia and Milo Djukanović in Montenegro have tipped those countries over the edge—for the first time since 2003, they are no longer categorized as democracies in Nations in Transit."
Poland creates concerns
Freedom House is also concerned about the developments in Poland.
Poland dropped out of the Consolidated Democracies category and became a Semi-Consolidated Democracy.
According to the report, "Poland continues to stand out for the systematic, targeted, and aggressive nature of the government's attacks on judicial independence. Since it took power in 2015, the Law and Justice (PiS) party has overseen an unprecedented offensive against the very idea that laws and courts can, or should, limit executive action."
You can reach the full report from Freedom House HERE