August 26, 2020 at 10:06 AM
The mother of a black man shot in the back multiple times by police officers in front of his children issued an emotional plea for prayers and national "healing" and called for an end to rioting, as the dire extent of her son's wounds became clear.
Jacob Blake's spinal cord was badly damaged and parts of his colon and intestine were removed, lawyers for the 29-year-old man said. "It is going to take a miracle for Jacob Blake Jr to ever walk again," said Ben Crump, a civil rights attorney.
Julia Jackson, Blake's mother, on Tuesday stood before crowds of reporters to issue a cry against racism and violence, as the city of Kenosha in the midwestern US state of Wisconsin has been rocked by two nights of unrest, including looting and burning of shops.
"God has placed each and every one of us in this country because he wanted us to be here. Clearly, you can see by now, that I have beautiful brown skin. But take a look at your hand and what ever shade it is, it is beautiful as well," she said.
"How dare we hate what we are? We are humans. No one is superior to the other. The only supreme being is God himself. Please let's begin to pray for healing for our nation," she said in a several minute speech, punctuated by shouts of "amen" from the crowd.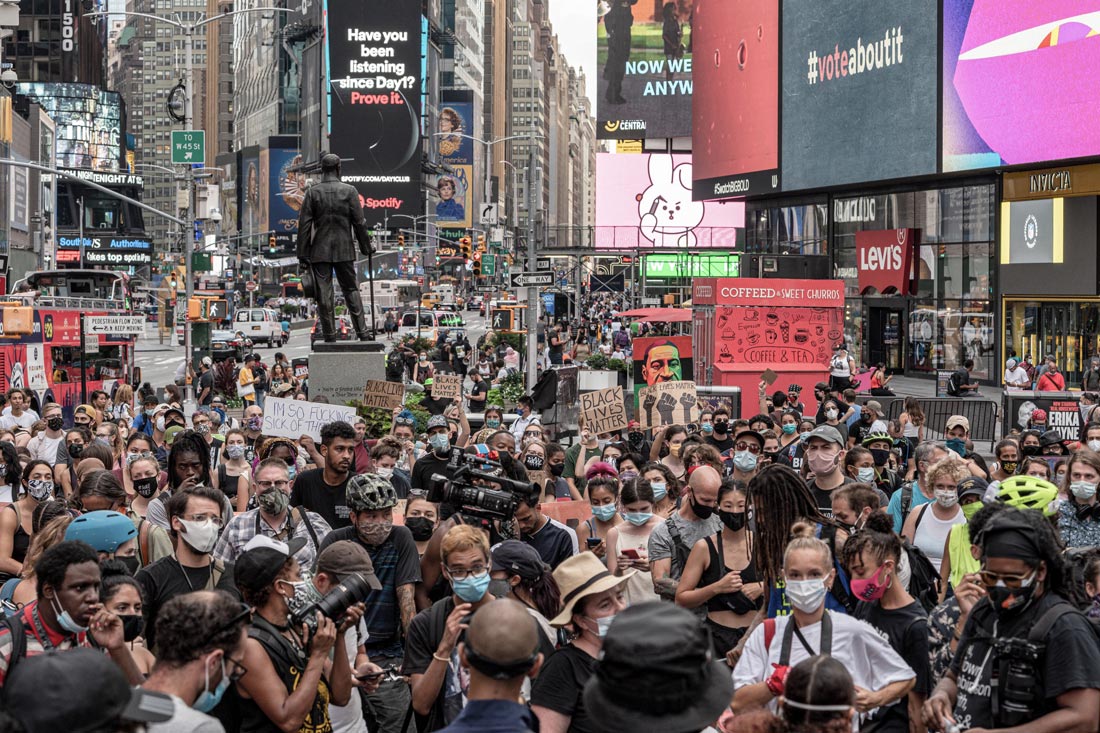 Protesters hold signs during a march at Times square. Photo: Corine Sciboz/dpa.
Night curfew
Protesters had set vehicles and buildings ablaze and disobeyed a Monday night curfew as they called for justice for Blake, local media reported.
"We cannot allow the cycle of systemic racism and injustice to continue," Governor Tony Evers said on Tuesday, but called for peaceful protests. "Please do not allow the actions of a few distract us from the work we must do together to demand justice, equity, and accountability."
Evers, a Democrat, is facing pressure to get the city back under control, as businesses were burned to the ground, causing severe economic damage and a sense of insecurity among residents, according to local news outlets.
The Trump administration and allied Republican lawmakers are also pushing for Evers to ask for federal assistance. So far, Evers has been trying to handle the situation locally, including by deploying the National Guard.
"Last night it wasn't enough. I question whether he is doing enough, fast enough," Ken Cuccinelli, the acting deputy secretary of homeland security in the Trump administration, said on Fox News.
Cuccinelli said investigations, including at the federal level, were ongoing into the shooting of Blake, but such probes "take time to do correctly," calling for patience.
Mobile phone video
In a 20-second mobile phone video of the incident from Sunday, which was widely shared on social media, Blake is seen walking around a vehicle as two officers with their guns drawn follow him closely.
One of the officers appears to grab Blake's shirt as he enters the vehicle's driver-side door and then the officers fire multiple shots at his back.
Crump said Blake's three sons - ages 3, 5, and 8 - were in the car when he was shot. The attorney said the incident occurred at a birthday party for Blake's 8-year-old son.
"They shot my son seven times, seven times. Like he didn't matter, but my son matters," said Jacob Blake Sr, the father of the shot man.
The shooting is the latest videotaped incident to spark demonstrations against police brutality and systematic racism.
The killing of George Floyd, an unarmed black man, by a police officer who knelt on his neck in May in Minnesota catalysed a nationwide protest movement that has pushed for police reform and introspection on racism.