November 3, 2020 at 9:26 AM
A terrorist attack in central Vienna has claimed the lives of four victims, Austria's Interior Minister Karl Nehammer said on Tuesday.
The attacker was shot dead by police after the attack in the city centre, which had been filled with people enjoying a last night out on Monday before a partial coronavirus lockdown came into effect at midnight.
The attacker, Kujtim Fejzulai, was a sympathizer of the extremist group Islamic State. He was armed with an assault rifle and also wore a dummy explosive belt. He apparently wanted to cause panic.
The attacker was a 20-year-old man who was previously convicted for involvement with a terrorist organization. He was a citizen of Austria, born in a family of ethnic Albanian immigrants from North Macedonia.
The Austrian state has asked the Skopje authorities and Interpol for any relevant information about him.
"We cannot rule out right now that there might be other perpetrators," Nehammer said.
Police have raided 15 homes and detained several people that are linked with the suspect.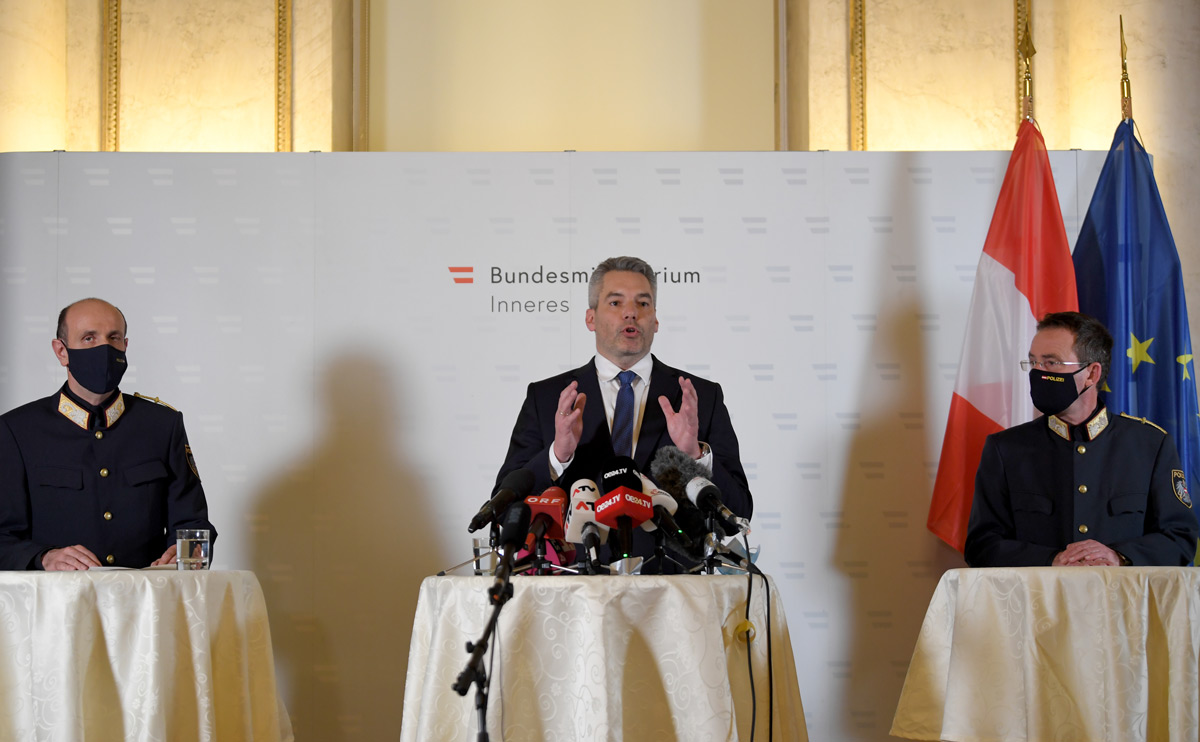 Austria's Interior Minister Karl Nehammer (C) speaks in a press conference with top security officers. Photo: Roland Schlager/dpa.
Four people killed
Investigators were sifting through thousands of witness videos to determine whether the shootings in six locations in the city centre were all carried out by the same man, or whether others were involved, an Interior Ministry spokesman said.
Four bystanders, two men and two women, were killed, according to Nehammer.
In addition, more than a dozen people including a police officer were injured.
At least seven people are in a critical condition, a Vienna hospital spokesperson told Austrian press agency APA.
Police had earlier said several suspects armed with rifles began shooting at around 8 pm (local time) in a narrow street that is home to Vienna's main synagogue, as well as to several bars and restaurants.
The synagogue was closed at the time of the attack.
Jewish leaders said it was not clear whether their community was the target.
"Whatever the motivation was, it was an anti-human motivation," Rabbi Schlomo Hofmeister told public broadcaster ORF.
Hofmeister witnessed the shooting of people sitting in restaurants from his apartment. The attacker fired his weapon indiscriminately, he said.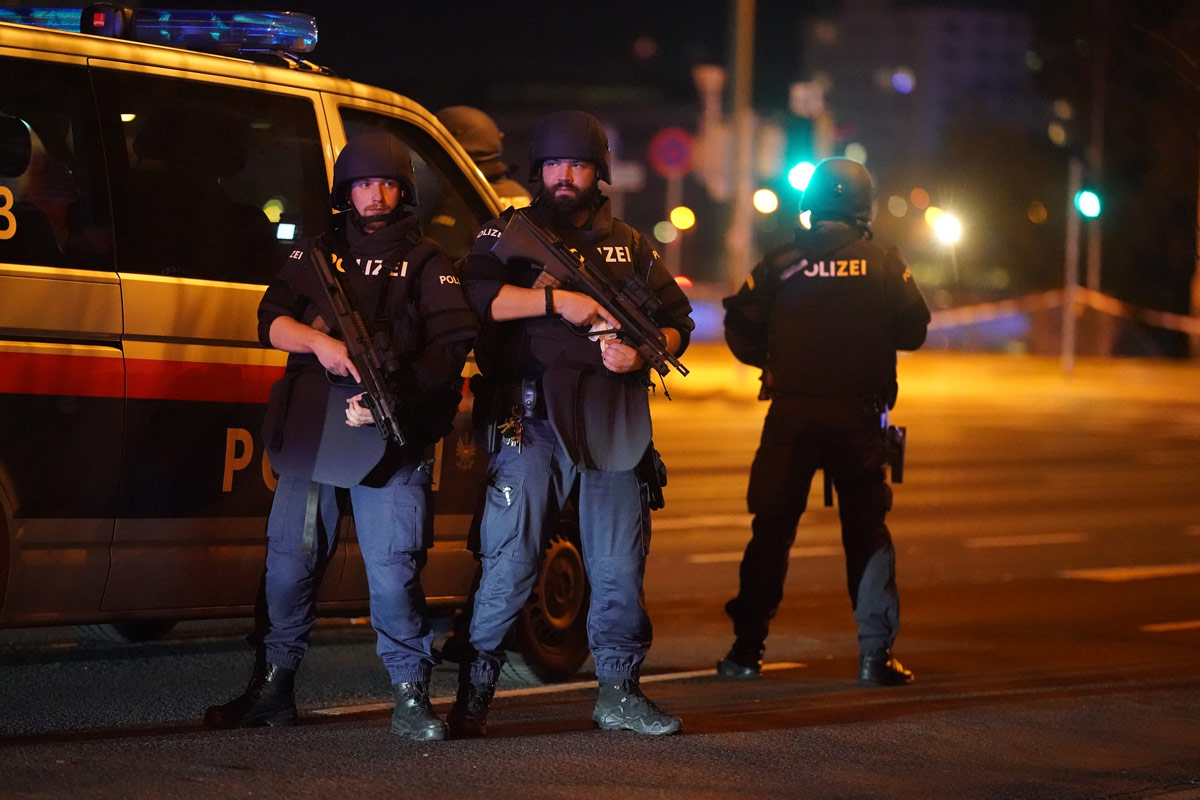 Armed policemen in the vicinity of Seitenstettengasse synagogue. Photo: Georg Hochmuth/dpa.
'Professional'
Vienna has 1,000 police officers deployed in the city, and investigations are in full swing.
Authorities advised the public to stay indoors, while parents were asked to keep their children at home rather than sending them to school.
"An attack on one of us is an attack on all of us," Nehammer told the press conference.
Austrian Chancellor Sebastian Kurz is scheduled to address the nation later in the morning.
World leaders expressed shock and sent condolences on social media.
Merkel: 'Terrorism our common enemy'
"Islamist terrorism is our common enemy. The fight against these murderers and their instigators is our common fight," German Chancellor Angela Merkel said in a message issued by her spokesperson.
"The US stands with Austria, France, and all of Europe in the fight against terrorists, including radical Islamic terrorists," US President Donald Trump wrote.
French President Emmanuel Macron was one of the first foreign leaders to react on Monday night.
"We must let our enemies know what they are up against. We will not give in," he said.
France was shocked by lethal Islamist attacks in a Paris suburb and in Nice last month.
"Civilized peoples everywhere must unite to defeat the savagery of resurgent Islamist terrorism," Israeli Prime Minister Benjamin Netanyahu wrote.