September 29, 2020 at 11:02 AM
The Armenian Defence Ministry on Monday accused Azerbaijan's military of massive attacks in the south and north-east of the disputed Nagorno-Karabakh region.
The army of the internationally unrecognized Nagorno-Karabakh Republic had so far held off the attacks, the Defence Ministry in Yerevan said on Monday.
The army in Karabakh reported late on Monday that it had shot down an Azerbaijani military aircraft. There was no confirmation of that as yet from Baku. Each belligerent blamed the other for inflaming the conflict.
Both ex-Soviet republics declared a state of war.
In Nagorno-Karabakh's capital, Stepanakert, Artur Tovmasyan, the National Assembly's president, threatened to extend the conflict into Azerbaijani territory in light of the attacks on Sunday.
The region's forces had repeatedly proven their fighting strength in the past, he said, accusing Azerbaijan, together with Turkey, of opting for the language of violence and eschewing diplomacy.
"This war, that the Azerbaijani-Turkish tandem has unleashed, is not a war of the Azerbaijani people but a war for the personal retention of power of Ilham Aliyev," Tomasvyan said.
Aliyev, Azerbaijan's authoritarian president, accused Armenia in return of having attacked his country. Armenia has confirmed 58 deaths since Sunday, with Azerbaijan reporting nine, among them civilians. Both sides reported wounded.
The accusations came as UN chief Antonio Guterres moved to contact the leaders of both sides.
"The secretary general has now spoken by videoconference to both President Aliyev of Azerbaijan and Prime Minister Pashinyan of Armenia," Guterres' spokesperson, Stephane Dujarric, told reporters late on Monday.
"In the separate calls, he delivered the same message: the need for an immediate stop to the fighting, a de-escalation of tensions and a return to meaningful negotiations without preconditions or delay."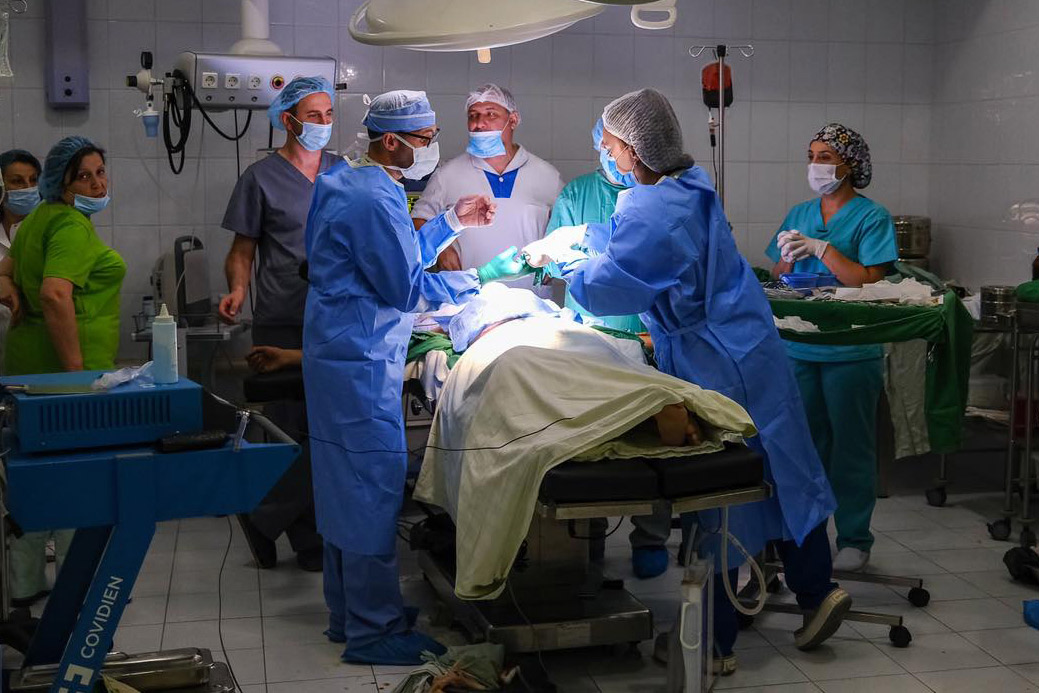 Medical personnel operate on a person allegedly wounded in a shelling on Stepanakert. Photo: Armenian Foreign Ministry.
UN emergency talks
The UN Security Council is set to hold emergency closed-door talks on Nagorno-Karabakh on Tuesday, diplomats told. Germany and France requested the meeting, with support from Belgium, Britain and Estonia.
The fighting marks the deadliest flare-up in years between the countries.
The Nagorno-Karabakh region, internationally recognized as part of predominantly Muslim Azerbaijan, has been controlled by Christian Armenian separatists for decades, with a fragile peace treaty in place since the 1990s.
Azerbaijan's military said on Monday that it had "liberated" several strategically important areas in the mountainous Nagorno-Karabakh region.
"Several advantageous high grounds around the village of Talysh were cleared of the occupying forces, and the enemy suffered heavy losses," Azerbaijan's Defence Ministry said in a statement.
The flare-up began at the weekend.
The pair fought a war over the disputed region in the late 1980s and early 1990s as they transitioned into independent countries amid the dissolution of the Soviet Union.
Impoverished Armenia has closely relied on backing from Russia. Oil-rich Azerbaijan is supported by predominantly Muslim Turkey. There are close ties between their ethnic Turkic populations.
In a rare moment of unity between Russia and the European Union, each called on Monday for an immediate ceasefire.
"We urge everyone to do all they can to prevent an all-out war from breaking out," EU foreign affairs spokesperson Peter Stano told a press briefing, explaining that EU officials had contacted diplomats from both sides in the conflict.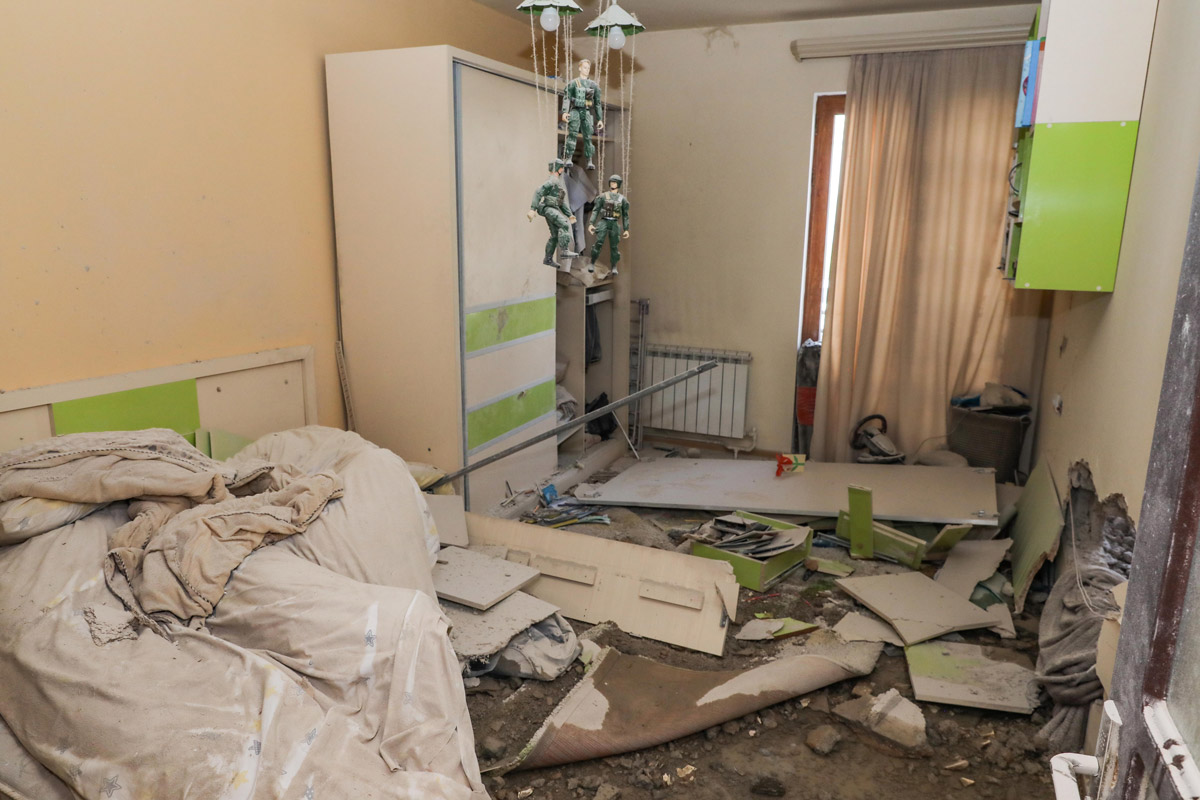 A view inside a damaged flat after a shelling on Stepanakert. Photo: Edgar Kamalyan/Armenian Foreign Ministry/dpa.
Stop combat actions
Russia, which maintains close military ties with Armenia, said that "combat actions must be immediately stopped," according to Kremlin spokesperson Dmitry Peskov, in comments carried by Russian state news agency TASS.
Turkey expressed support for ally Azerbaijan, with Turkish President Recep Tayyip Erdogan saying peace would be possible only if Armenia withdraws from occupied Azerbaijani territories. He said Ankara would continue to be on Baku's side by "all means."
The European Court of Human Rights said the Armenian government had asked it to issue urgent instructions to Azerbaijan to stop attacks on civilians and military advances towards civilian settlements in Armenia and Nagorno-Karabakh.
The Strasbourg-based court said it was examining the request. Armenia and Azerbaijan have both accused each other of attacking civilian populated areas.
The Organization for Security and Cooperation in Europe (OSCE) is involved in intense diplomatic efforts to stabilize the contested Nagorno-Karabakh region, a diplomat told.
Those efforts involve Andrzej Kasprzyk, the OSCE's special envoy for the long-standing dispute between Armenia and Azerbaijan, as well as an OSCE contact group of diplomats from France, Russia and the United States, known as the Minsk Group.
"They are heavily engaged," says an Albanian diplomatic spokesperson, whose country holds the OSCE chairmanship.
OSCE experts who are tasked with monitoring the line of contact between the opposing sides have not been able to visit the area for several months due to an upsurge in tensions, according to the OSCE secretariat in Vienna.