September 27, 2021 at 8:46 AM
The Spanish tourism sector is still far from repeating the good results of 2019, when the country registered a record of foreign visitors, but the August figures encourage optimism. Even so, domestic tourism continues to play an important role in the recovery of the sector.
In August, overnight stays in hotel establishments exceeded 34.4 million, which is 103.8% more than in the same month of 2020, according to the latest figures published by the Spanish statistical body (INE).
By origin, overnight stays by travelers residing in Spain, which represent 56.8% of the total, increased by 62.5% in the annual rate.
For their part, those of non-residents rose 205.9%.
But there is still ground to recover to reach levels prior to the 2020 disaster.
If the data is compared with August 2019, the last good year for tourism before the outbreak of the Covid-19 pandemic, overnight stays in Spanish hotels still show a 26.7% decrease. By origin, those of travelers resident in Spain increased by 7.4%, while those of non-residents decreased by 48.3%.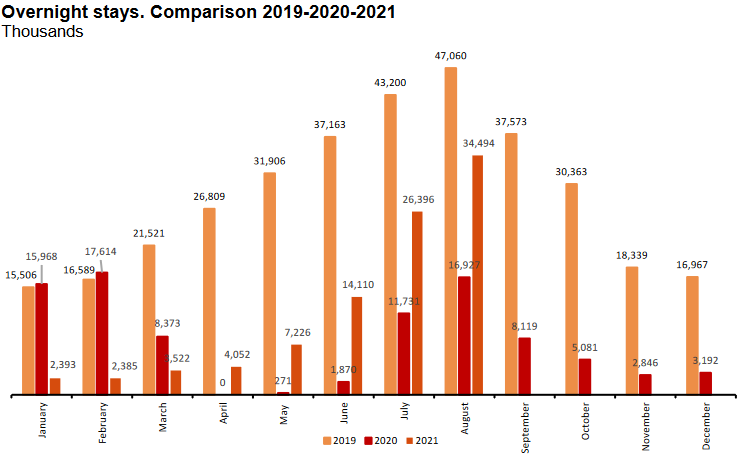 Source: INE.
The main destinations
On the other hand in August 2021, the average stay increased 15.8% year-on-year, standing at 3.3 nights per traveler.
The Balearic Islands, Andalusia and Catalonia were the main destinations for all travelers in Spain in August, with annual rates of variation in the number of overnight stays of 202.4%, 78.1% and 111.8%, respectively.
In the first eight months of 2021, hotel overnight stays increased 30% compared to the same period of the previous year. Those of residents increased by 52.7% and those of foreigners by 6.3%, says the INE.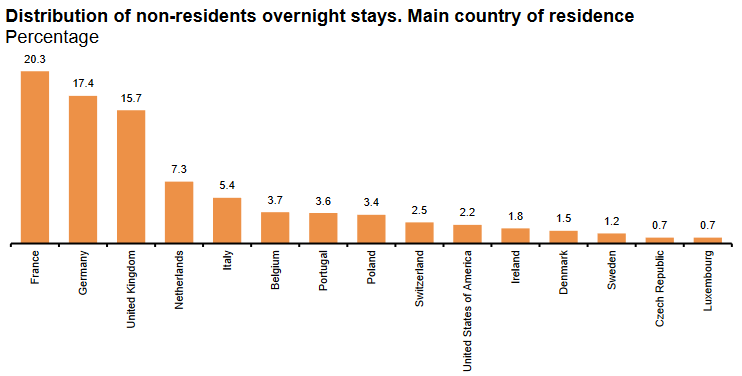 Source: INE
Origin of travelers
Travelers from France and Germany accounted for 20.3% and 17.4%, respectively, of the total overnight stays by non-residents in hotel establishments in August.
The French market presents an annual variation rate of 154.8% and the German one of 165.2%.
Overnight stays by travelers from the United Kingdom, the Netherlands and Italy (the following source markets) accounted for 15.7%, 7.3% and 5.4% of the total, respectively.