Four million foreign tourists visited Spain in the month of March, 720.5% more than in the same month of 2021, according to fresh data released on Thursday by the National Institute of Statistics (INE).
This strong rebound in foreign visits coincides with the announcement of the withdrawal of a large part of the restrictive measures of the Covid-19 pandemic. It is equivalent to reaching 71% of the arrivals recorded three years earlier (March 2019), before the coronavirus hit the tourism sector.
In addition, average spending exceeded pre-pandemic levels. Foreign tourists spent 5.07 billion euros ($5.37 billion) in Spain in March, up from 544 million euros a year earlier, according to INE data.
"Spain ends the first quarter with good data on arrivals and tourist spending, a trend that we hope will intensify in the summer period," Tourism Minister Reyes Maroto wrote on her Twitter account.
España cierra este primer trimestre con buenos datos de llegadas y de gasto turístico, una tendencia que esperamos se intensifique en el periodo estival.

Los excelentes datos de afiliación, junto a la recuperación de los niveles de la capacidad aérea, nos hacen ser optimistas. https://t.co/wCYH5HsVNR

— Reyes Maroto (@MarotoReyes) May 5, 2022
However, the number of international tourists arriving in Spain is still 1.6 million below what was recorded three years ago.
Tenth consecutive increase
The rebound in March, both in tourist arrivals and spending, represents the tenth consecutive month of year-on-year increases.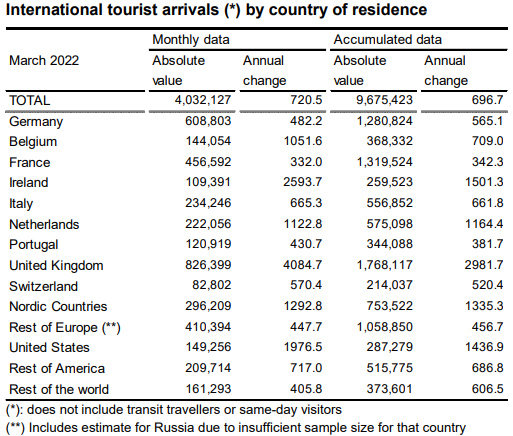 The main country of origin of tourists for Spain was the United Kingdom, with 826,399 visitors, which represents an increase of 4,084.7%, compared to March 2021.
The following source markets were Germany with 608,803 arrivals (+482.2%) and France with 456,592 tourists (+332%), respectively.
Likewise, tourists from Ireland, the United States and the Nordic countries also increased.