December 2, 2018 at 4:31 AM
Since the last decade, Finland has become more and more popular as a winter holiday destination. Its best asset is the diversity of its natural environment with endless forests, lakes and rivers. Here visitors can enjoy the cleanest air and water in the world during their outdoor adventures, and all this natural bounty is combined with top class touristic infrastructures and services.
Finland is a land of contrasts. The country transforms depending of the season and the temperature can vary in a range of 70 degrees between summer and winter. This provides innumerable opportunities to taste the extreme forces of nature. Northern lights hunting, snow hiking, snowboarding, downhill and cross-country skiing, horse or dog team safaris and ice fishing are just some of the most demanded experiences.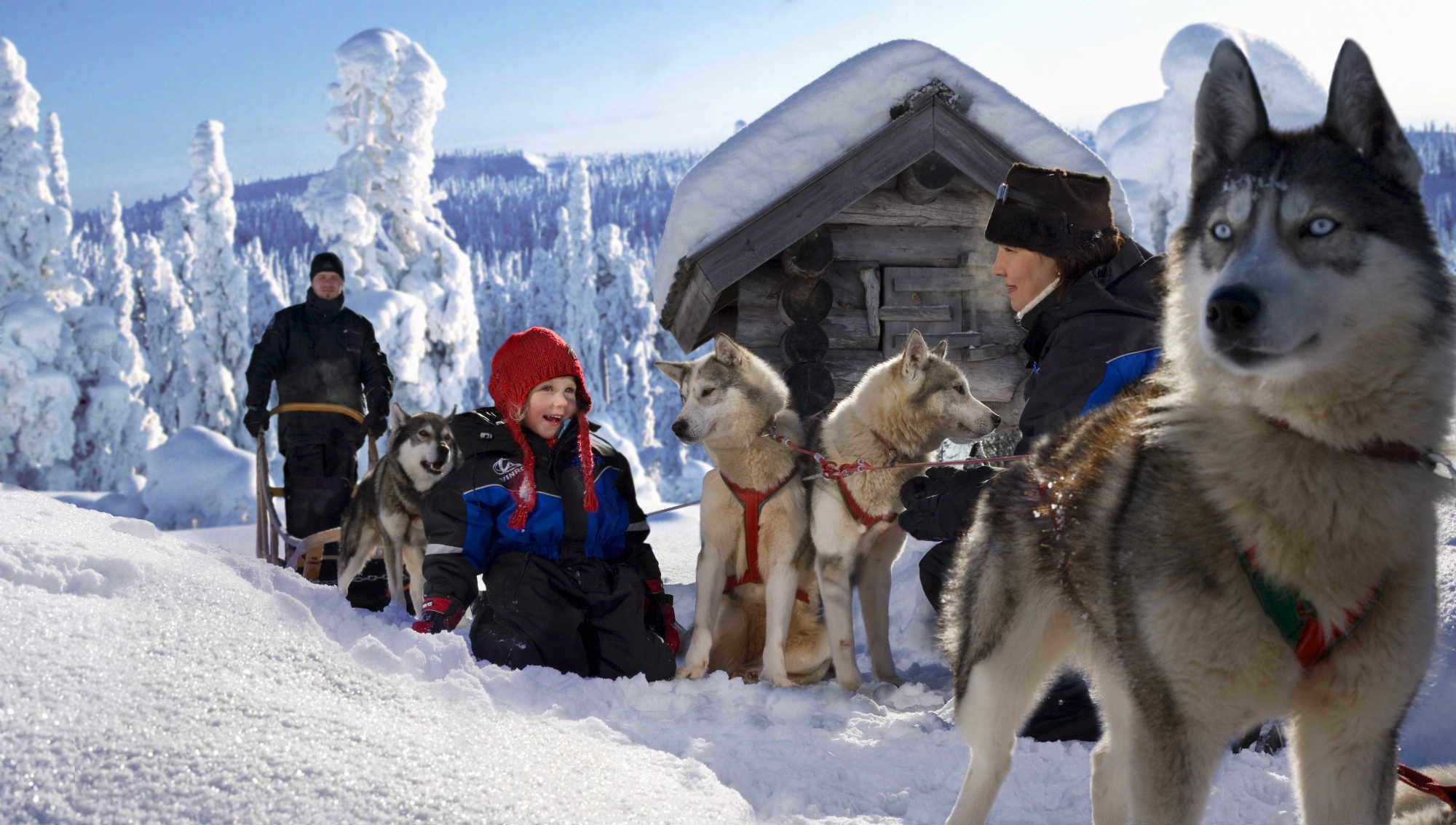 Photo: Visit Rovaniemi
Another advantage is that visitors who come to Finland in search of those experiences do not have to suffer neither the stress nor the difficulties commonly associated with mass tourism. Finland's attractiveness lies in its tremendous level of development blended with its tranquility and natural wilderness. This means scarce but highly educated people that enjoy one of the highest living standards in the world and who live in modern interconnected cities with excellent transportation and high tech facilities.
This is Finland: silence and wild nature in the face of modernity and cosmopolitanism. Whatever your preferences are, here is a selection of top destinations to plan your trip now when the winter is approaching.
Lapland: the land of silence and Aurora Borealis
Lapland, the largest and northernmost part of Finland, is a good example of this mentioned above. Located mostly north of the Arctic Cricle, it covers an area of 100.367 square kilometers, more than a quarter of the country's surface, but its population is just around 180.000 people (1.8 inhabitants per square km).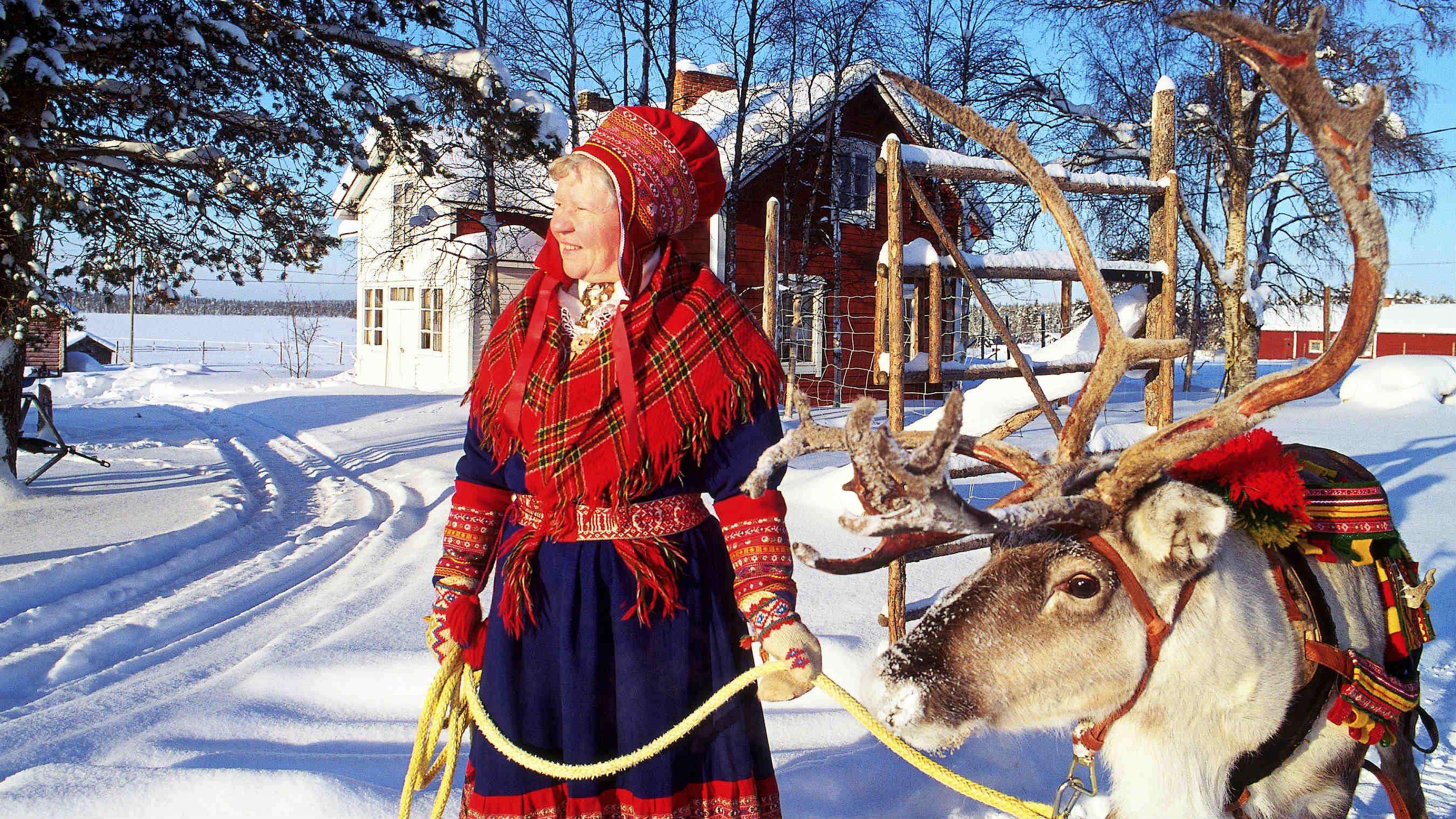 Photo: Arto Liiti / Visit Finland
Lapland is the home of the Sami or Lappish people, the only indigenous inhabitants of northern Scandinavia, who live scattered across Finland, Sweden, Norway and Russia. Around 8.000 live within the Finnish borders and it is common to see them still dedicating to their traditional works: reindeer herding, fishing, hunting and local craftsmanship.
In winter time Lapland is the right place to experience the vastness of nature and the silence, the lack of light and the extreme cold typical of the northernmost places in the world. Snow shows up in late August or early September, the winter lasts for seven months and darkness prevails.
But this doesn't mean isolation or precariousness. In Lapland visitors will discover also beautiful and modern cities such as Rovaniemi, that offers in winter a huge catalogue of new experiences: from visiting Santa Claus Village to hunting Aurora Borealis, snowmobile and snowshoes safaris or ice floating , all seasoned with traditional Lappish food and drinks.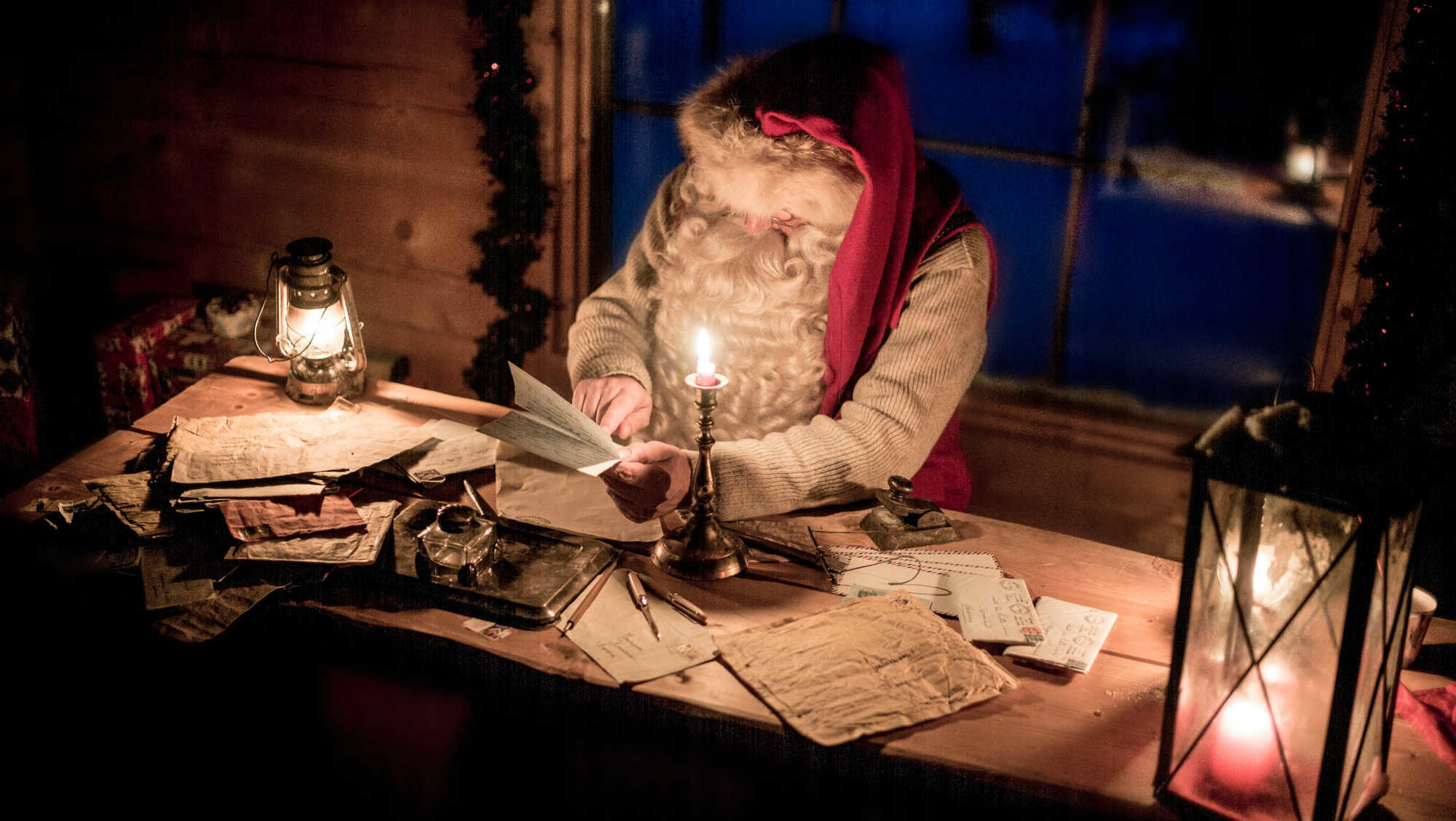 Image: Kimmo Syväri / Visit Finland
The home of Santa Claus in Rovaniemi
Santa Claus Village is an amusement park located in the outskirts of Rovaniemi, the capital city of Lapland. Although Rovaniemi has been an important enclave for trade since antiquity, it is the fact that in 1985 it was officially designated as the home town of Santa Claus what has given worldwide fame to it. In 2017 registered 631.000 overnight stays, most of them by foreigners (415.000 or +14%), according to numbers published by the local tourist board.
The home of Santa Claus (in Finnish language Joulupukki) is located 8 kilometers from the city center, exactly the Arctic Cricle runs. This imaginary line marks the southernmost latitude where the sun can stay continuously below or above the horizon for 24 hours. This is a very popular place to cross the Arctic line for the first time because it is clearly marked on the ground. It is also a common photo spot and visitors can even buy a diploma that certifies the achievement.
In the park tourists can also send their cards, letters or gift packages from Santa Claus' main post office. All the mail posted there is marked with a special Santa Claus postmark that transforms it into the perfect Christmas mail greeting. No matter the time of the year, visitors can specify that they want their mail to be kept and sent to arrive at destination the next Christmas.
At the Village's main building is Santa Claus' office, the star attraction of the park. There visitors can meet the Father Christmas, chat with him and take pictures. In the park there are also facilities to experience other activities as reindeer rides, restaurants and shops that sell a wide variety of items related to Santa Claus, Lapland and the Lappish culture.
At Christmas, Santa Claus Village is a very demanded destination, especially among families with small children. Its access is easy: it is located only 2 kilometers far from Rovaniemi airport and that makes it simple to reach by taxi. From the city center the urban bus number 8 connects the Railway Station with the park in 30 minutes. There are many accommodation options, both at Santa's Village and at the city of Rovaniemi: from top-class hotels to holiday villages, cabins, cottages and even igloos.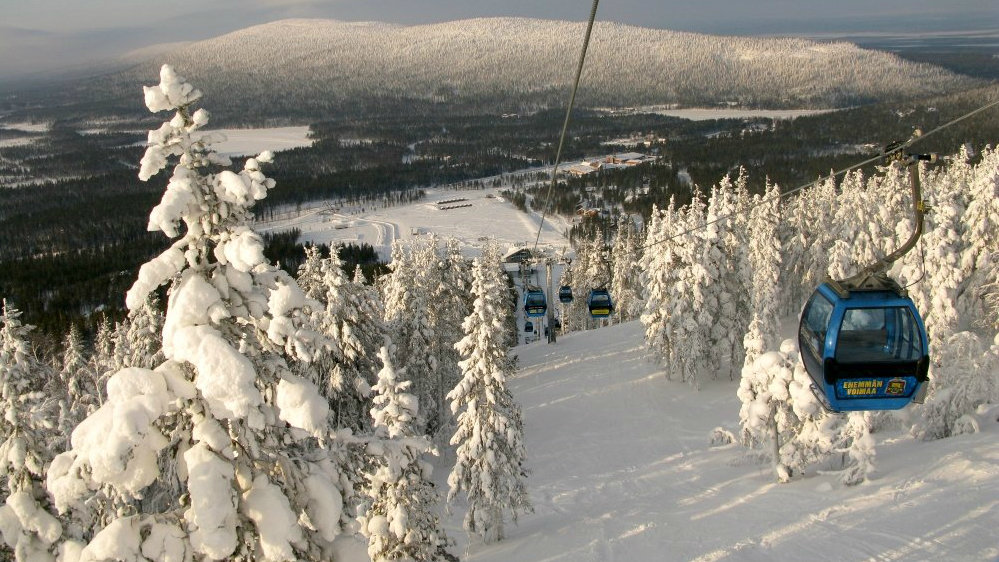 Image by: Leo Setä
Levi: the largest winter sports resort
Levi is the largest winter sports resort in Finland and has been awarded four times as the best in its kind. Its peak is located 170 kilometers north of the Arctic Circle and 531 meters above the sea level. The entire leisure complex consists of a set of 43 downhill slopes (17 of them illuminated) equipped with 27 ski lifts, including cable cars, chair lifts, T-bar lifts, rope tows, and a magic carpet for children.
The longest slope is 2.1 km long and the longest ski lift is about 1.638 meters. It also has two snow parks, a superpipe and a halfpipe, ten free children-slopes and seven restaurants. For devotees of cross country skiing it offers 230 kilometers of tracks and those who prefer to search for adventures on snowmobiles have 886 kilometers at their disposal.
What makes Levi a special place is that in winter the temperature below zero is constant, with the subsequent presence of virgin snow of the best quality for sports enjoyment. Its geographical position also provides infinite opportunities to see the northern lights.
Levi is one of the favorite places for Finns to enjoy their winter holiday and the perfect place to practice ski and snowboard. No matter if you are an expert, intermediate or a beginner, if you are new to these activities there is a ski school where you will receive the appropriate training. The skiing and snowboarding season lasts from October to mid-May.
Levi is part of the municipality of Kittilä and a good starting point to explore the region and enjoy its attractions. To get there, visitors can use Kittilä airport and Kolari train station. Just 8 kilometers away from Levi there is an Ice Hotel and 45 kilometers away is the Lainio Snow Village, where guests can have a meal in an ice restaurant or sleep in an ice room.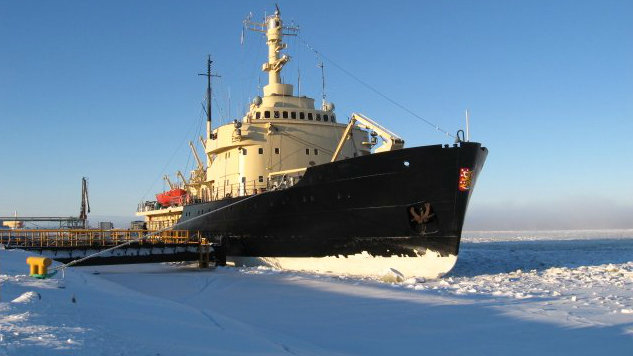 Image by: Roquai
Kemi, icebreakers and the Snow Castle
Kemi is an important port city located in Lapland with a population of 22.000. It is built at the Baltic Sea coast in the Gulf of Botnia, at the mouth of the river Kemi, which is the longest in Finland. It was founded in 1869 by decree of the Russian Tsar Alexander II due to its proximity to a deep water harbor.
Today Kemi is one of the most important centers for maritime trade in the Baltic region. In winter it offers an exceptional attraction because from its harbor depart huge cargo ships escorted by icebreakers that are responsible for destroying the ice that once isolated entire regions and paralyzed trade in this part of the world.
Those icebreakers open the way to ships into the southern open waters and constitute one of the main examples of the reliability of Finnish technology: with them the country has managed to solve the great challenge of making the frozen waters of its northernmost coast navigable all year around.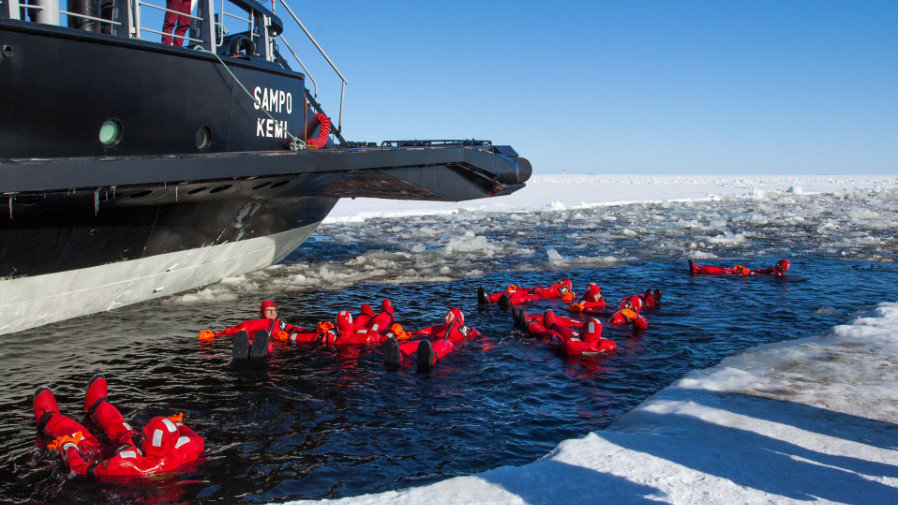 Photo: @365kemi Twitter
It could not be otherwise: in Kemi most of the touristic activities have something to do with water and boats. From December to April visitors can enjoy a cruise on the icebreaker Sampo, a moving museum that transports around 10.000 tourists yearly and offers them the memorable experience of getting down into the sea and swim amongst the ice and the freezing Arctic waters dressed with a proper rescue suit. Restaurants, cafes and a souvenir shop can also be found on board.
Kemi has many other attractions. Among them stands out its Snow Castle, the largest construction of its kind that exists in the world.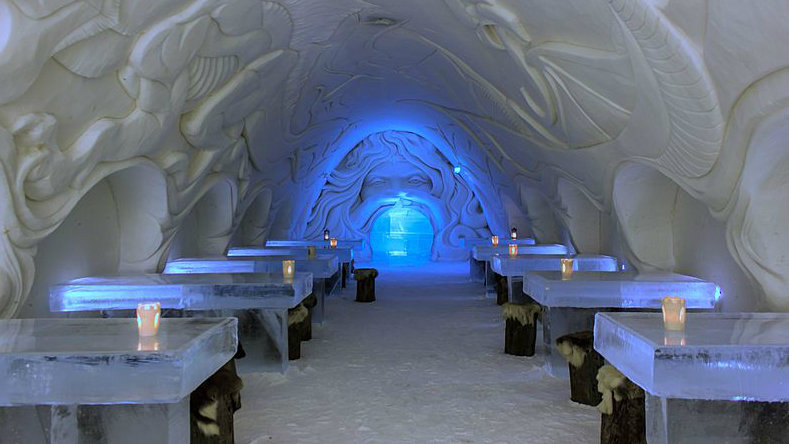 Image: Art of Backpacking
The Snow Castle is rebuilt every winter with different architecture and around the years has covered an area from 13.000 to 20.000 square meters, with towers up to 20 meters high and walls one kilometer long. Inside visitors can find a Snow Restaurant, Snow Hotel and a Snow Chapel. The place hosts also an adventure park for children, a theatre and ice art exhibitions with lights and sound effects, and sometimes opera and dance performances.
Tourists can reach Kemi comfortably by train or by plane from Helsinki airport.
Helsinki is for cosmopolitans
Finland has also big, modern and dynamic cities with a great offer of cultural events, traditional markets, shops and urban leisure. Helsinki, the capital city, is the most famous and the right place for those who wish to breathe in an international, multicultural and cosmopolitan atmosphere in the middle of the chilling winter of the north. In 2017 it attracted more than 4 million tourists.
Helsinki's architecture reflects better than anything the history of Finland, a country located between the east and west. One in four Finns live in or around Helsinki and the city is also the home for 70% of the Finnish companies and the busiest passenger port in Europe.
Among its attractions its lively nightlife stands out, with a wide range of cafés and entertainment venues such as pubs and live music clubs. As for the cuisine, the city's offer is also varied. Visitors can taste the flavors of Finnish food in a wide variety of venues, from classic grilled kiosks to modern Nordic restaurants with a great selection of local organic food. In addition, there are countless informal restaurants and pizzerias to enjoy a lunch or a brunch on a busy day.
Helsinki is well known also for its markets. The most famous is at the South Harbor and is the favorite for tourists seeking for souvenirs, local handicrafts and traditional food such as smoked fish, grilled sausages, soups and cranberries. Less than 200 meters away is the Old Market Hall, located in an old and picturesque brick building opened since 1889. This is a mandatory stop to eat and taste warmly all kind of delicatessen: cheese, fish, shellfish, vegetables, fruits, pastries, coffee and tea…
Photo: Visit Finland
During the Christmas time it is also worth to pay a visit to the Helsinki Christmas Market in the Senate Square, just before the Helsinki Lutheran Cathedral (Tuomiokirkko). Hundreds of thousands of people, among Finns and tourists, visit it every year from December 1st. Its one hundred booths offer regional food specialties from primary producers and farms, gifts, handicrafts, household items and the latest Finnish design. A popular merry-go-round offers free rides for children.
But the most visited attractions of Helsinki around the year are the Linnanmäki amusement park, the church excavated in the rock Temppeliaukio and the fortress of Suomenlinna. Built in the 18th century on a group of islands to control the access by sea to the city's harbor, this stronghold has been transformed for civilian uses and today is a district of the capital city with 850 inhabitants.
One third of Helsinki's territory is covered by parks and green areas. If this were not enough, less than 30 kilometers away from downtown is Nuuksio National Park. Covering an area of 45 square kilometers between Espoo, Kirkkonummi and Vihti, this is a rich place in wildlife, lakes and forest. It offers camping opportunities and trails for skiing, cycling, hiking and horse-riding.
Observe two nations from Aavasaksa hill
Aavasaksa is a sharp-edged hill located in the municipality of Ylitornio, about 10 kilometers north from the town center. The site is on the eastern bank of Tornio River, which marks in this area the division between Finland and Sweden.​
The hill and the Tornio River Valley are included in the list of the 27 National Landscapes of Finland. Its summit, 242 meters above the sea level, is a popular vantage point to enjoy magnificent views of the valley's nature, both on the Finnish and Swedish sides.
The inhabitants of this region claim that Aavasaksa is the oldest travel destination in Lapland. True or not, it is a fact that it has been famous among travelers for centuries because of its sights. Even the Russian Zsar Alexander II planned a visit to Aavasaksa as a part of a larger trip. For that purpose, a hunting lodge was built in the hill and in 1882 transformed into The Imperial Lodge (Keisarinmaja) in preparation to receive such an illustrious visitor. Unfortunately, the Emperor's visit had to be cancelled due to the political tensions that shook the Russian Empire at that time.
Therefore Aavasaksa's Imperial Lodge is the oldest building for tourism in Lapland. Visitors could enjoy food and drinks there and also provided shelter under hard weather conditions. Today this lodge that mixes romantic style with neoclassic, Karelian, Byzantine and Viking tones is supervised by the National Board of Antiquities and houses exhibitions.
Aavasaksa offers also accommodation facilities, a cafeteria-restaurant, an observation tower roofed with glass, a ski resort and kilometers of nature trails around the hill that permit to enjoy stunning views of the Tornio valley.
The site is also very famous as a summer destination. It is known by the locals as 'The Sun Hill' because this is the southernmost point in Finland where the midnight sun can be seen during the summer solstice. Every year attracts thousands of visitors to admire the midnight sun and hosts a popular Midsummer Festival.