July 11, 2019 at 10:38 PM
The Finnish alcohol production laws changed in 1995 and the national winery business started to grow. Most of the Finnish wine is made of berries and fruits.
The first Finnish grape wine for commercial sale –rose wine Aino- was made from grapes grown in 2007. However since Finland has not wanted to be listed as a wine-producing country, Finnish genuine grape wine can not be sold as wine. For that reason, on the label the word "wine" is replaced with "mild alcoholic beverage made from grapes".
Today Finland has an unique local country wine culture. The fresh, clean, aromatic fruits and berries that grow in the short, intense, northern summer provide the raw materials for Finnish country wine production. The classified and controlled production of fruit and berry wines, as well as liqueurs and distillates, is based on fermentation.
Berry and fruit wines are said to be more acidic than grape wines, and they do not necessarily have the same long flavors as good grape wines. But his does not make them be inferior, just different.
Internationally appreciated
Finnish berry and fruit wines have been appreciated internationally. The raspberry wine Vaapukka by Finnviini won a gold medal in category 'others' 2017 of the Vinalies International Wine Competition, one of the most prestigious competitions in the wine world organized every year by the Union of French Oenologists.
There are about 25 wineries in different parts of Finland. Wineries sell locally produced berry wines and many of them offers wine tastings, food with wine recommendations and even accommodation. Here three of them:
Temola Winery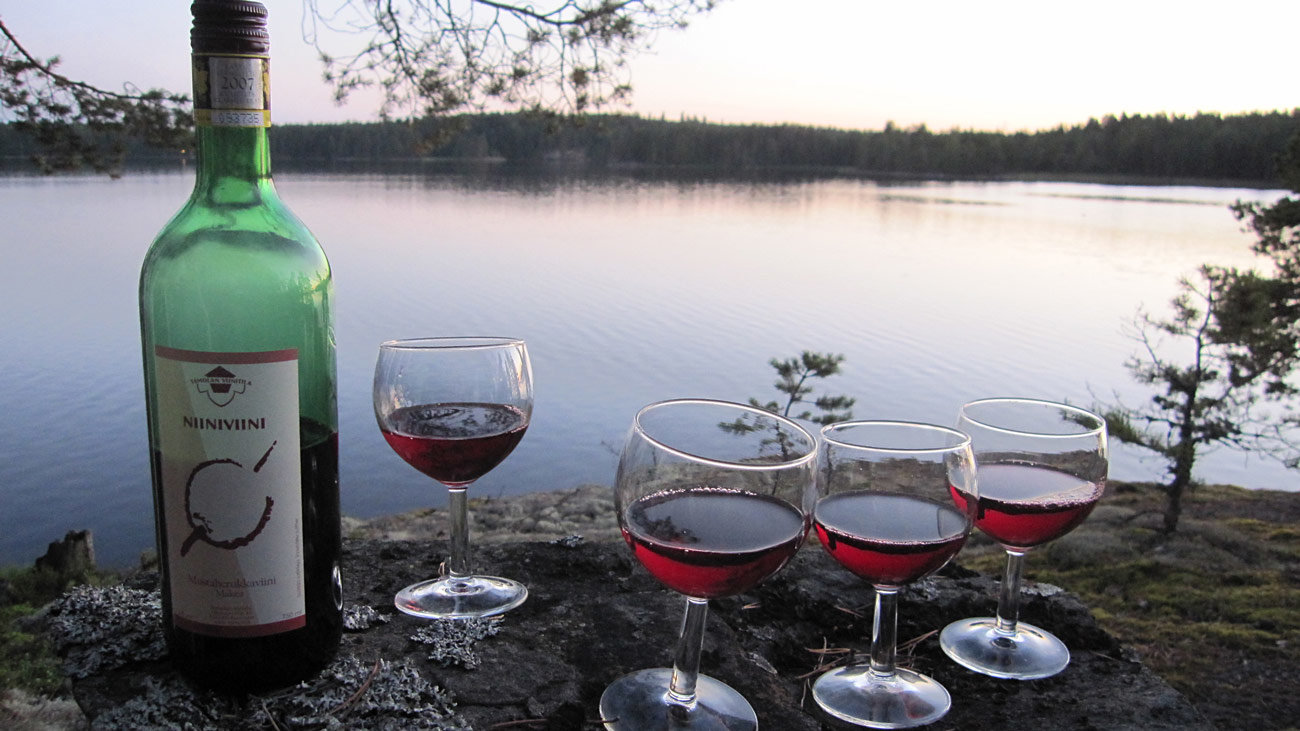 One of the products of Temola Country winery. Photo: Harri Järnström.
Temola Country winery is located in the heart of the Lake Saimaa, on the beautiful island of Niinisaari in Puumala. The winery produces high quality berry wines, sparkling wines, apple cider, distillates and liqueurs from berries.
All the winery products are available for tasting and in the shop you can by wine by bottles. Also wine tastings for bigger groups can be arranged by appointment.
The Lake Saimaa and especially Puumala area is one of the most popular cottage holiday destinations in Finland. Besides the winery products, Temola also has a summer cottage for rent.
For more information on Temola Winery, click HERE
Mattilan Marjatila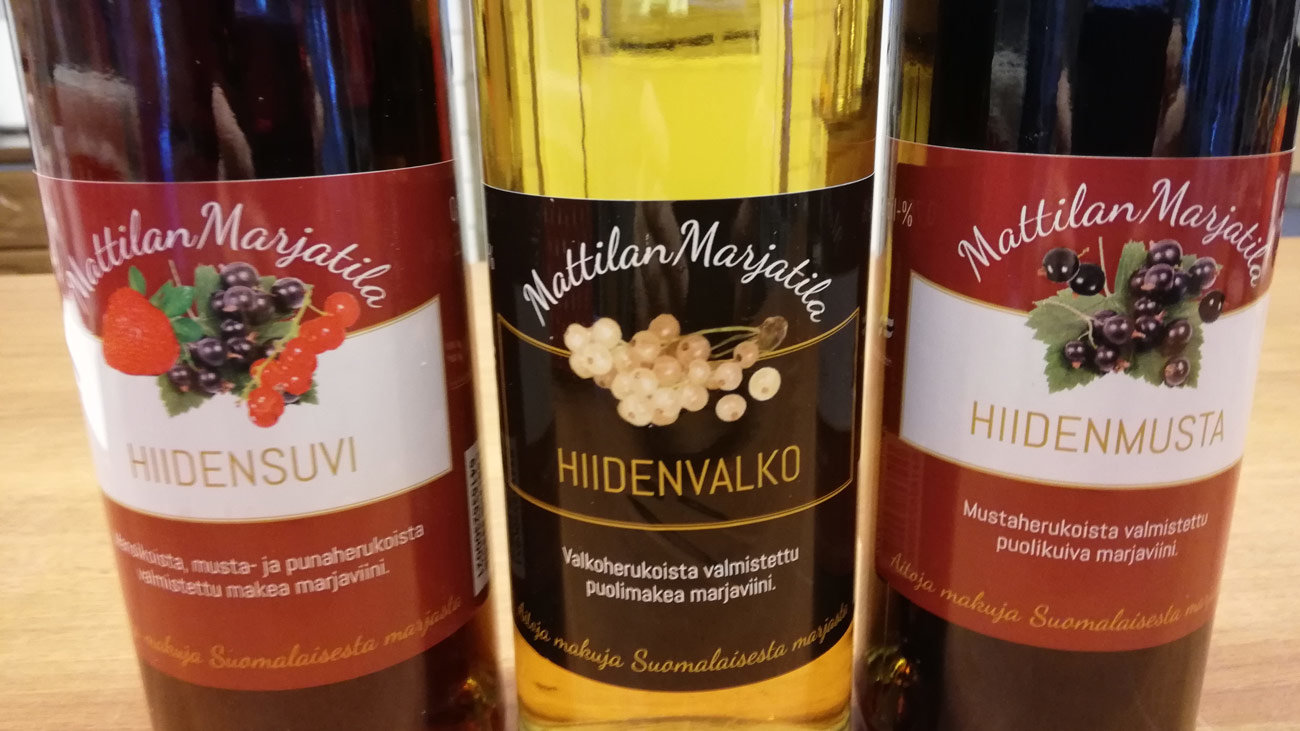 Products from Mattilan Marjatila strawberry farm and winery. Photo: Mattilan Marjattila.
Mattilan Marjatila is a strawberry farm and winery in Huittinen, less than one hour's drive from Pori, Turku and Tampere. The berry farm grows strawberries, green peas, raspberries and early potatoes. Winery´s berry wines are all hand made from locally grown berries: strawberries, red currents and raspberries.
The berry farm also offers farm accommodation. There are four rooms, each for four persons, available for overnight stays. Garden cafe Hiidenkolo serves fruit farm guests in the summer time.
In Hiidenkolo you can buy fresh local berries and locally produced soft drinks, berry wines and sparkling wines or enjoy a little salty or sweet with wine or cup of coffee.
You can learn more about this winery and berry farm HERE
Alahovi Winery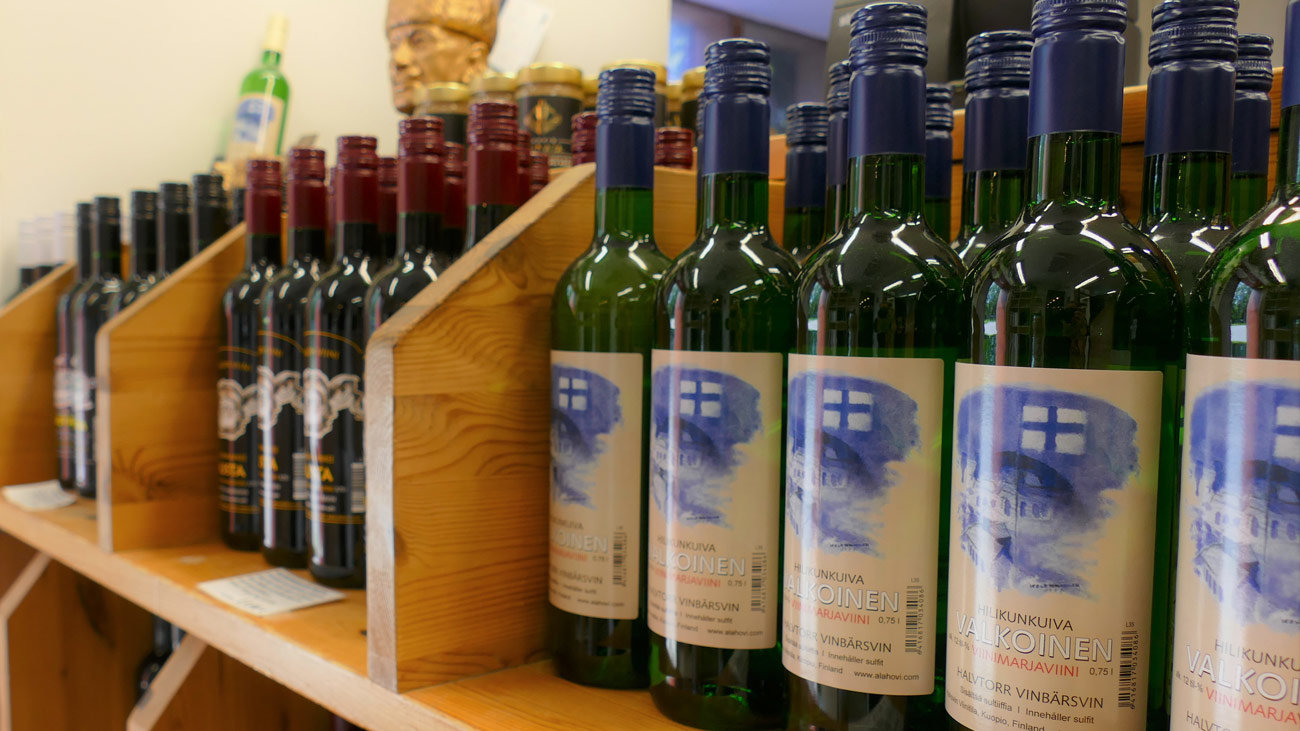 One of the wines that can be purchased at Alahovi wine store. Photo: Alahovi Viinitila.
Alahovi Berry Wine Farm is located on the island of Vaajasalo, near Kuopio. Since 1995, the Winery has produced high quality berry wines, sweet liquors, cider and beer. There is also a restaurant, where you can enjoy the selection of wines and foods.
At the wine store you can buy the farm's own berry wines and stronger apple cider. Some stronger alcoholic beverages are also found in Alko's selection.
In the summer, you can get to Alahovi by ship from the Kuopio passenger port.
There is also an 'Alahovi cruise' package that includes the cruises to the island and back, a delicious meal on the ships, and wine tasting at the berry wine farm.
For more information about the Alahovi Winery, click HERE
Other 22 wineries throughout Finland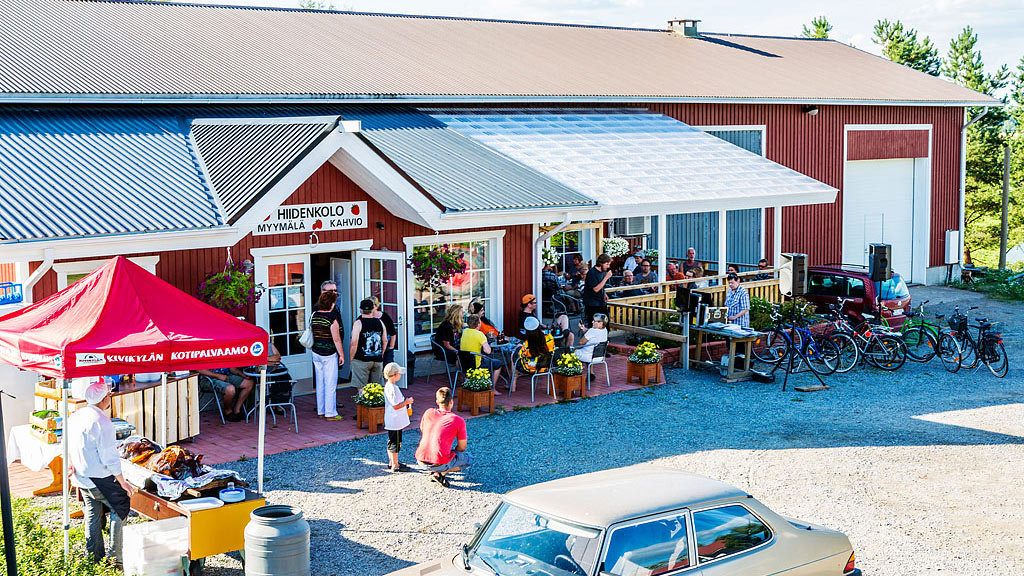 A group of visitors enjoying wine tasting at Temola. Photo: Visa Vehmanen.
There are at least other 22 wineries around Finland which are definitely worth a visit. You can find more information about them HERE
Some of the Finnish wines are also sold in Alko. So next time you go shopping for wine, forget the familiar grape wine. Be brave, take a jump to the unknown and try some unique Finnish berry wine. For sure you will not regret it!