July 16, 2019 at 10:38 PM
Brunberg (Porvoo)
The origin of Brunberg's chocolate factory was A. W. Lindfors bakery founded in 1871, that was bought by Lennart Brunberg in 1928.
Brunberg's most well-known and loved product are Brunberg's kisses, chocolate-frothed foam sweets. Besides these delicious kisses Brunberg makes truffles, chocolate chips, caramel fudges, liquorice, chocolate bars, rice chocolate and jelly sweets.
You may visit Brunberg chocolate factory shop in Porvoo Old Town in address Välikatu 4, where you may find delicious chocolate bars, rice chocolates, jelly sweets, caramel fudges and liquorices. In the shop you have the opportunity to taste different kind of sweets before deciding which ones to buy.
Brunberg has another factory shop. The original shop is situated next to their small factory 2.5 kilometers from the old town of Porvoo, address Teollisuustie 19.
More information HERE
Panda (Vaajakoski)
Panda's first chocolates were made in 1921. In the early 1950s, the artist Bror Zetterborg chose for the first time a sympathetic Panda for a wrapping of a Panda-Pop chocolate plate. Soon, panda was added to all of the product packages, and because customers liked it, it was named the whole factory.
The factory shop in Vaajakoski, near Jyväskylä, sells liquorice and delicious chocolate products. You may visit the shop in address Asematie 2, Vaajakoski.
Get to know Panda better (link in Finnish) HERE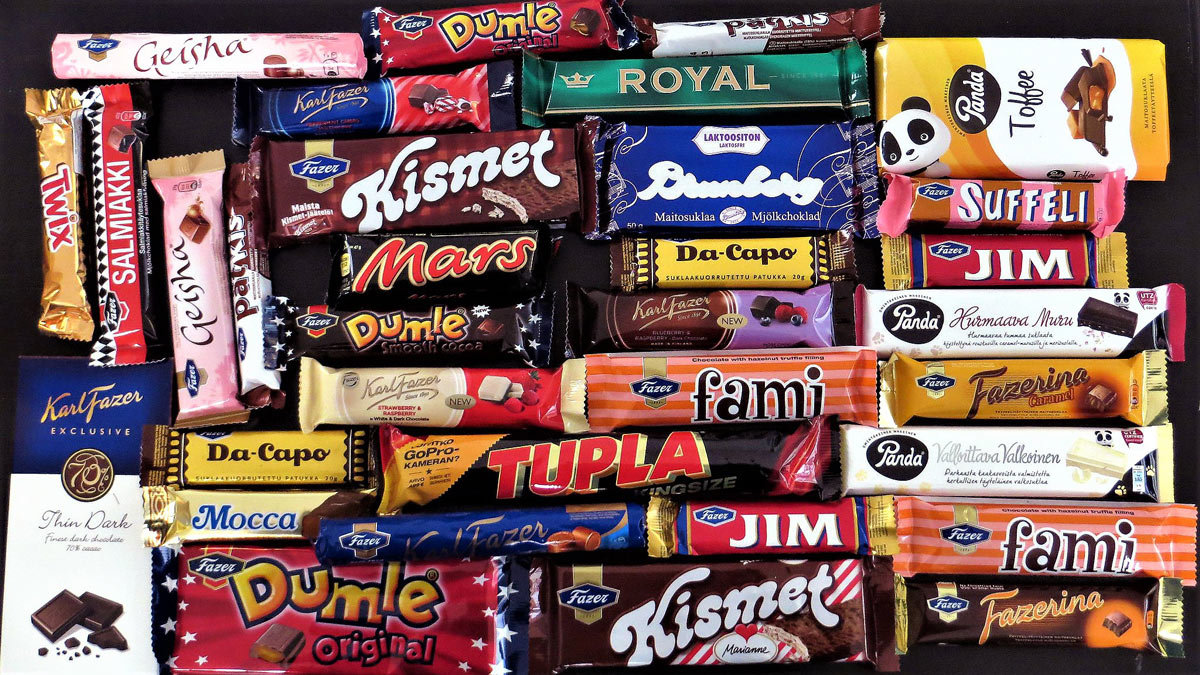 A selection of Finnish chocolates (plus some foreign guest star). Photo: Pete (Flickr)/Public Domain.
Dammenberg (Lempäälä)
Dammenberg chocolate factory is located 17 kilometers from Tampere in Lempäälä. Dammenberg manufactures chocolate by hand and also takes into account allergy chocolate friends with products that do not contain nuts, gluten or eggs. In addition, the selection includes unsalted, milk-free and sugar-free chocolates.
At Dammerberg you can book a delicious chocolate tasting for your party, or visit the factory shop in address Varastotie 1, Lempäälä.
More about this factory HERE
Kultasuklaa (Iittala)
Established in 1990 in Iittala, Kultasuklaa is a unique and traditional chocolate factory that produces almost anything from handmade chocolate. In the outlet shop you may find elegant chocolate boxes, confectionery, and chocolate blocks, as well as organic raw chocolate.
The destination is a complete stopover for the traveler, because in the same yard area you may find also the Iittala Glass Factory and Outlet, Naskali recycled leather ítems, Pottery House Anubis' ceramics and Finnish hand-made knives and textile- and gift shop Wola.
This so called Glass Capital is just 118 km from Helsinki, 25 km from Hämeenlinna, and 55 km from Tampere in address Könnölänmäentie 2. Iittala can be easily reached also by train. Commuter trains from both Tampere and Helsinki stop at the Iittala train station which is only 700 m away.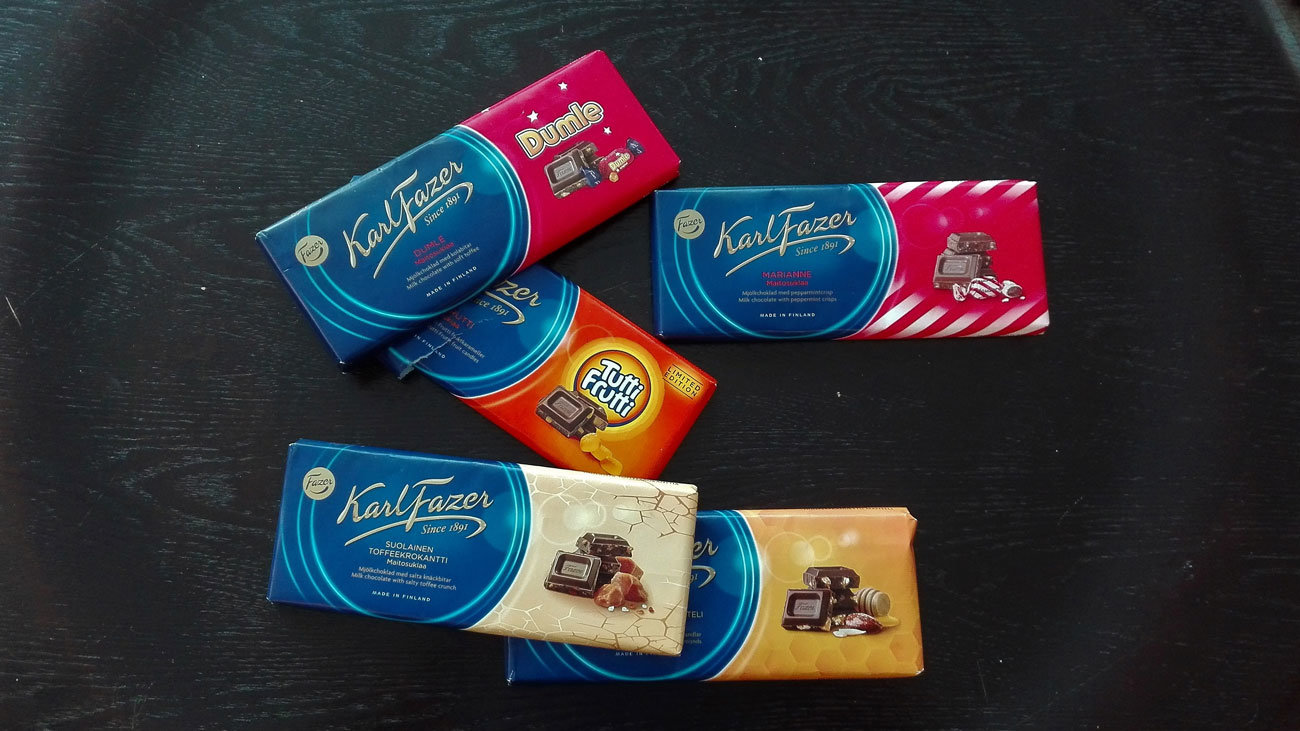 Different kind of Fazer chocolates. Photo: © Foreigner.fi
Fazer (Vantaa)
The last but not the least we have Fazer, the largest confectionery company in Finland, with the most popular products including Dumle, Geisha, Panther and Marianne.
Fazer has a chocolate factory in Vantaa, a sugar confectionery factory in Lappeenranta, and a chewing gum factory in Karkkila, but it has traditionally been discovered at the factory in Vantaa, where many people find out the secrets of the confectionery industry.
Fazer has also a visitor center in Vantaa, which rounds emphasize the educational aspect rather than just tasting. For example, Fazer's activities, product range, history and innovations can be found in the visitor center in an hour-long tour.
Guided tours are paid for with the exception of school groups. If you wish to participate, it is recommended to buy the tickets in advance HERE
However, Fazer's factory outlets can be found in Lahti, Ranu and Karkkila.