June 10, 2019 at 10:30 PM
Summer is here to stay. If you want to enjoy sunbathing and beach life, you don't have to take a plane and travel very far away. There are many beautiful sandy beaches in Finland, in some cases even close to major cities, where you can enjoy both sea or lake water combined with the beautiful Finnish landscape.
Many of these beaches have good dressing and toilet facilities. Some of them have in the nearby top-class establishments which offer accommodation and other services, for example it is common to find available a wide range of possibilities to practice different kind of summer and water sports.
Below, you can read about the 6 best Finnish sandy beaches that Foreigner.fi has selected for you. There is no excuse, take your towel and umbrella and get ready for a good bath!
Yyteri beach (Pori)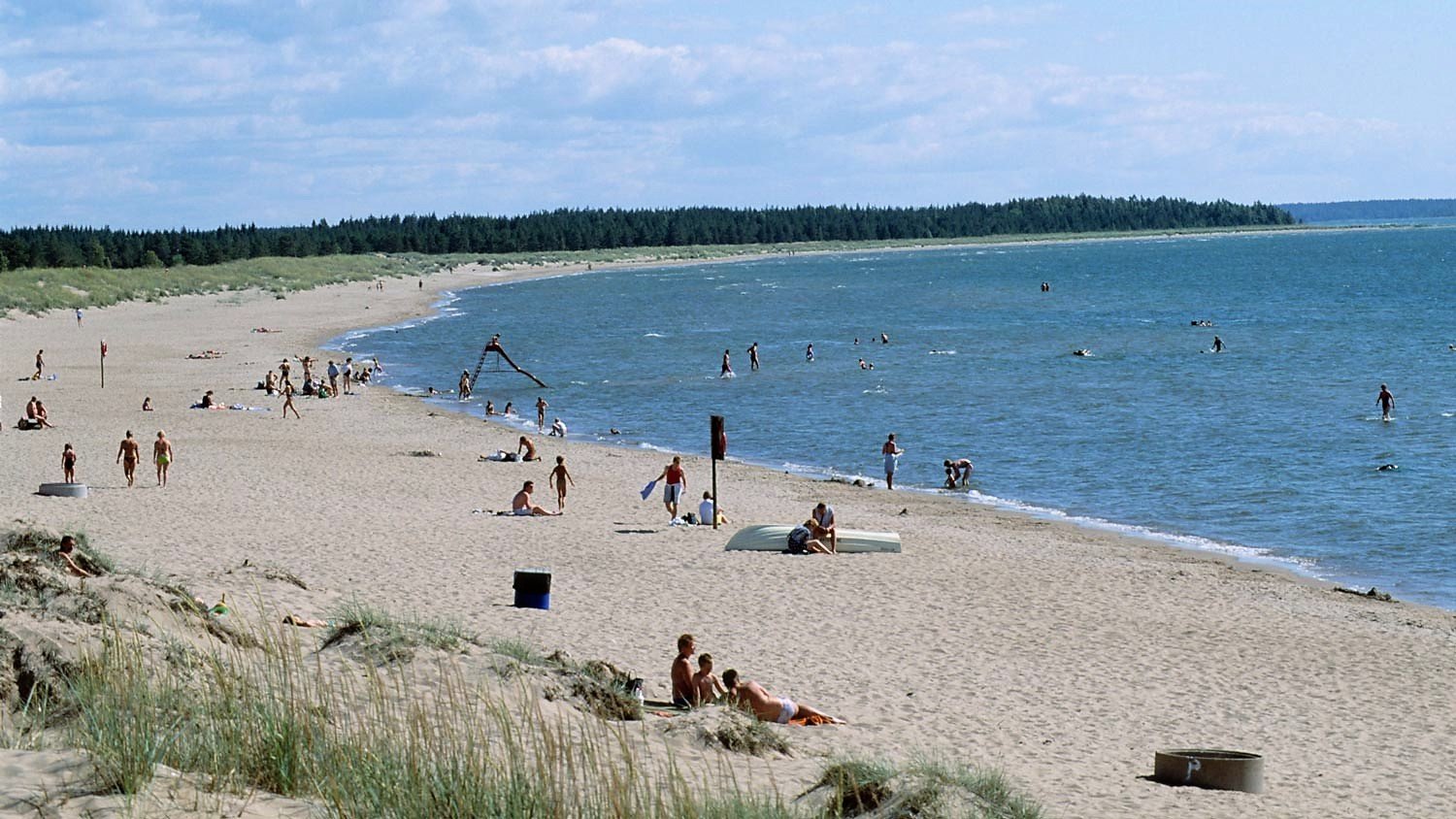 Yyteri beach is one of the longest sand beaches of the Nordic countries. Photo: Business Finland.
In Pori you can find the Yyteri beach, one of the longest beach of the Nordic countries. This six-kilometer-long beach is known for its extensive dune area. Besides swimming, you can practice there many different water sports: the Surf Center Yyteri offers windsurfing lessons. Another possibility is to rent a SUP board or a skimboard.
Yyteri Beach is part of a nature reserve and consists of several beach areas. Besides the public beach, there is also a separate naturist beach, where you can hang on in smaller clothes.
The beach offers also good dressing and toilet facilities.
Nallikari beach (Oulu)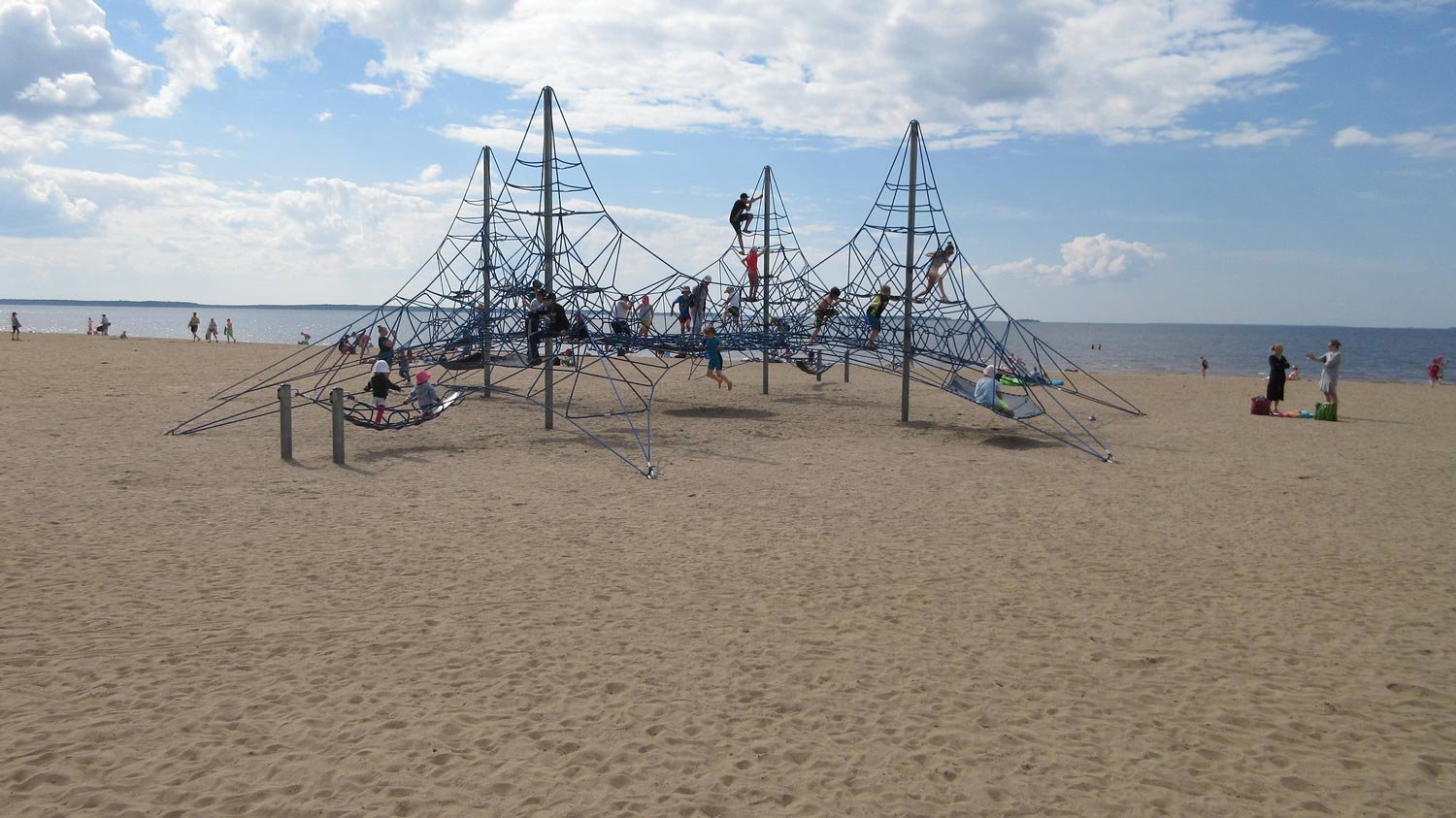 Three kilometers away from Oulu's center, Nallikari is another great choice. Photo: Jartsf (Flickr)/Public Domain.
In Oulu you can find a long and shallow sandy beach in Nallikari. The Nallikari beach is just three kilometers from the center of Oulu and during the summer, the Potnapekka mini-train runs regularly between the Nallikari beach and the downtown of Oulu. The short distance is also great for cycling.
Nallikari beach is particularly suitable for families as the water is shallow and there is a lot of space to play in the sand. The beach is attractive not only for sunbathing, but also for an active beach day. At Nallikari Lomakylä (Holiday Village) you can rent a bike, tennis rackets and pedal cars.
Bellevue beach (Hanko)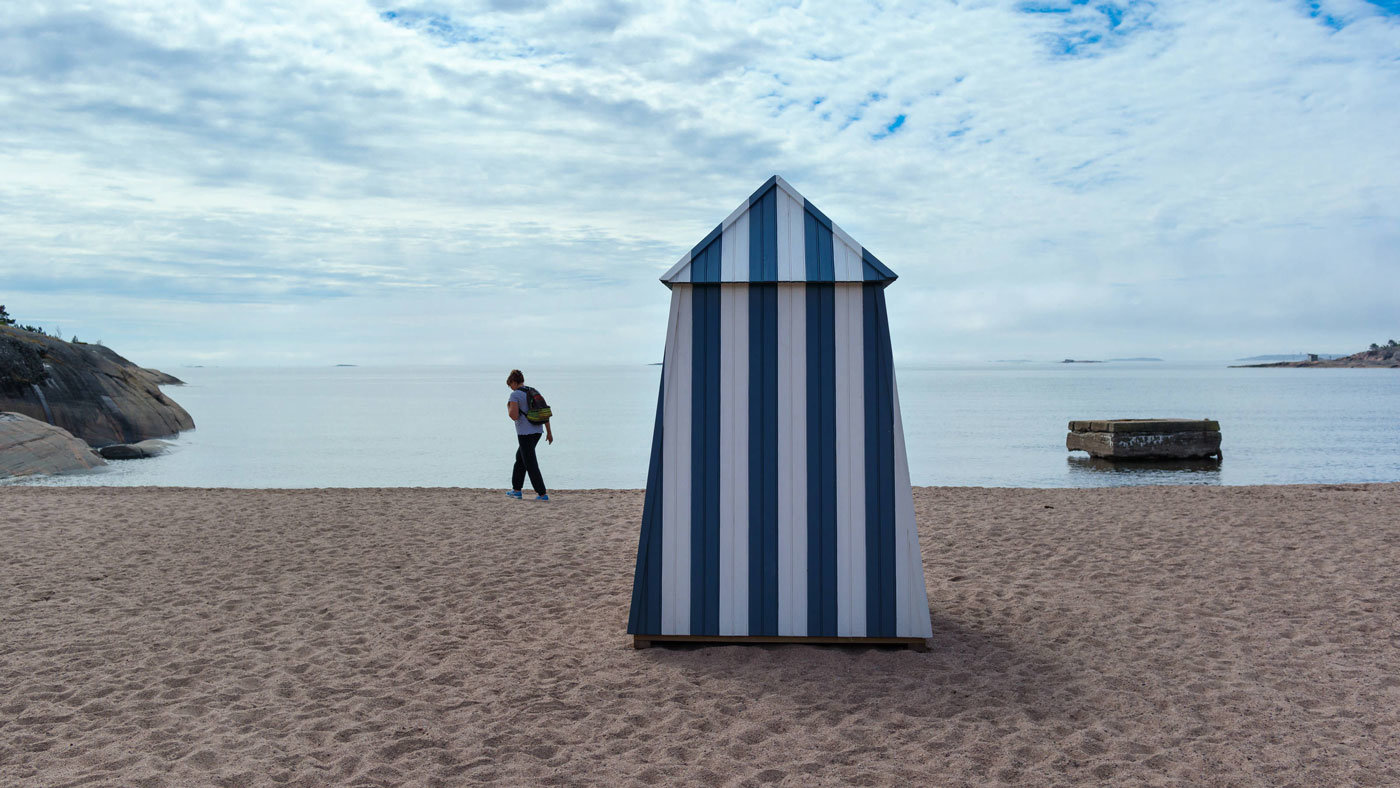 The southern city of Hanko is also well known for the beauty of its beaches. Photo: Mikko Kiviniemi/Visit Finland
The southernmost city of Finland, Hanko, has more than 30 kilometers of sandy beaches. One of them is Bellevue Beach situated about two kilometers from the center of Hanko.
The Bellevue is a shallow and quiet sandy beach. This 1,5 kilometers long sand and dune area is culturally and scenically significant and beautiful area. When the sun shines, its rays heat this beach almost all day and the water is usually quite warm.
There are also good dressing and toilet facilities on the beach.
Hietaniemi beach (Helsinki)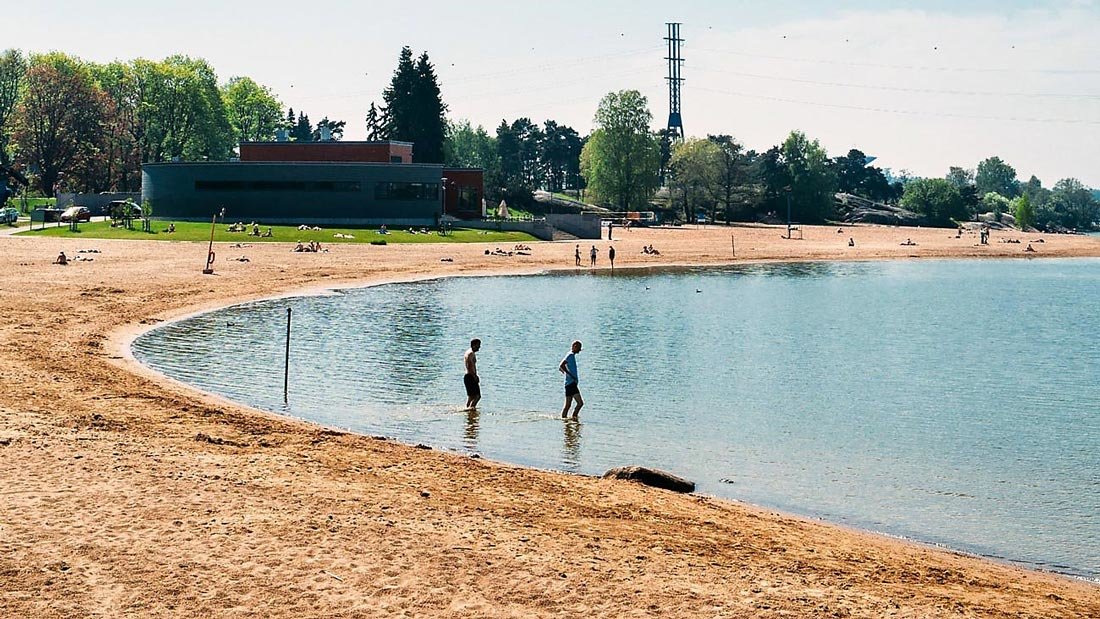 Hietaniemi beach also hosts concerts and other events during the summer time. Photo: Jussi Hellsten/Visit-Helsinki.
Hietaniemi Beach, or Hietaranta or Hietsu, as it is commonly known, is one of the most popular beaches in Helsinki. Situated in the area of Töölö, this beach is the perfect place to enjoy a warm sunny day without leaving the capital city. The beach offers excellent facilities for playing beach volleyball and there is also a weight lifting bench and free weights.
In Hietalahti there is a café building with dressing room and toilets. During the summer, there are also concerts and other events on the beach.
Pyynikki beach (Tampere)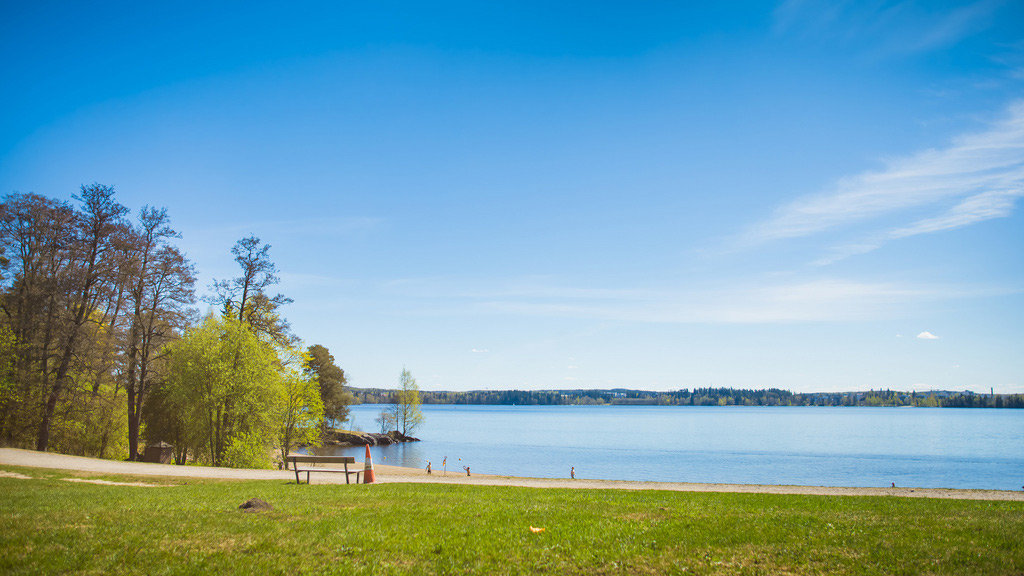 Pyynikki beach in the summer. Photo: Laura Vanzo/Visit Tampere.
Located on the shores of Lake Pyhäjärvi, Pyynikki Beach is about 300 meters long beautiful beach in Tampere. The beach consists of an eastern and western area next to the Pyynikki Nature Reserve.
The beach has dressing rooms, toilets and a kiosk. There are also toys for the children.
Väinölänniemi beach (Kuopio)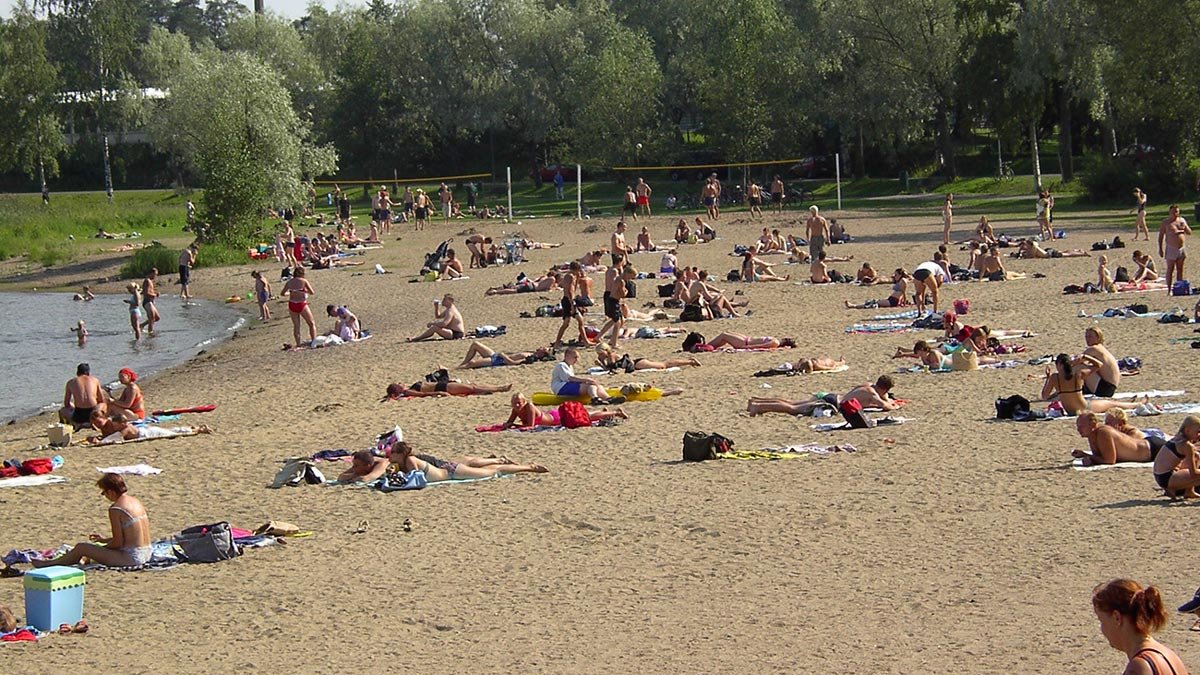 In Väinölänniemi you can practice several sports as tennis, volleyball and basketball. Photo: Tuomas Luukkonen/Public Domain.
The Väinölänniemi sandy beach is the largest and most popular beach in Kuopio.
The beach is very close to the city center and offers excellent facilities, like dressing rooms, showers, toilets as well as a jump tower and beach guards.
There is also the possibility to practice volleyball, basketball and tennis in parks nearby the beach.