December 3, 2021 at 9:03 AM
The tourism business in Spain continued to improve its results in October, despite the arrival of autumn and the increase in discomfort to travel due to the rise in the incidence of Covid-19 in neighboring countries.
According to the latest figures published by the Spanish statistical office (INE), Spain received 5.1 million international tourists in October. This is 402.7% more than in the same month of 2020.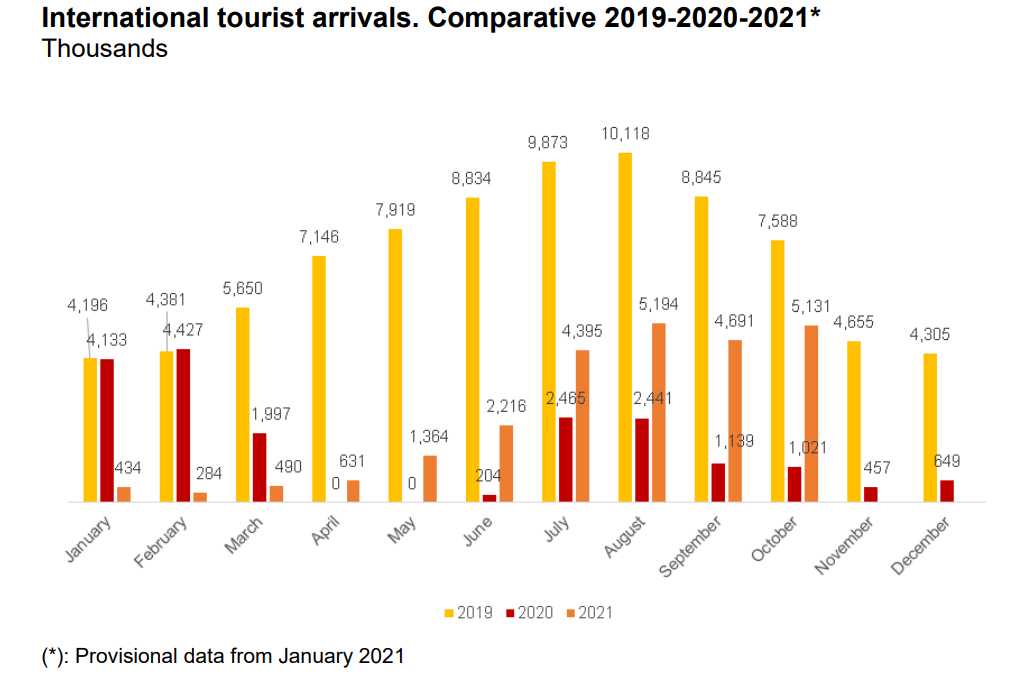 Source: INE.
Two major markets helped drive those numbers in October: tens of thousands of British and German sunseekers who visited the Spanish islands and Mediterranean coastal regions.
United Kingdom was the main country of residence for visitors: 953,348 Britons visited Spain in October (18.6% of the total), with a year-on-year increase of 544.1%. Germany and France were the following countries with the most tourists visiting Spain.
From Germany, Spain received 927,906 tourists (1,013.5% more compared with October 2020) and from France 750,941 tourists (96.8% more in the annual rate).
The main destinations
The region of the Balearic Islands was the main Spanish tourist destination in October, with 19.7% of the total. It was followed by Canarias (19.4%) and Cataluña (16.7%).
Over 1 million tourists visited the Balearic Islands, which is 1,099.5% more than in October last year.
The number of tourists visiting the Canary Islands increased by 626.2% and stood by 994,249 tourists.
The third main destination by number of tourists was the region of Catalonia, with 855,170 tourists and an annual increase of 270.2%.
The number of foreign visitors also increased sharply in Madrid (813.4%) and in the coastal regions of Andalusia (465.1%) and the Valencian Community (261.6%).
24.8 million tourists so far this year
The number of tourists visiting Spain increased by 39.3% and exceed 24.8 million in the first then months of 2021. In the same period last year, 17.8 million people visited Spain.
The main source countries so far this year are France (with nearly 4.8 million tourists and an increase of 30.8% as compared to the first ten months of 2020), Germany (with more than 4.3 million, and an increase of 93.2%) and the United Kingdom (with almost 3.3 million tourists, 11.0% more).