The Spanish tourism sector continues to show signs of recovery, although the figures are still far from those of 2019, the year before the pandemic, when the country attracted more than 80 million international visitors.
According to fresh data published by the National Institute of Statistics (INE), between January and February Spain received the visit of 5.6 million foreign tourists. That is 680.6% more than in 2021, when only 722,947 people from abroad arrived in Spain in the same period.
Similarly, in the first two months of 2022, the total expenditure of international tourists increased by 768.3% year-on-year, to exceed 6.78 billion euros, the INE's data show.
In February alone, Spain received the visit of nearly 3.2 million international tourists (1,007.8% more than in the same month of 2021). And the total expenditure made by these people exceeded 3.75 billion euros, which is an increase of 1,060.2% compared to the same month in 2021.
The gradual reopening of the country to tourism, after the hard blow caused by the emergence of the Omicron variant of the coronavirus at the end of 2021, shows that traditional markets remain faithful to the Spanish tourist offer.
The main source countries
In January and February, the main source countries for tourists were the United Kingdom (with 941,718 tourists and an increase of 2,402.7% compared to the same period in 2021), France (with 862,932, and an increase of 347.9%) and Germany (with 672,021 tourists, 663.7% more).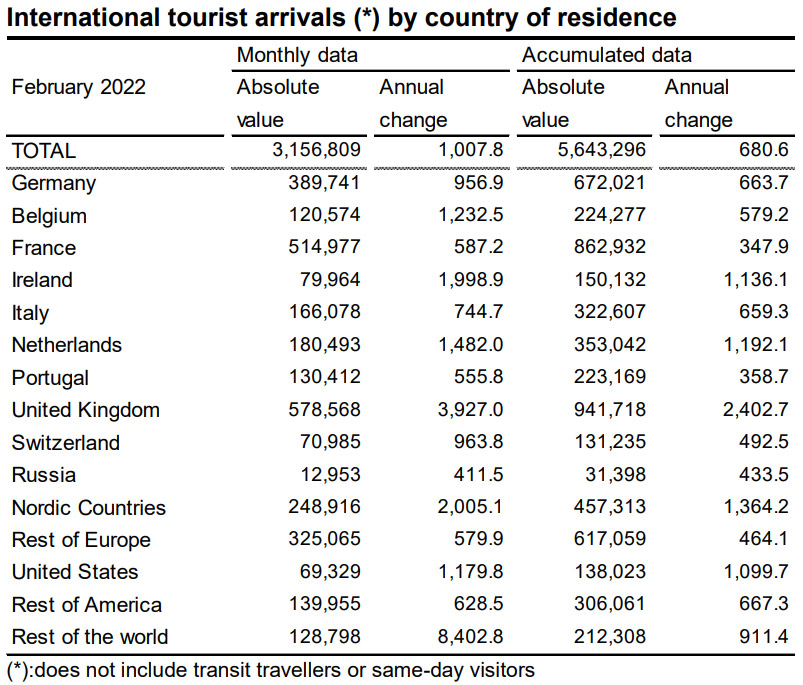 The development is very similar in terms of the level of spending, with a minimal variation between the source markets of tourists. The main countries in terms of the level of spending in February are the United Kingdom (with 17.9% of the total), Germany (13.1%) and France (10.3%).
The expenditure of tourists from the United Kingdom increased by 3,930% in the annual comparison, that of those from Germany by 956.3% and that of the French by 644.9%.
The Canary Islands is the first destination for tourists in February, with 30.7% of the total. The island community is followed by Catalonia (19.6%) and Andalusia (13.5%).