January 20, 2022 at 4:51 PM
Renfe, the Spanish public railway operator, starts on Thursday 20 January at 8:00 p.m. the sale of tickets for the new Avlo low-cost high-speed service between the cities of Madrid and Valencia. Prices start at 7 euros each way and with a basic fare of 5 euros for children under 14 traveling accompanied by an adult.
According to a Renfe press release, Avlo's commercial service between Madrid and Valencia will be inaugurated on Friday 21 January. There will be six daily circulations - three in each direction - between both major cities. That means an offer of 2,200 seats per day.
Four of the six Avlo trains (two in each direction) will also stop at the Cuenca Fernando Zóbel and Requena-Utiel stations.
According to Renfe, the first train will leave the Madrid-Puerta de Atocha station at 6:30 a.m., with a scheduled arrival in València-Joaquín Sorolla at 8:23 a.m.
In the opposite direction, the first service will depart from the Valencian station at 9:28 in the morning and will arrive in Madrid at 11:20 a.m.
The commercialization of this new service will be in a single class and the sale of tickets will be managed through a dynamic system that offers, from 7 euros, the best price available at any time for the requested trip.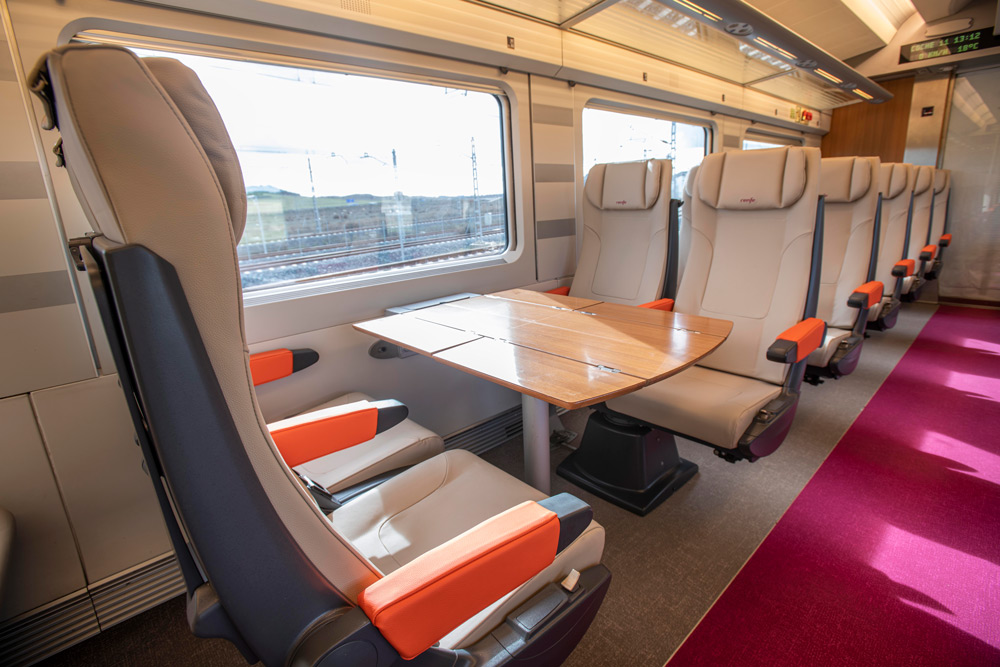 Interior of one of the Avlo low cost high-speed trains. Photo: Renfe.
On top of the base price, the customer can add additional services, such as seat selection, changes or cancellations and additional luggage. The base price includes a free cabin suitcase and a handbag.
Children, families
Children under 14 years of age will have a basic fare of 5 euros, provided that it is accompanied by the issuance of an adult ticket (with a maximum of two child tickets per adult).
For large families there are also discounts of 20% for those in the general category, and 50% for large families in the special category.
All Avlo tickets are issued to a specific user, so it is necessary to identify yourself. To buy them, users must register through the website www.avlorenfe.com or at www.renfe.com and enter the requested personal data.
The passenger's name will appear on each ticket and Renfe may request identification from customers by means of a valid official document with a photograph.