October 1, 2021 at 10:24 AM
More and more tourists choose to stay in holiday dwellings on their trips to Spain, instead of going to a hotel. The sector, which suffered greatly during the Covid-19 pandemic, began this summer to see the light at the end of the tunnel.
According to figures published on Friday by the Spanish statistical office (INE), in August overnight stays in holiday dwellings, also dubbed tourist apartments, reached 8.8 million, which is 65.7% more than in August 2020.
The number of nights spent by resident travelers (national tourists) in this type of accommodation increased by 46% and those of non-residents (international tourists) soared 118.8%.
By region, the Valencian Community, the Canary Islands and Andalusia were the main destinations for travelers in August, with 2.2 million, 1.5 million and 1.4 million overnight stays in holiday homes, respectively.
The Costa Blanca is the preferred destination for tourist apartments, with 1.2 million overnight stays.
The Ibiza-Formentera Islands have the highest occupancy rate, with 81.3% of the apartments offered.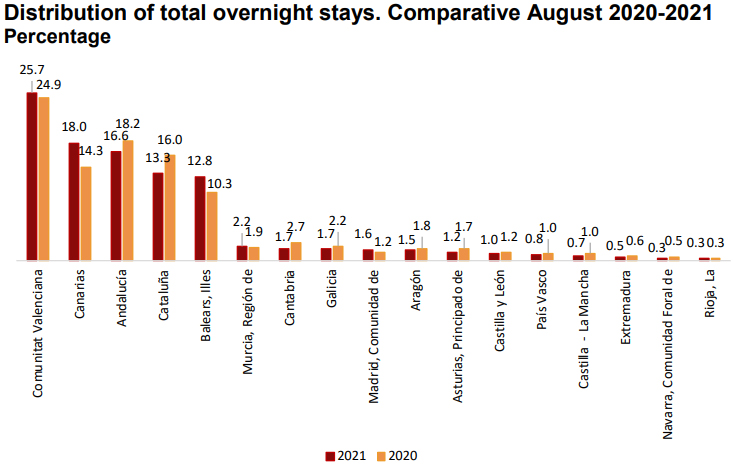 Source: INE.
Total non-hotel establishments
According to the INE, the total of overnight stays in non-hotel establishments (apartments, campsites, rural tourism accommodation and hostels) exceeded 22.3 million in August, which is 49.2% more than in the same month of 2020.
By origin of travelers, overnight stays of residents in Spain amounted to 16.1 million, 32% more than in August 2020.
The total stays of international tourists in non-hotel establishments reached 6.1 million, which is an increase of 127.1%.
Compared to August 2019, the last summer before the pandemic, overnight stays in non-hotel establishments decreased by 14.6%. Those of travelers residing in Spain exceed the levels of before the pandemic (15.2% more), while those of non-residents remain below (49.5% less).