October 25, 2021 at 11:07 AM
The tourism and holiday sector continues to show signs of recovery, thanks to vaccination and subsequent reopening of Spanish society.
Overnight stays in Spanish hotels exceeded 25.6 million in September, which is 212.1% more than in the same month of 2020, according to the latest figures from the National Institute of Statistics (INE).
When breaking down these data, the increase registered in the stays of foreign visitors stands out.
Overnight stays by travelers residing in Spain (46.1% of the total) increased 84.9% year-on-year. On the other hand, the overnight stays of non-residents rose 657.7% compared to the same month of the previous year.
The average stay increased by 33.2% compared to September 2020, standing at 3.1 nights per traveler.
However, the data published by the INE also shows that there is still a long way to go to reach pre-pandemic levels. When the data is compared with September 2019, before the Covid-19 pandemic, overnight stays in Spanish hotels show a 31.7% decrease.
The main destinations
The main destinations for travelers residing in Spain are Andalusia, Catalonia and the Valencian Community, which show annual increases in overnight stays of 95.6%, 56.1% and 107.2%, respectively.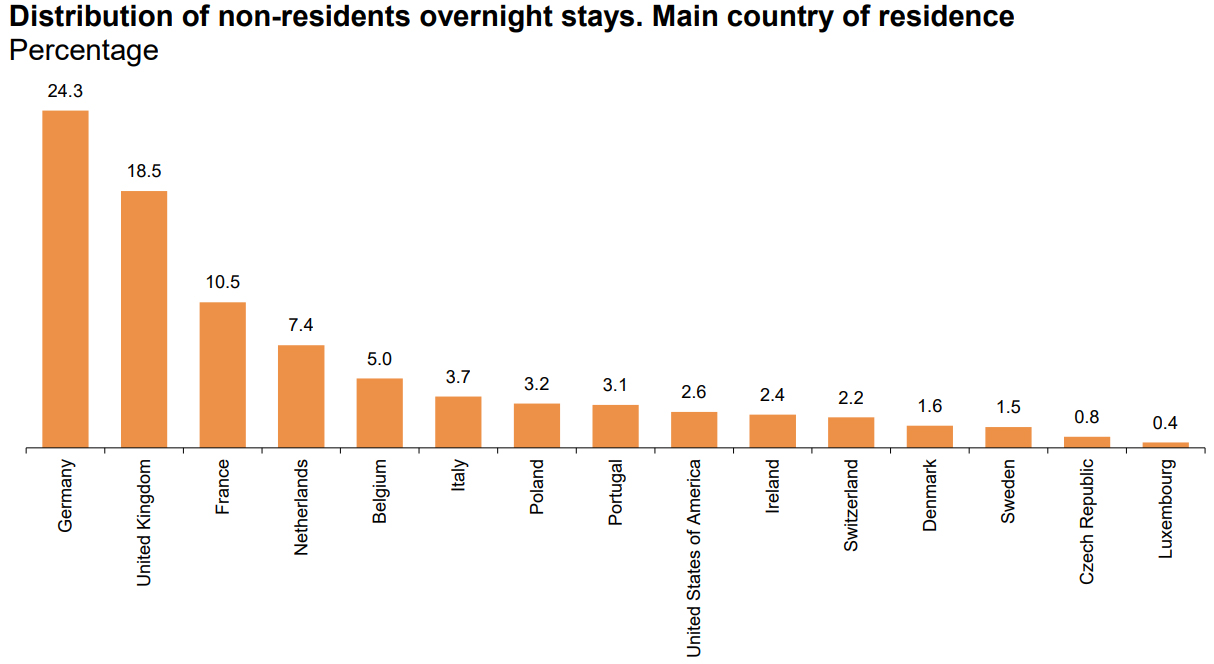 Source: INE.
For non-resident tourists, the main destination is the Balearic Islands, with 33.6% of total overnight stays. In this region, overnight stays by foreigners rose 1719.4% compared to September 2020. This was mainly due to reactivation of tourist traffic with Germany and the United Kingdom.
The following favourite destinations for non-residents are the Canary Islands and Catalonia.
The average turnover of the hotels per occupied room was 94.1 euros in September, which is an increase of 28.6% compared to the same month in 2020.