There is a joke in the Finnish army in which a soldier asks his superior why when they go for maneuvers the supposed enemy always attacks them from the east. Old jokes aside, for years the Finns have been accustomed to receiving more than bullets and cannon fire from the east. In fact, that's where the biggest source of business for the Finnish tourism industry comes from nowadays.
In January-April 2019 the Russians were once again the largest group of non-resident tourists who visited Finland. They made 290,000 overnight stays out of a total of 2.2 million made by foreign tourists, according to the latest data published by Statistics Finland.
The most striking thing about the statistics is that the overnight stays of the Russians decreased by 40,000 in that period, which represents 12% less compared to January-April 2018, when around 330,000 overnight stays were recorded. This was the biggest fall recorded among all foreign markets. And if we take only the numbers of April (the latest published) the decrease is even greater, 16% compared to the same month of last year.
The decrease in visits of Russian tourists was especially noticeable in the eastern border region of South Karelia, which in April recorded the largest drop in overnight stays, 13%.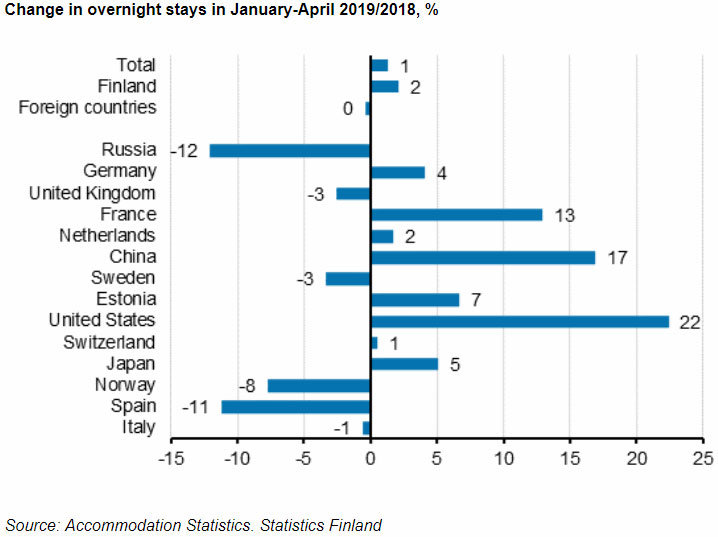 In total, in January to April 2019 tourists spent 6.74 million nights in Finnish accommodation establishments. This was 1.3% higher than in the corresponding period one year earlier. The decline of foreign tourism was compensated by an increase in domestic demand: 4.54 million overnight stays were recorded for resident tourists (2.1% more) and 2.20 million for non-residents (0.4% less). This was partially affected by Easter being in April this year.
The main foreign markets
Among foreign tourists, the biggest group of non-residents was Russians, with 290,000 overnight stays. The second largest group was Germans, with 194,000 stays (4% more). Britons were third with 185,000 nights spent, although their presence declined by 3%. The fourth largest group was French tourists (176,000 nights and a 13% growth).
The fifth place in the ranking was for Dutch tourists (129,000 nights), sixth were Chinese (121,000 nights), seventh Swedish tourist (121,000 nights) and eighth were Estonian tourists (73,000 nights).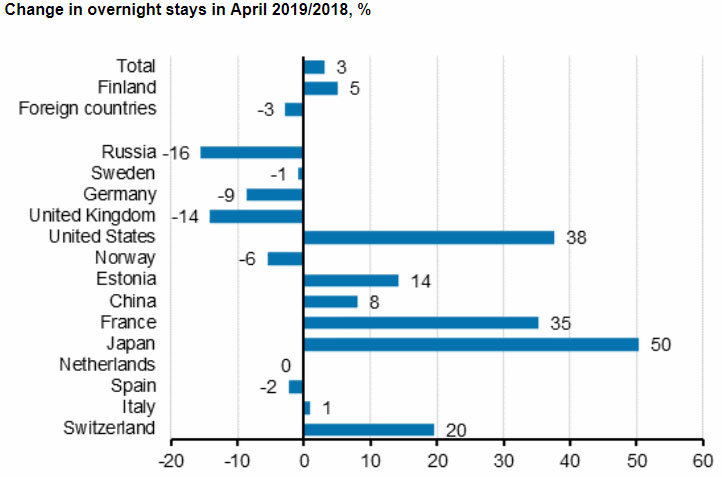 Source: Statistics Finland.
Among non-resident tourists, overnight stays by tourists from the United States (US) increased the most in relative terms in January-April (22%). However, in absolute numbers US citizens are still a small market for the Finnish touristic industry.
These figures are preliminary data from Statistics Finland and they have been collected from establishments with at least 20 beds or caravan pitches with electricity connection.