September 24, 2020 at 10:04 PM
The figures for tourist overnight stays reflect the difficult time the Finnish tourism industry is experiencing. And the situation may get worse as of next Monday, when travel restrictions come into force that will only allow unrestricted border traffic with half a dozen European countries.
According to the latest data from Statistics Finland, due to the situation caused by the coronavirus epidemic, foreign tourists spent just 140,000 nights in Finnish accommodation establishments in August, 81.6% less than in the same period last year. For their part, resident tourists recorded 1.51 million overnight stays (6.9% less year-on-year).
Finnish accommodation establishments recorded a total of 1.66 million overnight stays last month, which is 31.3% lower than one year before. Of them, the total number of nights spent in hotels was 1.13 million, which was 37.3% less than twelve months earlier.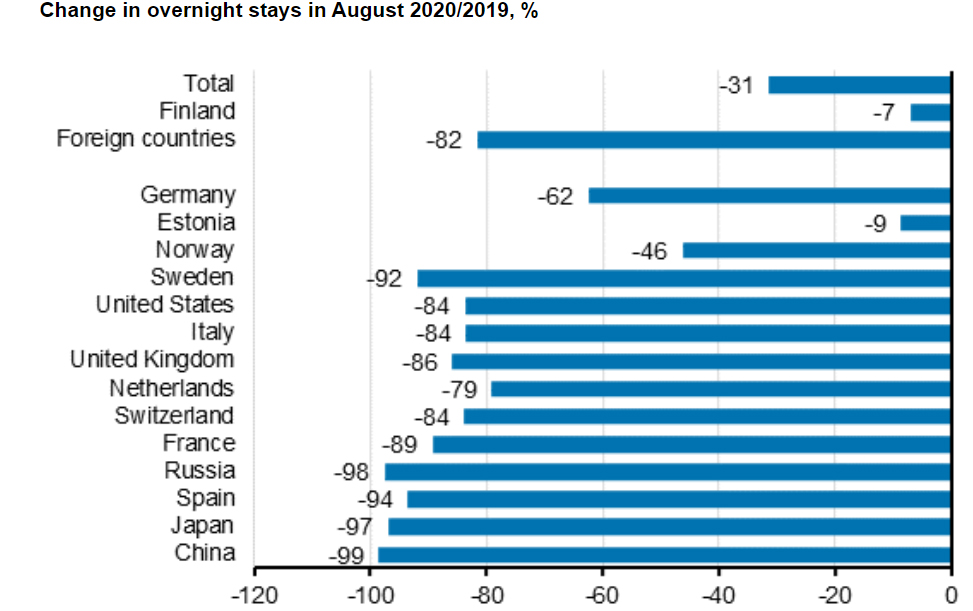 Source: Statistics Finland.
Russians, the biggest drop
Overnight stays declined in all the major markets. The biggest drop (97.5%) was seen in nights spent by Russians, down by 97,400. The smallest drop was recorded in overnight stays by Estonians, down by 2,100 nights.
The biggest group of non-resident tourists were Germans with 33,500 overnight stays. The second largest group was Estonians with 22,100. The third largest group was Norwegians with 9,500 nights, and fourth were Swedes with 6,000. However, all these markets also registered important annual declines.
Accommodation establishments in Uusimaa, Finland's capital region, recorded 63,000 overnight stays by foreign tourists (-84.6%) and those in Lapland only 13,000 (-78.8%). The share of Uusimaa in all overnight stays by foreign visitors was 44% and that of Lapland 9%.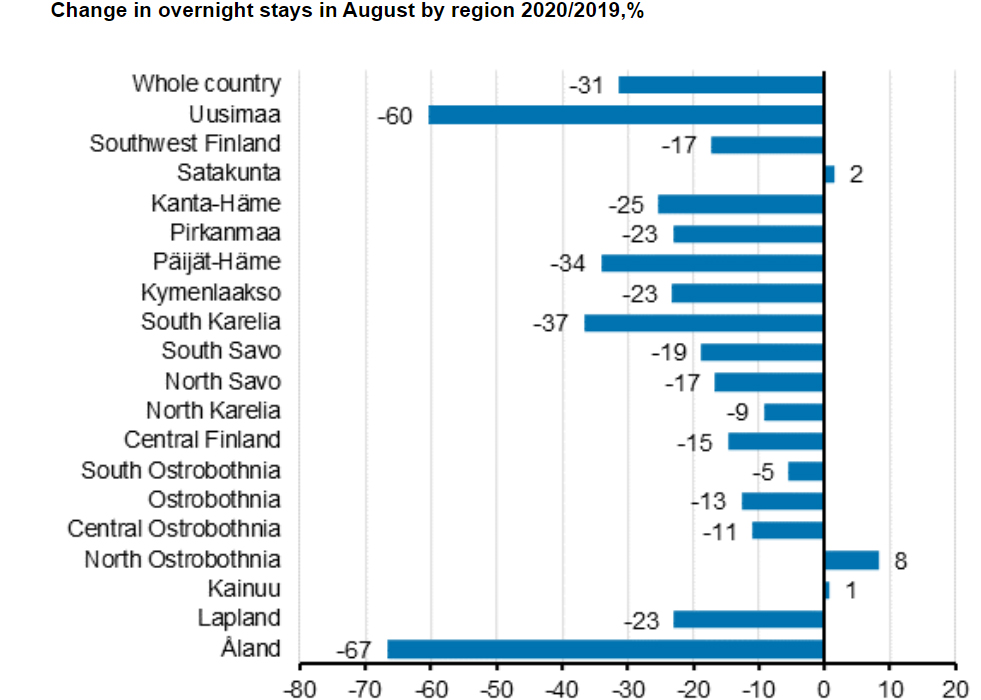 Source: Statistics Finland.
January-August
In January to August 2020, a total of 10.36 million nights were spent in Finnish accommodation establishments, 36% less than in the corresponding period one year earlier. In all, 8.39 million overnight stays were recorded for resident tourists and 1.97 million for non-resident tourists. The number of nights spent by resident tourists declined by 26.4% and nights spent by non-resident tourists fell by 59.5%.
The biggest group of non-resident tourists were Russians with 247,000 overnight stays. The second largest group was Germans with 212,000. The third largest group was Britons (155,000 overnight stays) , and fourth were French (149,000). The fifth largest group was Dutch tourists (124,000 nights), sixth was Estonians (107,000 nights), seventh Swedes (80,000 nights) and eight was Chinese tourists (74,000 nights).