April 21, 2019 at 11:53 PM
As soon as the last snow starts to melt and spring arrives, the festival season begins. Most of the festivals are musical in nature and do happen in the Helsinki area for the most part, but there are plenty of festivals for all tastes around Finland during this time of year.
From Turku to Pori, from Vaasa to Kuopio, from Tampere to Joensuu, wether it is a huge event built for tens of thousands of people or smaller gatherings in local bars or venues, there is surely a musical happening going on around the country that will cater to different sensibilities for the next four or five months.
Finland is not unique in having music festivals during the spring and summer seasons, but it does have a seemingly endless number of events during this time. Rock In The City alone organizes 9 different festivals in 9 different cities during this season.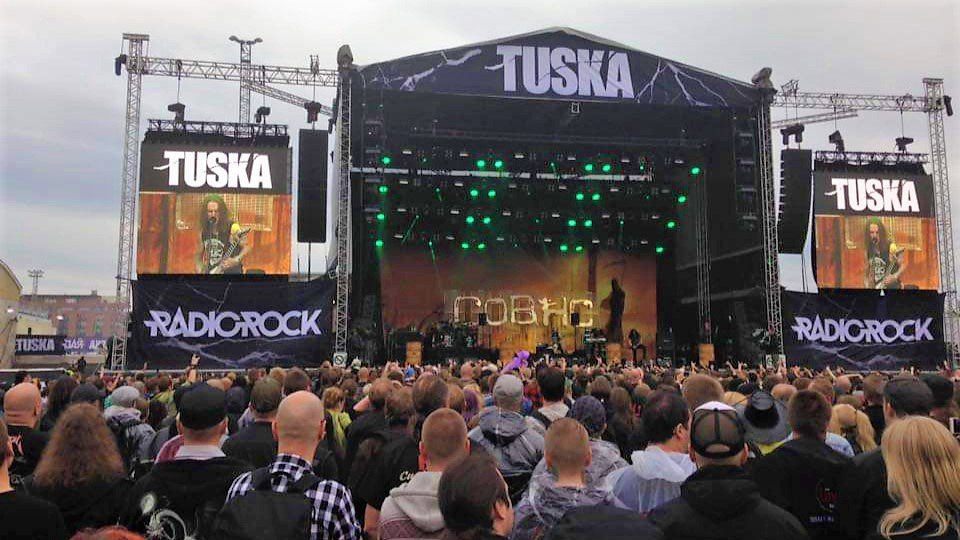 Children of Bodom at Tuska Open Air (2016). Image by Barbara Stojanovic.
Even though there are concerts year round, specially in the capital area, this is a much awaited time of the year for music lovers as the choices for concerts grow exponentially, the days are longer and nightless and the weather is good.
There are rock, metal, pop, indie, dance, punk, hip hop and more artists touring in Finland throughout this season and every single event is usually packed regardless of the artists visiting being Finnish or foreign.
Some of these festivals have been a part of the Finnish cultural scene for decades now, like Tuska in Helsinki, Ruisrock in Turku, Ilosaarirock in Joensuu or Pori Jazz in Pori which have existed for 22, 49, 48 and 53 years correspondingly.
Last year alone, Ruisrock, Ilosaarirock and Tuska Open Air had about 105,000, 60,000 and 34,000 people attending for all of three days, respectively.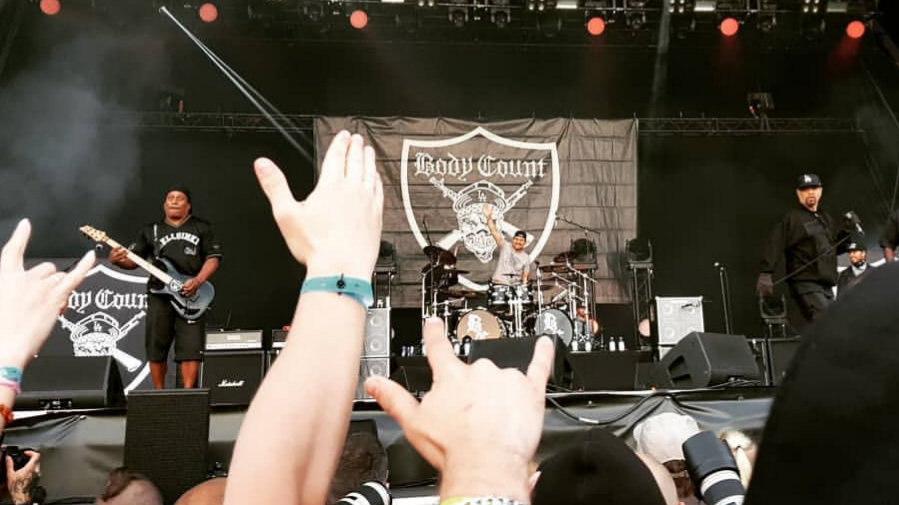 Body Count at Tuska Open Air (2018). Image by Barbara Stojanovic.
The most wanted festivals
The biggest festivals -and the more attended ones- are:
The bands playing this year
And some of the biggest names in music will be present this year again. From musicians to bands of all kinds of musical genres and countries, the ones attracting more attention for this coming festival season are:
Cardi B, Erykah Badu, The Cure and Robyn at Flow Festival (9-11 August 2019).
Slayer, Anthrax, Opeth and Dimmu Borgir at Tuska Open Air.
Rita Ora, Ellie Goulding, Travis Scott and Future at Ruisrock.
Christina Aguilera, Toto, J. Karjalainen and Stray Cats at Pori Jazz.
Stamina, Ville Valo & Agents, Alma and Architects at Ilosaarirock.
Macklemore, Cypress Hill, Lamb of God and Limp Bizkit at Provinssi (27-29 June 2019 in Seinäjoki).
Kiss, Slipknot, Def Leppard and Disturbed at Rockfest (7-9 July 2019 at Hyvinkáä Airfield).
Children of Bodom, Cradle of Filth, Soilwork and Bloodbath at Nummirock (19-22 July in Nummijärvi).
With such a variety, it is safe to assume that there will be something for everybody.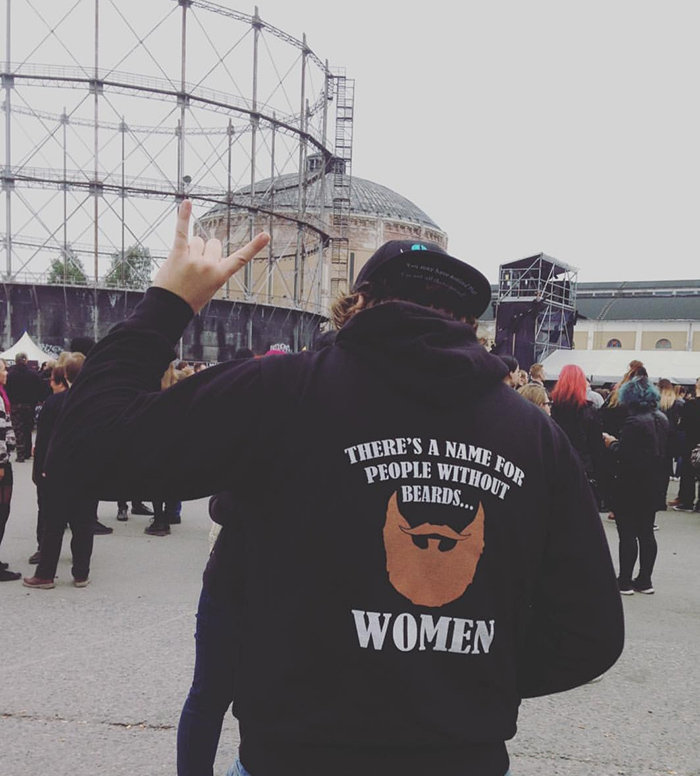 Not only music
But not all festivals are just music related. There are also theater, literature, visuals arts, film and children festivals happening as well at the same time. Those are events like:
These are only some of the festivals happening for this year's season in Finland, but there are plentiful and varied choices of events happening for the next five months.
The difficulty will be which ones to attend and for how long. So make sure to check our festival list below for more events, tickets, prices and more specific information on each one. And Happy Festival Season!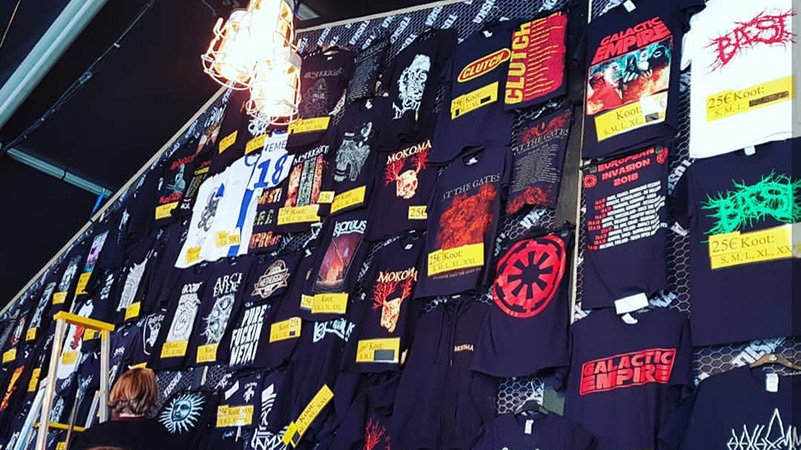 Merchandising at Tuska Open Air (2018). Image by Barbara Stojanovic.
Previous image: A spectator at Tuska Air (2015). Image by Barbara Stojanovic.
Links for music festivals:
http://tamperemusicfestivals.fi/vocal/
http://southparktampere.fi/fi/south-park-tampere/
http://www.valtterifestival.fi/valtteri/
http://www.tahkojuhannus.fi/etusivu/
https://www.iskelmafestivaali.fi
http://www.haapavesifolk.com/2019/
https://www.mustakarimemories.fi
https://www.manamansalonportti.fi/gneissirock-2019
http://www.naturalhighfestival.fi
http://www.puolankainfo.fi/lankafest/
http://www.wanajafestival.fi/etusivu/
http://www.suomipopfestivaali.fi/jyvaskyla/
http://www.suomipopfestivaali.fi/oulu/
http://shutdownfestival.fi/2019/
http://www.mansikkakarnevaalit.fi
http://www.ilosaarirock.fi/2019/
https://www.hamina.fi/bastioni/tapahtumat/miekat-muurit-ja-musketit-historiafestivaali/
https://sastamalagregoriana.fi
https://mantanmusiikkijuhlat.fi
https://www.instagram.com/orwfest/
http://www.porispere.fi/ohjelmisto.php
https://www.flowfestival.com/en/
https://bomba.fi/drive-in-rock-2019
https://www.facebook.com/Ylisfestarit-187558458242926/
https://www.facebook.com/lauhanlahiruokafestivaali/
http://www.maailmantango.net/en/
https://sottiisi.net/tanssimania
https://www.superwoodfestival.com