November 3, 2021 at 9:29 AM
The reopening of the Spanish society is also reflected in the statistics of foreign tourist arrivals.
Spain received the visit of almost 4.7 million international tourists in September, 311.9% more than in the same month of 2020, according to data from the National Institute of Statistics (INE).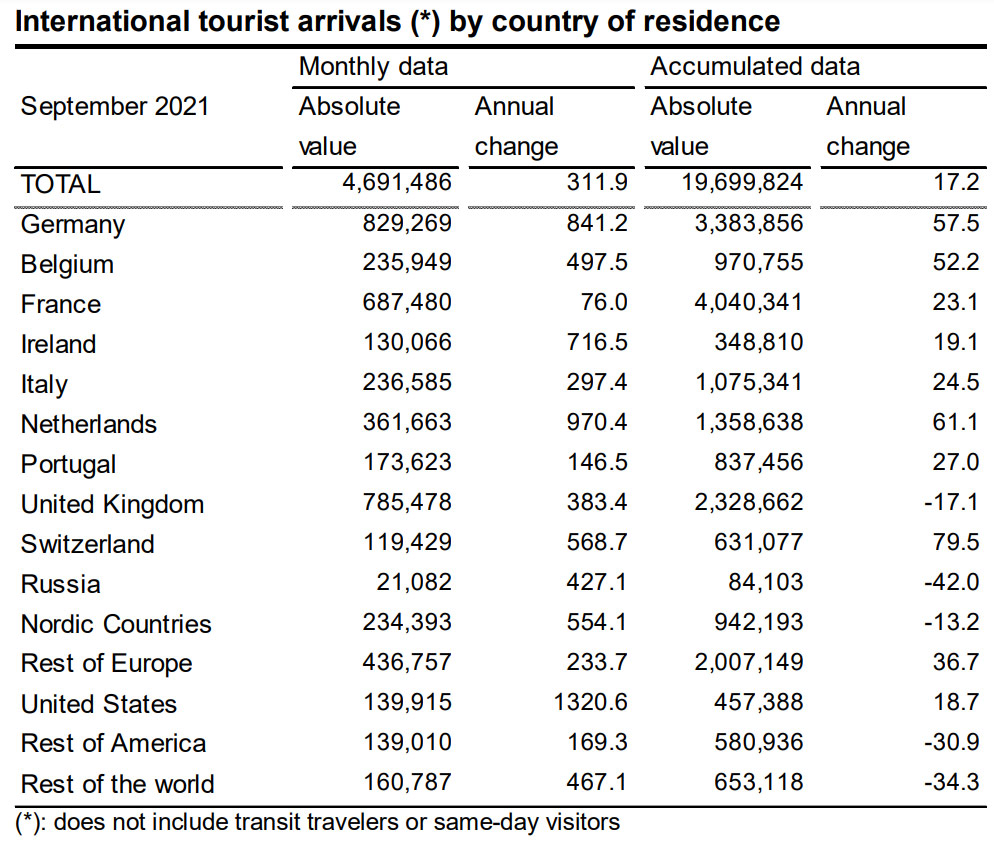 Source: INE.
Germany is the main source market for tourists coming to Spain with 829,269 visitors, which represents 17.7% of the total and an increase of 841.2% compared to September 2020.
The United Kingdom and France are the next countries with the most tourists visiting Spain. The United Kingdom contributes 785,478 tourists (383.4% more year-on-year) and France 687,480 tourists (76% more).
In the first nine months of 2021 (from January to September), 19.7 million foreign tourists visited Spain, which is 17.2% more year-on-year. In the same period of 2020, Spain received 16.8 million international visitors.
The main destinations
The Balearic Islands received 1.2 million foreign tourists, the majority from Germany and the United Kingdom, and it was the first main destination for visitors in September, with 24.9% of the total. This island region was followed by Catalonia (18.5%) and Andalusia (14.7%).
In the rest of the Spanish regions, the number of tourists increased by 560.4% in the Canary Islands, 436.6% in Madrid and 246.4% in the Valencian Community.
Airports were the entry gateways for the largest number of tourists in September, with more than 3.8 million users, which is an annual increase of 572.9%.