June 18, 2019 at 10:35 PM
Finns love summer cottages. Many Finns have their own cottage where they spend a big part of their summer holiday and weekends. However, it is not necessary to own a cottage to be able to enjoy the relaxing cottage life. You have also the possibility to rent one.
Here are some tips and links to find the perfect cottage just for you:
Lake life
If you want to experience the peace and silence, the beautiful Finnish nature, a private sauna and the possibility to take a dip (even naked) on your own beach, the best choice is to rent a cottage by the lake.
There are hundreds of cottages around Finland for rent. A large amount of them have modern comforts such as electric lighting and heating, shower, toilet, refrigerator and freezer, microwave oven, cooking possibilities and sauna that can be electric or wood-heated. In some of them you can also find a TV and WiFi.
Many cottages have also their own boat, which you can borrow. Rowing on the lake and admiring nature and wild animals is an indispensable part of Finland's cottage culture.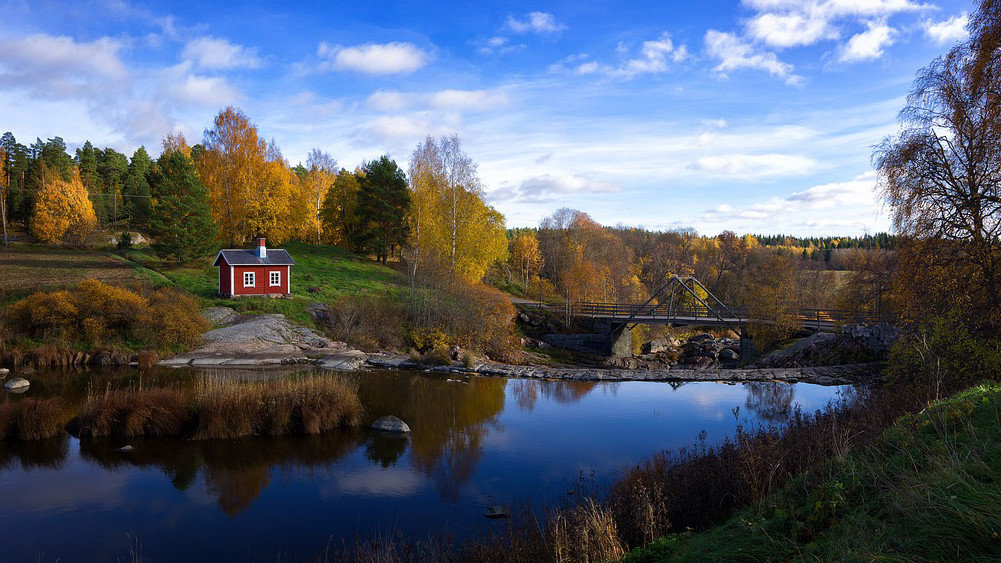 Wild Lapland
Lapland is well known worldwide for its pure and untouched nature, wilderness and special peace. In Lapland you can also experience the authentic nightless night: from mid-May until late July the sun does not fall at all.
Finland's northernmost region is also a perfect place to fish and wander in the national parks. By the road you can see reindeer and, in the forest, some types of cloudberries that grow only in northern Finland. Lapland is also a very popular place for fishing.
There are several websites that offer the possibility to search for a perfect cottage, by date and place:
Lomarengas offers you rental cottages in multiple destinations with wonderful beaches. You can check them HERE
Another good website to find a cottage is the cottage rental service Nettimökki. Have a look at it HERE
Holiday villages and centers
If you like the immediate proximity of nature, but you also want to have services close by, holiday villages and centers are a good option.
Holiday villages and centers offer cottages where to stay and a wide variety of leisure activities such as hiking, fishing, cruises, sup-boarding, boating, cycling, mushroom and berry picking, canoe rentals and excursions.
There are holiday villages and centers all over Finland. Below you will see some links which you can explore in order to find the perfect place for you.
In Lapland:
https://www.tosilappi.fi/en/accommodation/cabin-villages/
https://www.visitsodankyla.fi/en/majoitus-artikkeli/mokit-mokkikylat-2/
https://www.visitkemijarvi.fi/en/
https://travelpello.fi/en/holiday-villages-cabins-lapland/
In middle Finland:
https://www.rantalanlomamokit.com/en/
In the lake Saimaa area:
http://visitsavonlinna.fi/en/holiday-villages-in-the-savonlinna-area/
https://www.ruokkeenlomakyla.fi/eng/
https://www.visitmikkeli.fi/en/page/2
https://www.tommolansalmi.fi/index_en.html
In southern Finland:
Some of the holiday centers are right next to the best beaches of Finland, like Yyteri Beach Holiday Resort just next to the Yyteri beach.
Also Gofinland offers a wide selection of cottages, luxury villas and other holiday accommodations in Finland. The selection covers the whole country, from the south coast to Lapland.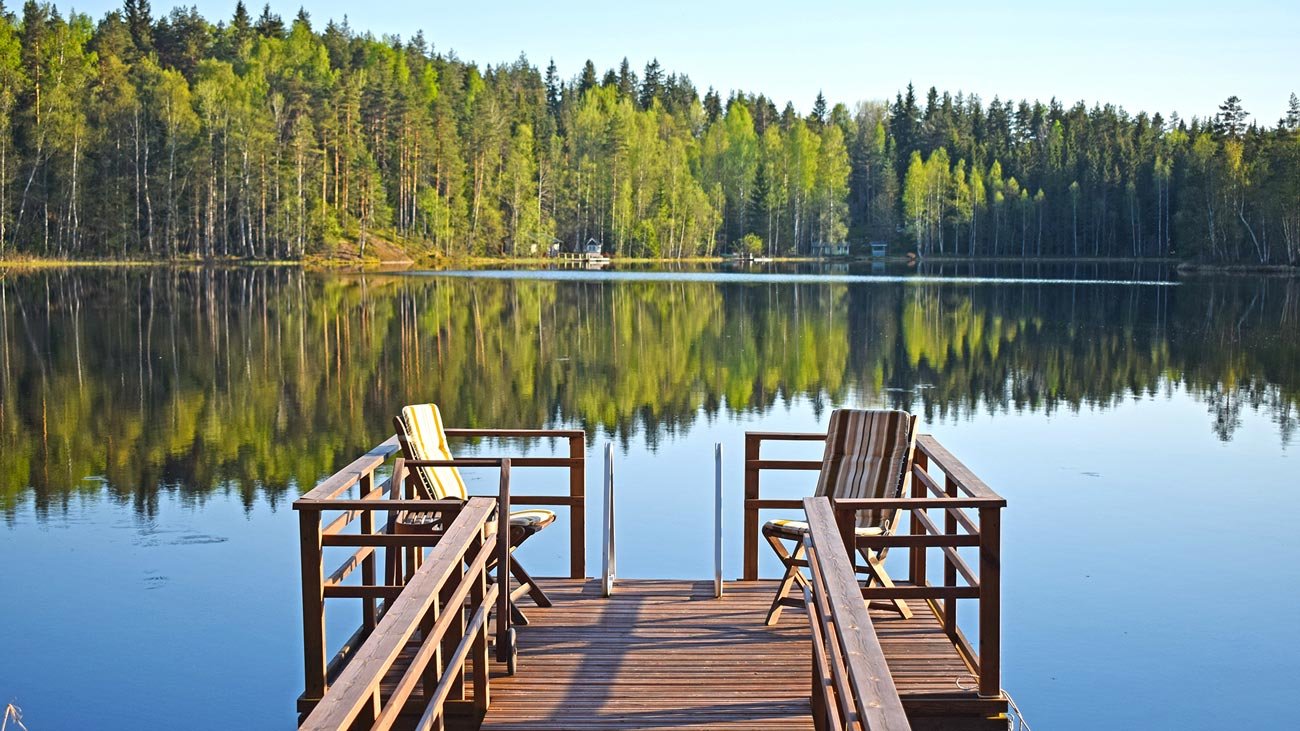 Summer cottages and Finnish nature are the best combination to enjoy a good summer holiday. Photo: Pablo Morilla.
6 things good to know
Lastly, a few things to keep in mind when you are planning to rent a cottage:
1. Changeover day and cabin delivery in weekly bookings
Changeover day is in high season usually Saturday and the shortest booking time is a week.
However, there are many exceptions to this: in many cottages the reservation can be made freely for any day of the week and for any length of time. For weekly bookings, the cottage is most commonly available from the arrival day at 16:00 on the day of departure.
2. Number of people
The cottages may be used for a maximum of the number of persons indicated in the number of beds in the destination description or agreed upon when booking the resort.
If the destination description reads "4 + 2 people", there are four beds in the cottage and two extra beds (for example a bunk bed, sofa, mattress or bed in the loft). It is usually forbidden to bring a tent or caravan to a cottage plot without the permission of the owner. Pets can only be brought to the cottages where they are allowed.
3. Arrival time notification
The owner of the cottage should always be informed of the arrival time well in advance, at least 24 hours before the start of the reservation.
4. What is included in the price?
Rental rates usually include free use of the cottage and sauna. The cottages should have standard furnishings and basic dishes for dining and cooking. Firewood is also included in the rental price of the cottage, unless otherwise stated. Rowing boats are included in the beach cottages if so stated in the destination information.
The running cold and warm water indicated in the cottage description often comes from a nearby well. Thus, the quality of running water may not correspond to that of urban water. In some cottages, drinking water is sought from the owner or the owner brings the drinking water to the cottage in the canisters. This is usually specifically mentioned in the description of the item.
Most cottages have a TV. However, it is worth remembering that cottages do not necessarily have a cable network and the quality of the picture may be lower than in urban conditions. WiFi connection is not granted in all cottages.
5. The basic equipment
The cottages should have pillows, blankets and mattresses. Normally you have to bring linen, duvet covers, pillowcases and towels. In most cases, bed linen can also be rented from the cottage owner. So, be sure to check in advance if you are going to need to rent them.
Please note that bed linen, duvet covers and pillow cases should always be used.
You may not find spices, ketchup, insect repellent, extra rolls for toilet or kitchen towels, or extra towels, so be sure to pack them in.
6. The final cleaning
Normally, you have to make a final cleaning when renting a cottage. You can often also order final cleaning by the owner. The final cleaning price is normally mentioned in the destination description if it is available.