Helsinki has a multitude of choices when it comes to entertainment for all ages, specially in this time of year. There are concerts, museums exhibits, music and movie festivals, food and beer festivals, public holiday celebrations, theatre plays, ballet, public park events, public swimming pools, the lakes, the sea, island hoping… it seems there is no chance at boredom in Finland's capital city.
But one of the biggest hits between Finns and foreigners alike is Helsinki's Castle's Hill: Linnanmäki, the oldest amusement park in Finland.
Located in the Alppila neighborhood, very close to Pasila, it is a 12 minute drive or 20 minute tram ride from the central railway station, and is owned and operated by the the non-profit Children's Day Foundation (Lasten Päivän Säätiö) to this day. The foundation donates the park's profits to the Finnish child welfare work and this year they plan to match their 2017 donation of 4,5 million euros.
This amusement park was built in 1950 and opened to the public on may 27th of that same year. It is open only between April and October, but during those months it receives around 1 million visitors. Many rides have since come and gone, but currently there are a total of 44 rides and attractions for children and adults to enjoy.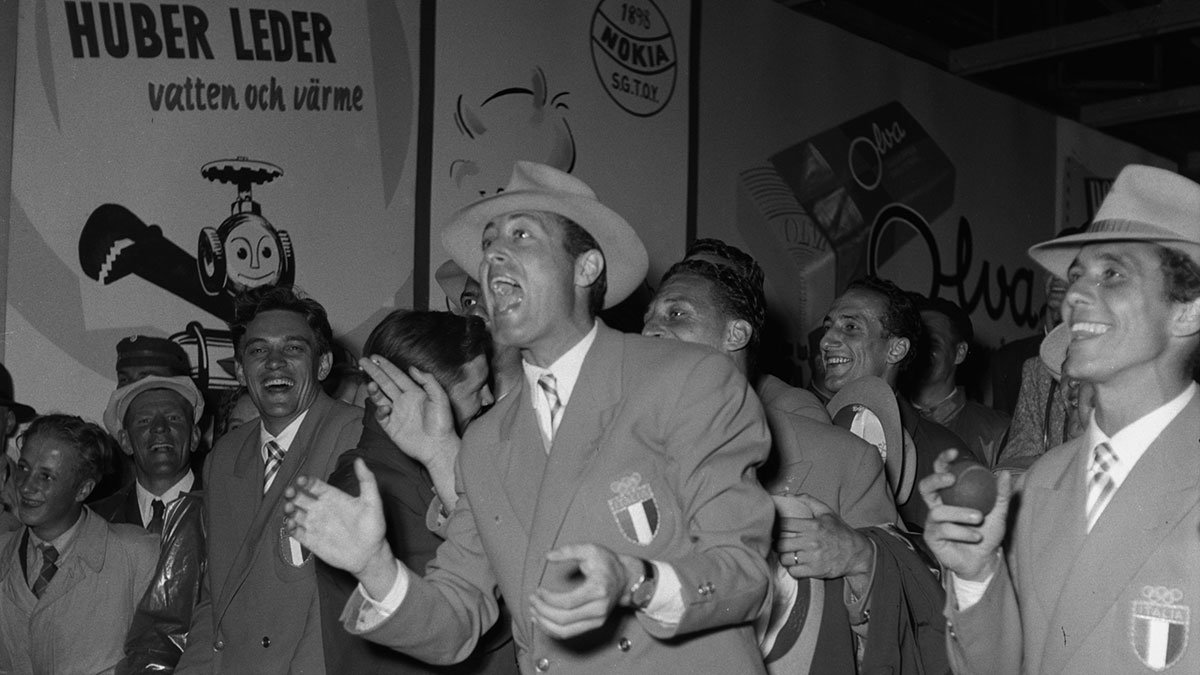 Italian guests in Linnanmäki in 1952, during the Helsinki Olympic Games. Photo: Volker von Bonin - Helsinki City Museum.
Some of these are almost as old as the park itself, or even older, like the Karuselli. This is Linnanmäki's oldest ride, built in Germany in 1896 and placed in the park in 1954. It is also one of the kids favorites and there are always lines to use it, although how long the waiting period is depends on the time of the day/week a person visits.
The old roller coaster
The other oldest attraction of Finland's top amusement park is Vuoristorata. This wooden roller coaster is probably the most beloved ride of the park and certainly the most used. It has become the biggest symbol of the park and it has been a permanent ride since it was set up in 1951.
It is one of only seven to use brakemen and it won the American Coasters Enthusiasts (ACE) Coaster Classic award in 2001.
Some rides and attractions, 9 in total, are free of charge like the Kuuputin -a carousel for kids taller than 100 centimeters that spins in both directions and elevates up to a 15 degree angle; the Cinema 4D, located near the entrance; Merirosvolaiva, a pirate themed swing that kids love; Muksupuksu, another kids favorite, is a train ride that goes around Linnanmäki's water tower; Panorama, the parks sightseeing tower available free of charge all summer; Pienoiskaruselli, for the most adventurous little members of the family who want to ride motorbikes, sport cars or be a brave fireman; Pilotti, an airplane themed ride that both adults and children taller than 120 centimeters can enjoy.
For all ages and heights
When it comes to paying attractions, the main ones are the big ferris wheel, three tower rides, a river rapids ride, spinning rides and seven roller coasters for all ages and heights.
As we previously mentioned, the oldest is Vuoristorata, but there are also the Linnunrata eXtra, the first of its kind in the Nordic countries as it joins a virtual reality experience with the roller coaster one and is assembled inside the old water tower, which was itself built in 1938. Children older than 6 years old can go on this ride but parental supervision is advised to comfort the most nervous daredevils; Pikajuna, a rapid roller coaster for both adults and children taller than 100 centimeters and more; Kirnu, the first compact 4D roller coaster in Europe, set up in 2007; Ukko, one of the most recent, built in 2011, is the tallest and fastest roller coaster in Finland, among others.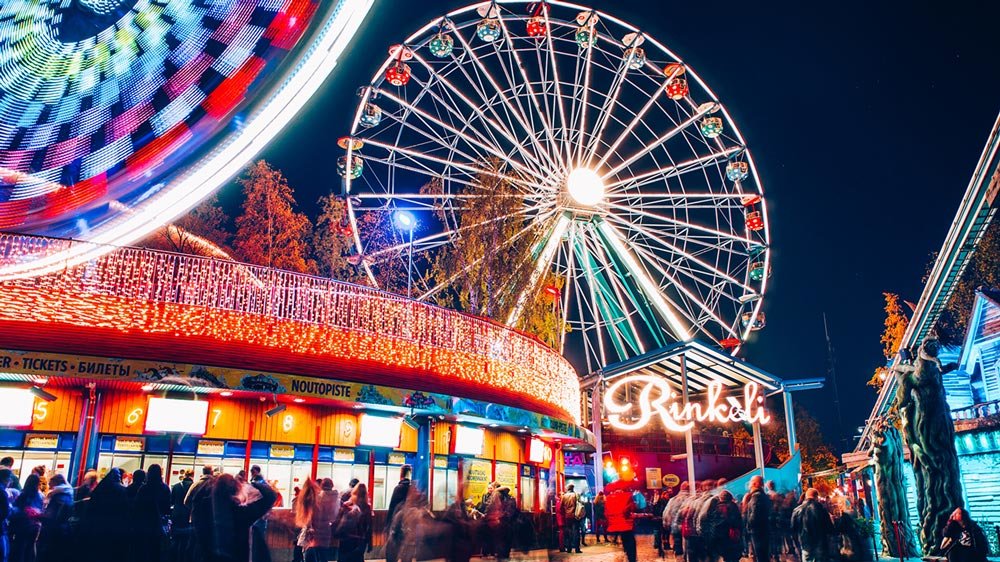 In October, Linnanmäki celebrates the Carnival of Light with the theme of Love. Photo: Jussi Hellsten - Helsinki Marketing.
Aside from the main attractions and rides, there are also other things to do and see at the park, such as the aquarium Sea LIFE -which opened to the public in 2002 and can be visited all year round- , the Peacock historical theatre -built in 1957 and host of many musical performances- , games, arcades, restaurants, gardens, kiosks and there is even an outdoor stage where several different artists perform throughout the season.
The prices
Admission to the park itself is free of charge but in order to enjoy most rides and attractions you need to purchase a ticket or a wristband. This one is a bit more expensive but allows you to enjoy every ride and attraction of the park (except for Sea LIFE as the tickets for this one can be bought together or apart from the amusement park), during the entire day. Most people choose this option if they want to spend the day or several hours in Linnanmäki, as it is most cost-effective choice.
The regular ticket prices range from 33 euros for a evening wristband, 42 euros for an all day wristband (39 euros if bought beforehand with S-Etukortti from a retailer) to 50 euros -the Linnanmäki and Sea LIFE combination ticket-, or 210 euros for the whole summer season pass, which allows you to visit the park and use all rides, every day of the 2019 season.
Other than these regular tickets and wristbands there are also different prices for class trips and corporate and groups tickets, but for these the park sales team needs to be contacted first.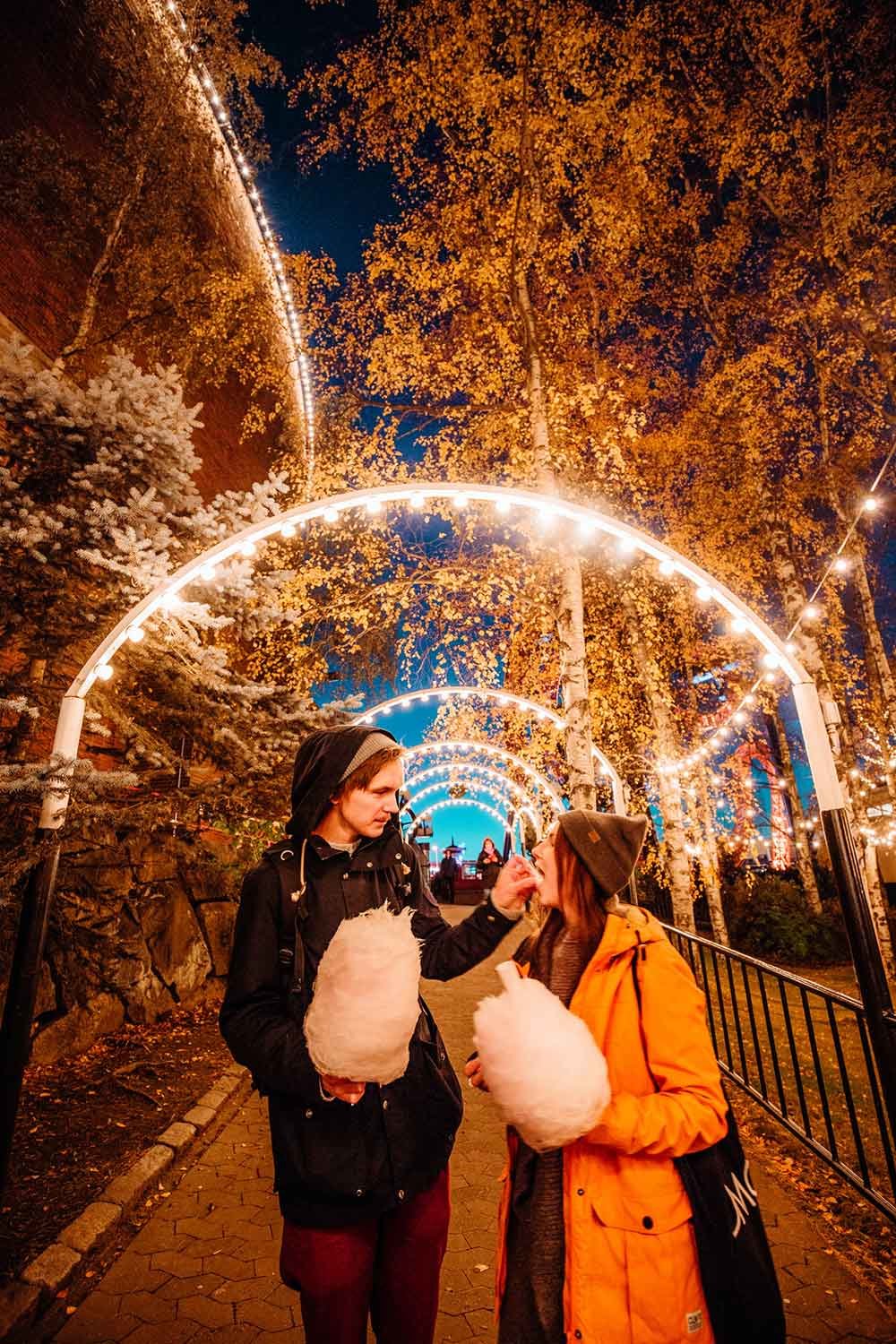 The opening hours
The park is open between 13:00 and 21.00 from Monday to Saturday and 13:00 to 20:00 on Sundays until May 19th. After that day it is opened between 11:00 and 21:00 from Monday to Friday, 13:00 to 21:00 on Saturdays and 13:00 to 20:00 on Sundays until June 21st. After that it is opened since 11:00 til 22:00 every day until August 9th, after which resumes the May schedule.
There are more busy days than others, but overall the park is always full, so arriving early gives you time to enjoy all the park has to offer. There are parking spaces close to Linnanmäki but they are almost always full and there is always a lot of traffic so we recommend taking the tram (number 9 and 3) or the bus (number 23).
* Last image: a couple eating cotton candy during the Carnival of Light. Photo by Jussi Hellsten - Helsinki Marketing.