December 23, 2020 at 10:40 AM
November was a bad month for the tourism sector in Finland, which recorded sharp drops in the number of overnight stays, amid a resurgence of Covid-19 infections.
The poor results were common for both foreign and domestic markets.
According to Statistics Finland, overnight stays by foreign tourists at Finnish accommodation establishments declined by 80.9% and amounted 87,000. The number of nights spent by resident tourists declined by 34.3%, to 730,000.
Overall, Finnish accommodation establishments recorded a total 820,000 overnight stays in November, which was 47.9% lower than one year before.
These figures have been collected from accommodation establishments with at least 20 beds or caravan pitches with electricity connection.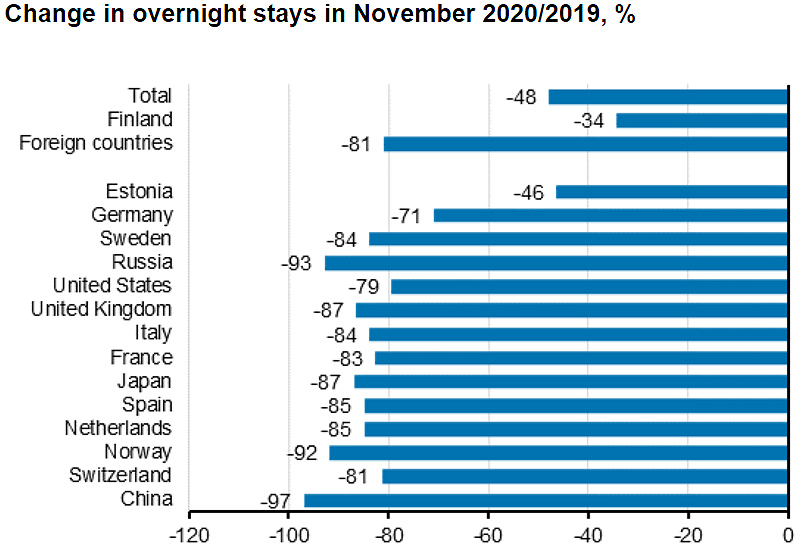 Source: Statistics Finland.
Russians, 93% down
Overnight stays did not increase from any of the most important countries. The biggest drop was seen in overnight stays by Russians , down by 56,500 nights (92.9% down) on November 2019.
The biggest group of non-resident tourists were Estonians with 10,500 overnight stays. The second largest group was Germans with 10,500 overnight stays.
The third largest group was Swedes with 5,300 overnight stays, and fourth were Russians with 4,300 overnight stays.
In general, overnight stays (both domestic and foreign tourism), declined in all regions in relative terms. The biggest drops were in Uusimaa (68.2%) and Ostrobothnia (58.6%).
Regarding foreign tourism, establishments in Uusimaa recorded 29,000 overnight stays by non-residents (-86.8%) and those in Lapland 9,000 (-89.9%). The share of Uusimaa in all overnight stays by foreign visitors was 34% and that of Lapland 11%.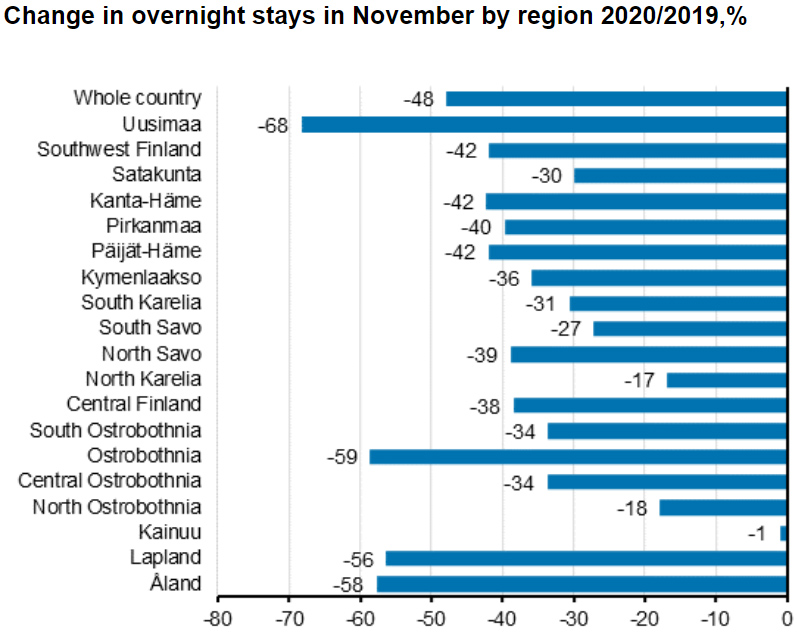 Source: Statistics Finland.
Hotel prices down
The total number of nights spent in hotels was 0.68 million, which was 51% less than twelve months earlier.
Overnight stays by foreign tourists declined by 82.1% and hotels recorded a total of 72,000 overnight stays for them. Recorded nights spent by resident tourists in hotels numbered 0.61 million, which was 38.1% lower than in November 2019.
In November 2020, the realised average price of a hotel room was 90.40 euros per day for the whole country. Twelve months earlier, it was 113.94 euros. There was a total of 51,056 hotel rooms available in Finland, which was 2,938 fewer than in November 2019.