August 29, 2019 at 10:40 PM
July is the quintessential holiday month in Finland, when the summer is at its peak and most people enjoy their vacation. Cottages in lakes and forests, infinite paths for hiking, outdoors sports and water activities, terraces, boat trips...July is also the month that many tourism companies await to make some cash with their summer products before the harsh Nordic winter takes over the country.
But this year good weather did not accompany the tourists who came to Finland throughout the month of July. That may be one of the reasons why the Finnish accommodation industry shows differing results in terms of overnight stays: according to the latest accommodation statistics, the number of domestic tourist stays grew by 7% in July compared to the previous year, but those made by foreign visitors stagnated and recorded just a minimum increase of 0.3%.
The figures published by Statistics Finland are collected from accommodation establishments with at least 20 beds or caravan pitches with electricity connection.
As a whole, Finnish accommodation establishments recorded in July a total of 3.26 million overnight stays, which was 5.3% more than in the same period of 2018. The bad news for companies targeting the foreign market is that only 0.8 million of those stays (24.5%) were made by non-residents. The rest -other 2.45 million nights- were recorded by domestic travelers.
British visitors recorded the biggest drop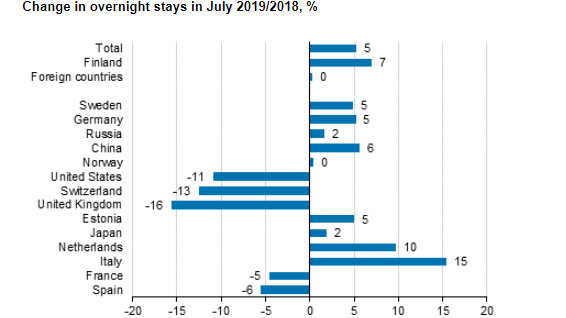 Source: Statistics Finland.
The biggest drop was seen in overnight stays by British visitors, who registered 27,900 stays, 5,100 less or 16% less than in July 2018. Switzerland and the United States were the other foreign markets that recorded the greatest falls, 13% and 11%, respectively. The stays of Spanish (-6%) and French (-5%) tourists also decreased.
Among the most important countries of inbound tourism to Finland, the Swedes were the biggest group and those who increased the most their stays in absolute numbers, by 5,600 nights. In total, Swedish tourists recorded 121,000 overnight stays in July 2019, this was 5% higher than the year before.
The second largest group was Germans with 99,900 overnight stays (+5%). The third largest group was Russians with 88,400 overnight stays (+2%), and fourth was Chinese tourists with 37,100 overnight stays (+6%). The fifth largest group was Norwegians (36,900 nights, on level with the previous year), sixth tourists from the United States (35,600 nights, 11% less), seventh Swiss tourists (29,100 nights, a drop by 13% ) and eighth British visitors (27,900 nights, -16%).
Foreign visitors did not choose Lapland
Examined by region, overnight stays increased most in relative terms in North Karelia, by 32%, and second most in Ostrobothnia, by 17%. By contrast, the overall number of overnight stays decreased most in relative terms in Satakunta, by 12%, and second most in Central Finland, by 7%.
Accommodation establishments in the region of Uusimaa (the capital area) recorded 375,000 overnight stays by non-resident tourists, 6.2% more than one year ago. In the same period, Lapland recorded 75,000 overnight stays by foreigners, a decrease of 9.7% compared to July 2018. The share of Uusimaa in all overnight stays by foreign visitors was 47% and that of Lapland 9%.
Regarding hotel occupancy, the total number of nights spent in Finnish hotels was 2.23 million (8.8% more than twelve months earlier), but once more the number of stays by foreign visitors was significantly low (582.000) and decreased by 0.9% compared to one year before.
January to July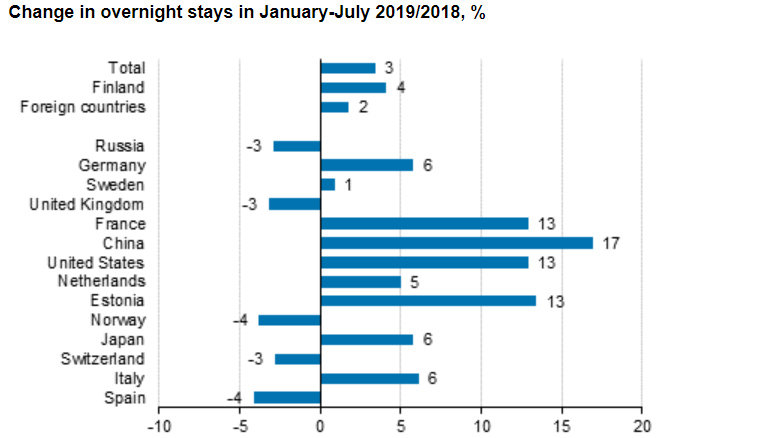 Source: Statistics Finland.
In January to July 2019, a total of 13.84 million nights were spent in Finnish accommodation establishments by both domestic and foreign travelers. This was 3.4% higher than in the corresponding period one year earlier. In all, 9.76 million overnight stays were recorded for resident tourists and 4.08 million for non-resident tourists.
The number of nights spent by resident tourists increased in the first seven months of 2019 by 4.1% and that of nights spent by foreign tourists increased by 1.8% from the previous year.
In so far this yer, the decrease of 3% in the number of stays by Russian travelers and the stagnation of the Swedish tourism (their stays grew barely 1%) are relevant, as they are two of the largest markets. By contrast, the number of overnight stays by German tourists increased by 6%.