June 23, 2019 at 10:28 PM
Finland is a beautiful country with a lot to offer and many places to explore, but we all know it is not exactly the cheapest country to live. That, of course, also includes traveling to other cities within this country.
There is even a running gag saying that it is cheaper to visit Norway than to go to Finnish Lapland. Exaggerations apart, Finland is specially expensive if a foreigner is a student, a minimum wage worker or a new comer that does not have a steady income just yet.
Visiting other Finnish cities is usually a good choice. And one of the great things about this country is how many different discounts and deals there are for consumers, for instance if you belong to an union, or if you are a regular customer of a bank or a certain supermarket. Then you might get discounts in hotels, cottages, gas stations, cruises, restaurants and some stores.
Another good deal is purchasing the Museum card as it is a very cost-effective solution. It costs 69 euros per year but it is accepted in 280 museums, from the Åland Islands to Lapland. So, one can visit as many times and as many museums they wish all over Finland with no extra cost.
One more great thing about Finland is the 'Every Man's Right' (Jokamiehen Oikeudet) which states that every person has the right to travel in nature no matter who owns the land. This right even allows a person to pick mushrooms, flowers or berries as long as the species is not protected. Not only that, but one can also camp, ride a bicycle, ski or hike temporarily in nature for free, so long as it is not too close to someone's house or property.
Considering all of this, here are our 5 suggestions of Finnish cities we think deserve a visit but within a reasonable budget.
Porvoo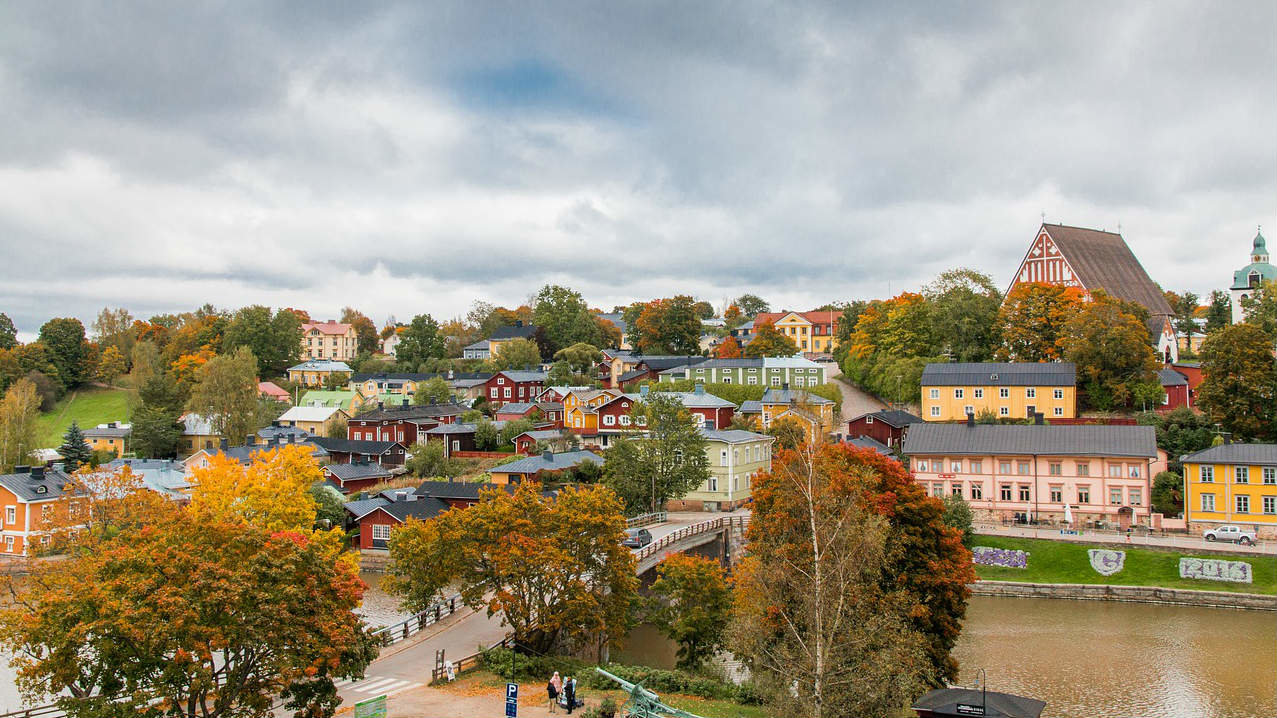 Porvoo is one of the best preserved medieval cities of Finland. Photo: Kosti Keistinen
Finland's second oldest town was settled in the middle ages and it is one of the most visited cities in the country. This can be explained by the facts that it is only 50 kilometers away from Helsinki, it can be visited in one day and it has gorgeous views by the river, with its shores decorated with over 200 years old signature red buildings.
As if that were not enough, visitors can enjoy the historical Old Town and the 15th century old Porvoo Cathedral (one of the oldest churches in Finland). This is the home place of the famous Finnish poet Johan Ludvig Runeberg, whose house can still be seen today. Precisely Runeberg gives name to the local chocolate factory, famous throughout the country. In the old city you can visit one of its shops and taste its delicacies.
Whichever season of the year, Porvoo never disappoints even the most experienced and demanding tourist. It can be visited by car or bus, by far the most convenient way, but not by train as there are not any available regularly. The only exception being the classic train trips specially arranged for tourists in the summer and even those do not happen often.
Turku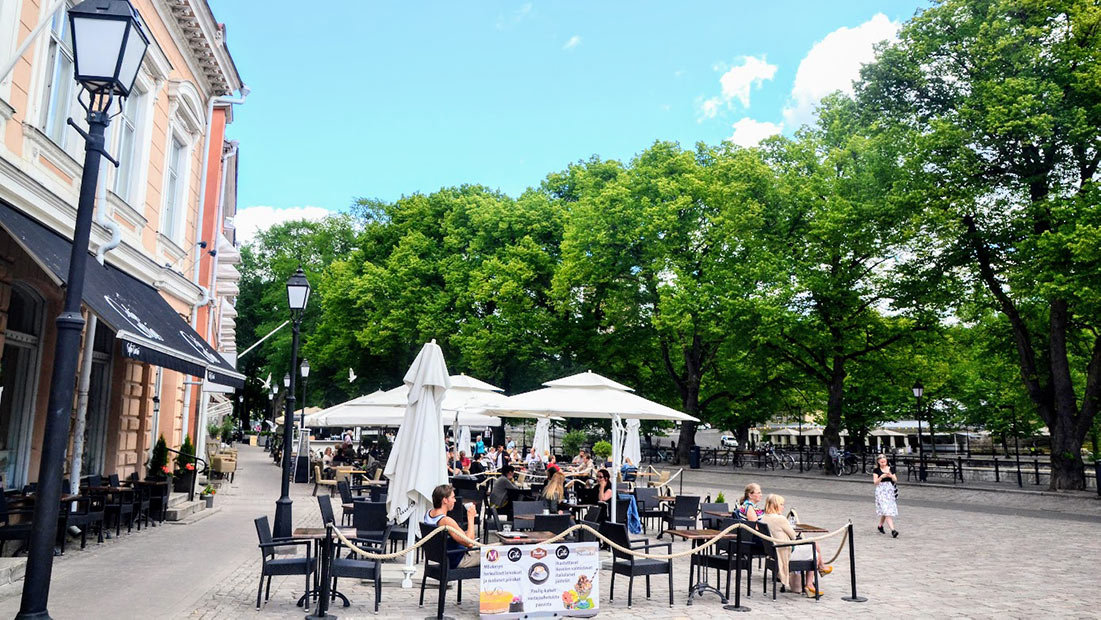 Restaurants by the Aura River, in Turku. Photo: Pekka Valilla/Visit Turku.
Located 168 kilometers from Helsinki and what was the biggest and most important trading centre of Finland in the 14th century, this city maintains a very maritime and medieval aspect to it. As a proof to this there is its 13th century castle, the biggest remaining medieval building in Finland and also one of the oldest still in use today. Turku is also a place where the Swedish and Finnish cultures merge.
Following the course of the Aura river is a great way to explore the city while discovering historical sites: the harbour from which arrive and leave ships from and to Sweden and the Åland Islands; its old cathedral -consecrated in 1300 and Finland's National Sanctuary-; the maritime museum or the Luostarinmäki Open Air museum with a restored 1800's village that gives a glimpse of what life was like in Turku then.
Outside the city, the Turku archipelago offers in the summer a wide variety of activities for those who like to combine nature with leisure, music festivals and other events.
Turku can be visited by car (about 1 hour and 40 minutes drive), by train or bus which takes about 2 hours 20 minutes to 2 hours 50 minutes from Helsinki.
Tampere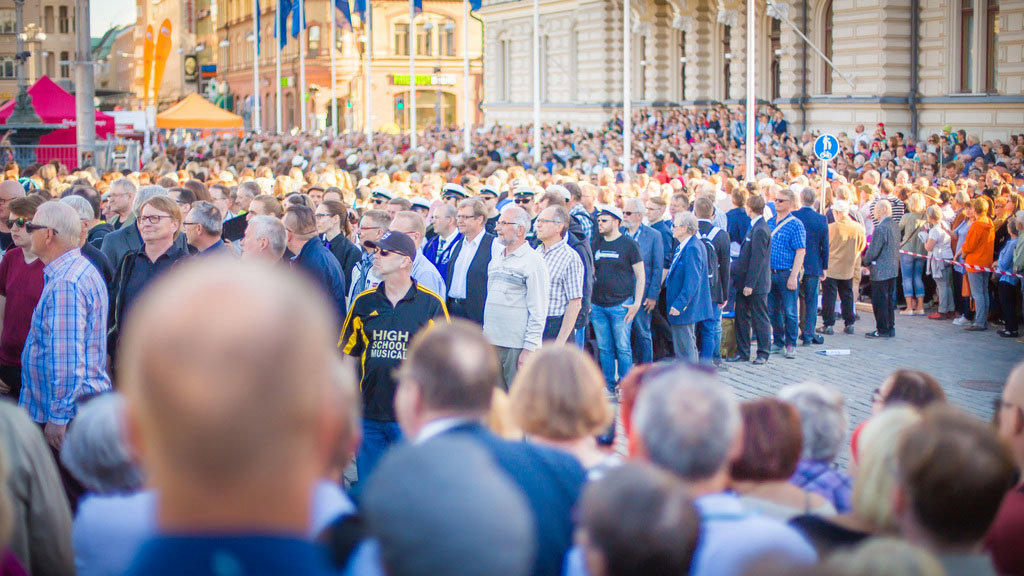 A summer music festival in the streets of Tampere. Photo: Laura Vanzo/Visit Tampere.
The biggest and most populated inland city of all the Nordic countries and one filled with industrial history -nicknamed the 'Manchester of Finland'-, this town is situated just 180 kilometers from Helsinki and, like others on this list, is one of the most visited in the country. It is also the second biggest urban area outside the capital area and the most populated city in Finland, after the Greater Helsinki area.
With two big lakes -Näsijärvi and Pyhäjärvi- surrounding it, there are many summer activities to be done. But there are other ways to enjoy Tampere. One of them is to pay a visit to the cathedral, built in the turn of the 20th century.
Visitors can find interesting to pay a visit to its cathedral, built in the turn of the 20th century, or to the Finlayson factory, one of the oldest and most recognizable Finnish brands. For those in search for food and shopping experiences, there is a good Market Hall, the biggest enclosed market of all Nordic countries and built in 1901. Rauhainemi is another interesting place if you want beach and sauna. And for those who look for museums, there are also some peculiar ones.
Pyynikki park and the observation tower built in 1929 offer extraordinary sights over the city. For the kids there is the Särkänniemi amusement park, with a 168 meters tall tower, and in Viikinsaari Island there is a wide offer of activities for a well spent visit or vacation.
Above all, Tampere is an innovative city and the seat of many thriving companies. It boils with events and social life, with the presence of students and its streets full of people all year. It is about a 2 hour car ride and 2 hours and 20 minutes either by bus or train, of which there are regular, daily schedules.
Hanko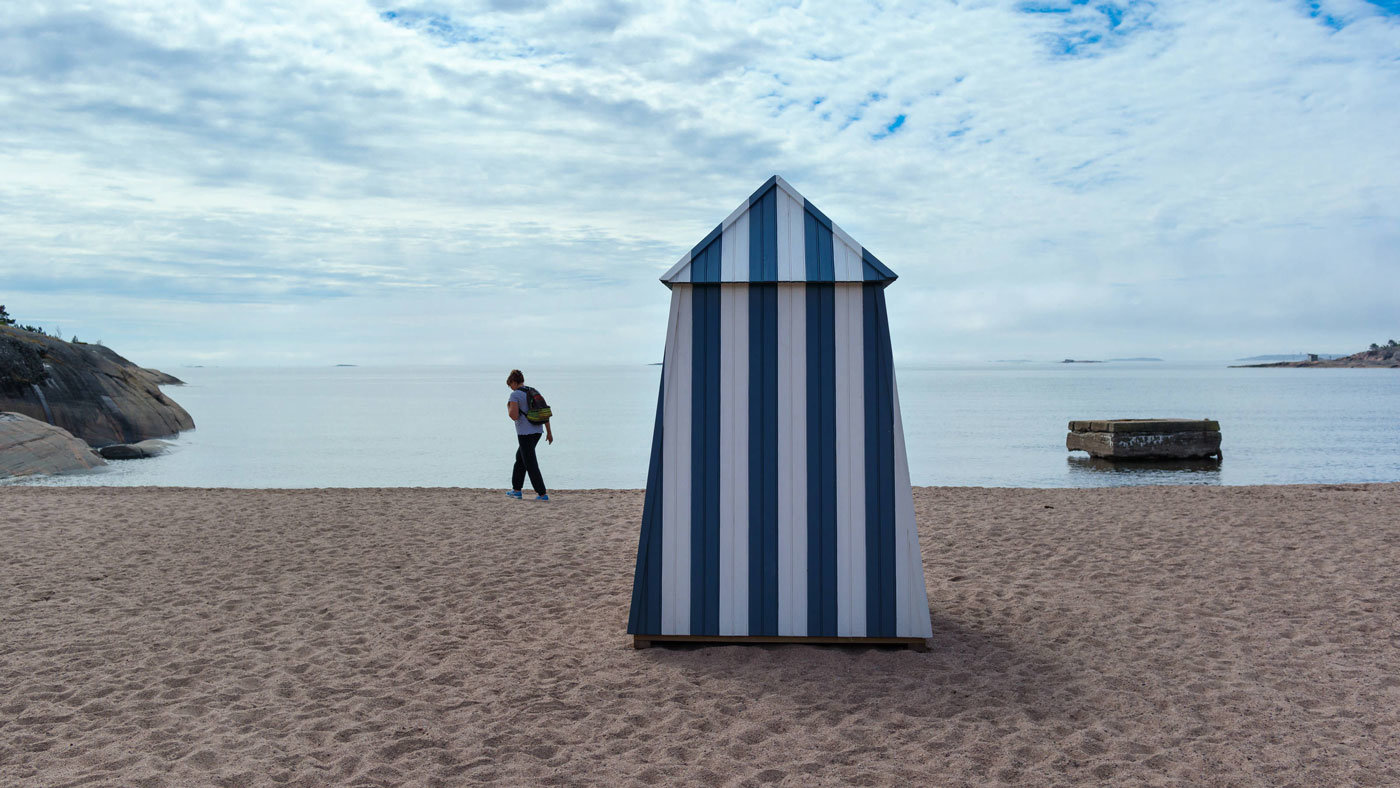 Sandy beaches are some one of Hanko's biggest touristic attractions. Photo: Mikko Kiviniemi/Visit Finland.
A top beach location with a small town feel, this is another very sought after city in Finland. With a shoreline of 130 kilometers, there are plenty of activities to choose from, specially during the summer.
Whether one just wants to swim and get a sun tan at the Bellevue or Gunnarstrand beaches, for example, or embark on a number of activities like surfing, kite-surfing, kayaking, sailing, diving, fishing or enjoying the rides at the water park, this is a perfect place to appreciate the Finnish summer.
Hanko's archipelago and Tulliniemi nature path are, likewise, exceptionally beautiful areas to explore and must visit for all nature enthusiasts.
However, there are also interesting museums to visit like the Hanko Museum and the Hanko Front Museum, where the town's history and its important role during World War II can be learned. Not to forget to visit also the Water tower, which was opened in 1943 and offers a bird-eye view over the city. Tickets cost 2€ (1€ for senior citizens, students and children between 4 and 14 years).
Hanko is located 125 kilometers from Helsinki. To get there it takes about 1 hour and 40 minutes by car or 2 hours and 40 minutes by train.
Rauma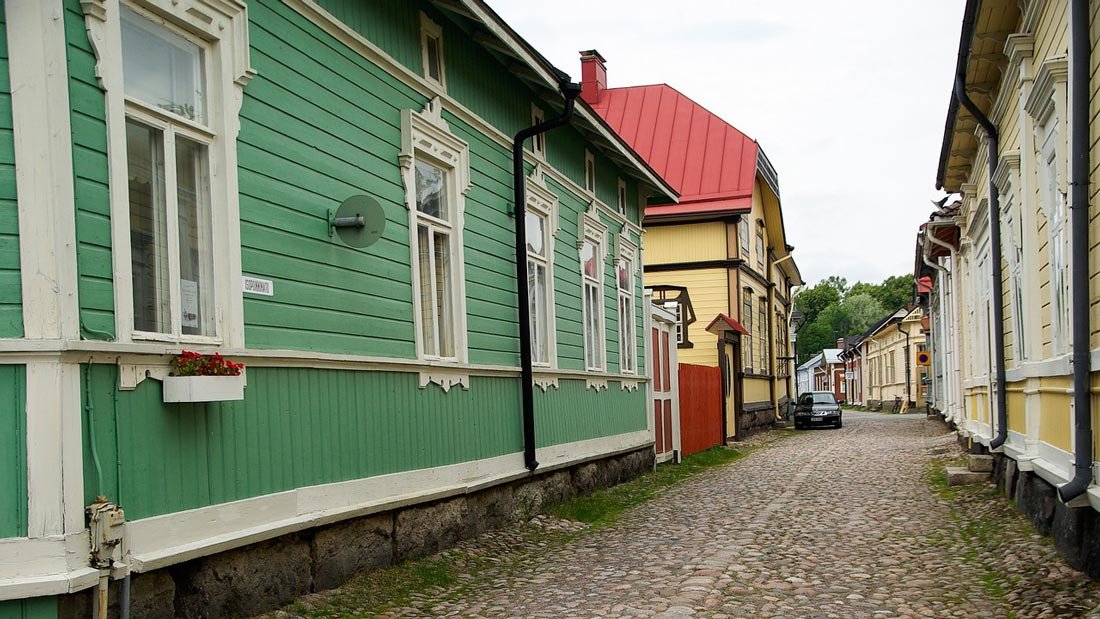 Old wooden houses in a paved street in Rauma. Photo: Jacqueline Macou.
Located in the west coast, nearly 300 kilometers from Helsinki, this is an UNESCO town, the third-oldest in the country and the only Finnish one with two UNESCO World Heritage Sites, which are the Old Town -the biggest of all Nordic countries- and Sammallahdenmäki, a Bronze Age burial site located at about 20 kilometers away from the city.
But these are not the only fascinating spots to see. Tourists may start by the essential: the church of the Holy Cross, originally built in wood in 1420 and later completed with stone in 1520 to serve as a monastery, and the Kylmäpihlaja Lighthouse Island, where the lighthouse that was built by the mid 20th century now operates as a hotel with a restaurant, beach cafe, saunas, souvenir shops and more. It can only be visited during the summer months
The Rauma Water Tower, which is free to visit and has a bar restaurant is another picturesque place. Rauma has also a Maritime Museum, where the city's maritime heritage can be explored. Well worth a visit are also the Old Town and Marela Museums which, together with Kirsti home museum, can be seen with the same 8 euros ticket and show the city's life and history since its inception, from different perspectives.
Although not a short trip, going by car may be the better option as parking anywhere in Rauma is free. From Helsinki it takes about 2 hours 50 minutes by car, while by train or bus it takes nearly 4 hours.
Whichever city chosen, none will disappoint or bore their visitors as there are a vast number of fascinating and beautiful sites to explore in each one of them for all ages and individual interests.