August 26, 2021 at 11:45 AM
Finnish residents vacationed in their own country this summer and stays in domestic accommodation establishments increased in July in almost all regions. Among the Finnish hotels, hostels camping and caravan sites least favored by this trend are those in the Helsinki-Uusimaa region, where business got even worse than before the pandemic.
According to the latest data from Statistics Finland, across the country there were a total of 3.34 million overnight stays in July, which is 2% more than the 2019 level, prior to the pandemic. The nights spent by resident tourists exceeded by more than a quarter the level of July 2019, the last summer of normality before the coronavirus crisis.
The bad news is that the collapse of international tourist arrivals continues, which is vital for the tourism industry in the capital region and, for example, for so-called business tourism. In July 2021, all overnight stays by non-resident tourists in Finland fell 77% compared to July 2019.
Overnight stays by foreign leisure travelers were 80% less than two years ago and 65% less in the case of foreign business travelers.
The shortage of international tourists, mainly motivated by the restrictions imposed by the government, explains the collapse of the hotel business in Helsinki-Uusimaa also this summer. The total number of overnight stays -including resident and foreign tourists- decreased 31% in this area.
No foreign visitors
This was a month of July with almost no foreign visitors in Helsinki and with the inhabitants of the capital spending their holidays in the Finnish countryside. This was also influenced by the difficulties to travel abroad due to health requirements and the high price of Covid-19 tests for travel, which in Finland is among the most expensive in the world.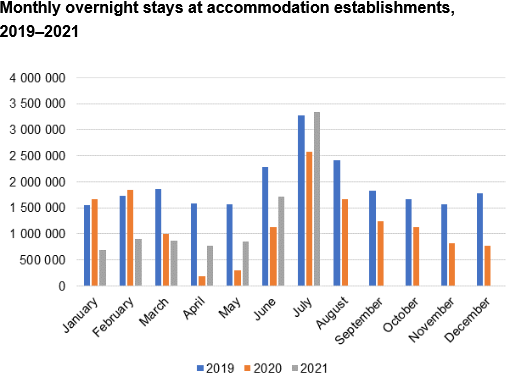 Source: Statistics Finland.
Even so, the problems for accommodation establishments were not only limited to the area of the capital. Examined by region, overnight stays also decreased compared to July 2019 in the eastern provinces of North Karelia (-16%) and South Karelia (-2%).
However, compared to July 2020 - the year of the great collapse -, overnight stays increased in all regions.