Finnair will begin flying to Asia and other long-haul destinations in July, the company announced on Monday. That same month, the airline will also resume flights to the main destinations in Europe.
However, not everything is happy news. The company, which is waiting to receive an injection of 700 million euros to alleviate the damage caused by the coronarvirus crisis, has just announced that it will close five domestic routes.
This decision has upset several politicians, who have warned the company that the aid package has not yet been approved and that the national routes should be restored as soon as possible.
Aviation to recover in July
The Finnish flag carrier explained that it intends to operate approximately 30% of its normal number of flights in July. Then, it will gradually add frequencies and routes back to its network. Finnair will review its schedule on a monthly basis and will update it as travel restrictions are removed and demand starts to recover and develops.
"We expect aviation to recover gradually, starting in July", says Finnair Chief Commercial Officer Ole Orvér. "Our intention is to operate approximately 30% of our normal amount of flights in July, and we will also start long-haul flights to our key Asian destinations. We will then add routes and frequencies month by month as demand recovers."
The flight schedule will also take into account the changes in travel restrictions in different countries.
"Our recent customer survey shows that customers are already planning both business and leisure trips," Orvér says. "We want to meet this demand with our network offering."
Long-haul operations start from Asia
Long-haul operations will commence in phases from July, with strong focus on Asia, which is "strategically important for Finnair," the company said in a press release.
Finnair intends to fly to Beijing, Hong Kong, and Shanghai in Greater China (subject to government approval); to Nagoya, Osaka and Tokyo Narita in Japan; and to Singapore, Seoul and Bangkok. Long-haul operations are supported by the cargo demand.
In August, Finnair will also start flights to Delhi and to New York, and in November to Tokyo Haneda airport. Finnair also has flights to Miami, Krabi and Phuket during the winter holiday season.
European routes
On European routes, Finnair will first focus on those destinations which considers "key centres," and will in July fly to Berlin, Brussels, Budapest, Copenhagen, Dublin, Düsseldorf, Edinburgh, Frankfurt, Gothenburg, Geneva, Hamburg, London, Malaga, Manchester, Moscow, Munich, Oslo, Paris, Prague, Riga, Tallinn, Stockholm, St Petersburg, Vilnius, Vienna and Zürich.
In August Finnair will start flights to Barcelona, Milan, Madrid, Rome and Warsaw. During the summer holiday season, Finnair will also operate individual flights to some of the holiday destinations in Southern Europe.
Domestic destinations cut
In July, Finnair will operate six domestic routes in Finland, flying to Kuopio, Mariehamn, Oulu, Rovaniemi, Turku and Vaasa. And in August the company will start flying to Ivalo and Kittilä in the Finnish Lapland, and in September operations start to Kuusamo and Tampere.
However, Finnair will not operate to Joensuu, Jyväskylä, Kajaani, Kemi or Kokkola during summer 2020, a decision that has upset some in these destinations.
Finance Minister and Center Party (Keskusta) Chair Katri Kulmuni wrote on Twitter that those air connections must be reestablished as soon as the coronavirus emergency is over. "Any speculation about complete cessation of domestic routes should stop," the Minister warned.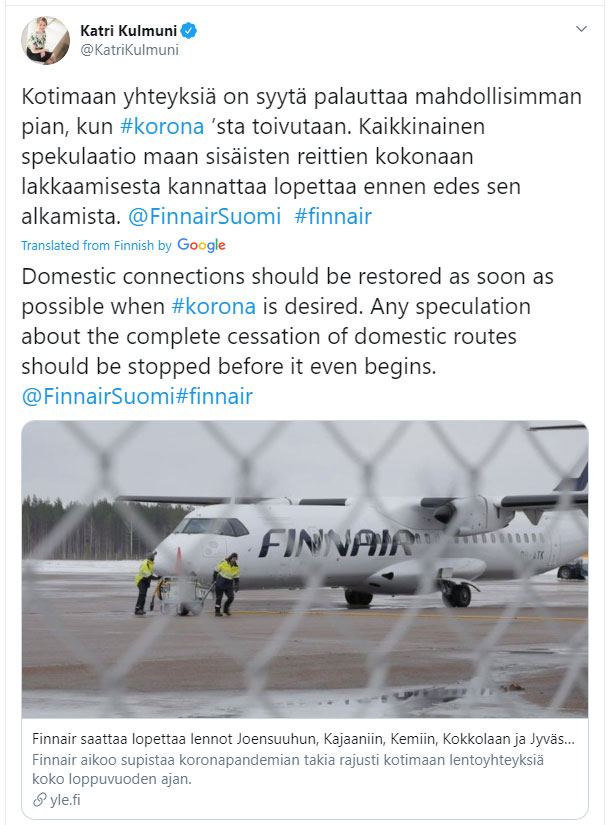 Furthermore, MP Anu Vehviläinen, from the same party and who according to her website lives in Joensuu, warned the company that the 700 million euros injection to recapitalize the company promised by the Government has not yet been approved by the Parliament.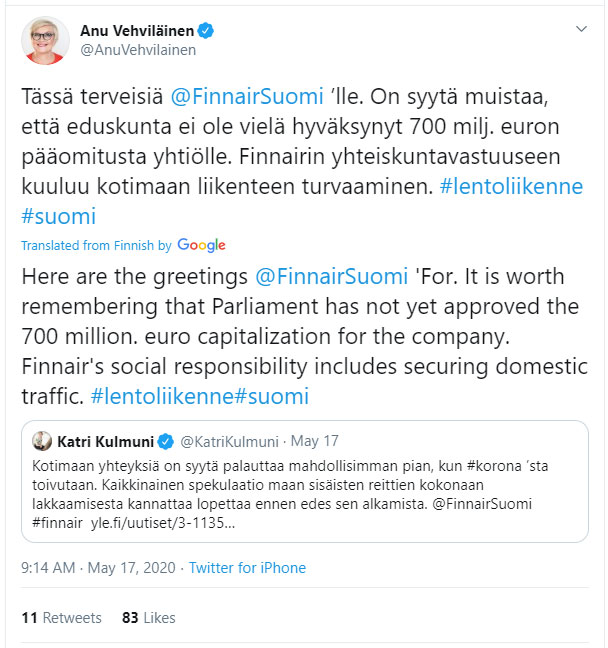 The company says decisions on flights for these five destinations next winter will be made later on, "when there is more visibility to how the demand develops."