The Finnish government decided on Thursday to ease restrictions on travel to and from most of its neighbors with the exception of Sweden, the Nordic country hardest hit by the Covid-19 pandemic. The changes were announced at a press conference and will be confirmed at the government 's plenary session session on Friday 12 June.
Unless there is a last minute surprise, starting 15 June border control will be lifted at land borders, ports and airports for travelers whose origin or destination is Norway, Denmark, Iceland, Estonia, Latvia and Lithuania. People arriving from these countries will no longer be requested to stay isolated for 2 weeks.
Government explained that these proposed decisions are part of its "hybrid strategy," according to which the restrictions imposed due to coronavirus will be lifted gradually on the basis of the epidemiological situation and social and economic considerations.
"Movement of people and traffic will be facilitated primarily between countries with a similar epidemiological situation," Government said in a press release.
Changes at borders
Internal border control (referring to inside the Schengen or European Economic Area) will be abolished from 15 June at the land border between Finland and Norway, for air traffic and regular ferry services between Finland and Norway, Denmark, Iceland, Estonia, Latvia and Lithuania, and for pleasure craft, for example tourism by private persons on their own boat.
Border control will remain operational for traffic between Finland and other Schengen countries than those mentioned above. "This means that internal border control will continue, for example for traffic between Finland and Sweden," the Government stressed.
Return traffic
Insofar as internal border control continues at internal borders, return traffic to Finland, commuting and other essential traffic will be allowed at internal borders. This may include, for example a family reason, a personal reason or travel to a property, private residence or holiday residence in Finland.
Return traffic refers not only to Finnish citizens, but also to all citizens of the EU and Schengen States living in Finland and their family members, and to third-country nationals staying in Finland with a residence permit. Commuting is possible for citizens of the EU and Schengen States and the United Kingdom.
The aim is to enable unrestricted travel from Sweden to Finland as quickly as the epidemiological situation allows. For that purpose, "the situation is constantly being examined," Government says.
Under section 9 of the Constitution, everyone has the right to leave Finland if they so wish; however, Government recommends to avoid non-essential travel.
Minister for Foreign Affairs, Pekka Haavisto, and Minister of the Interior, Maria Ohisalo, confirmed this decision in their Twitter accounts.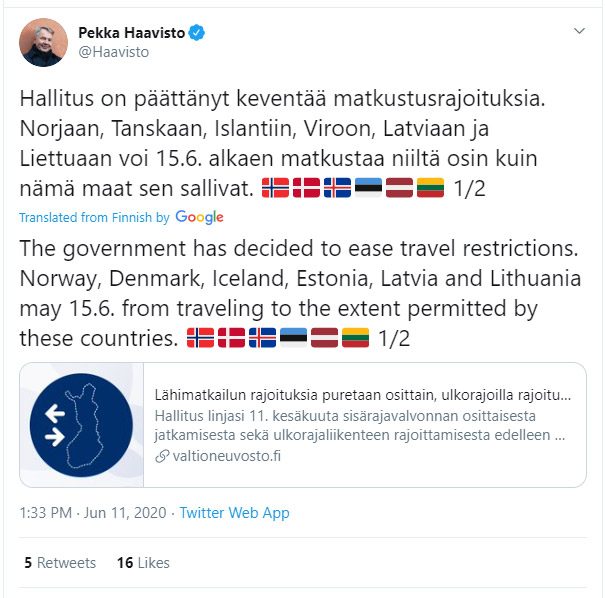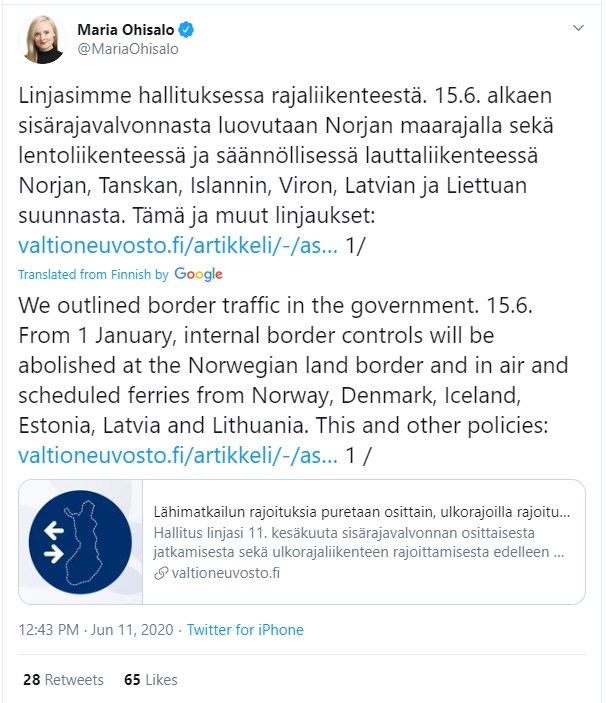 Restrictions at Schengen borders
Restrictions on border traffic will continue at external borders (referring to the Schengen/EEA borders) until 14 July. In other words, at the Russian border and for those arriving from other third countries.
Return traffic to Finland, transit traffic at Helsinki Airport and other essential traffic will be allowed at the external borders.
Family members of Finnish citizens may enter the country regardless of nationality.
Isolation for people arriving
Starting on 15 June, self-isolation is recommended for all those arriving in Finland who come from countries that are still subject to internal or external border control. Such countries include Sweden, Germany and Russia.
Self-isolation is not required if the person arrives from Estonia, Latvia, Lithuania, Norway, Denmark or Iceland.
Under self-isolation, the person is allowed to move between their workplace and place of residence. Other essential travel is also possible.