November 4, 2021 at 7:02 PM
The total and per capita expenditure of foreign tourists visiting Spain is increasing.
According to fresh data published Thursday by the National Institute of Statistics (INE), international tourists spent 5,40 billion euros in Spain in September. This amount represents an increase of 422.7% compared to the same month of 2020.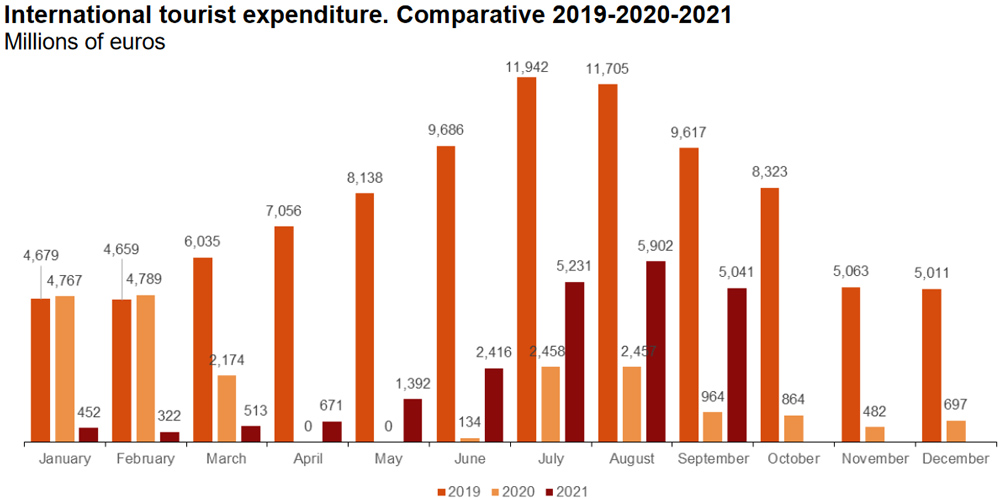 Source: INE.
The per capita expenditure of tourists visiting the country also rose, but to a lesser extent. The average expenditure per tourist stood at 1,074 euros, with an annual increase of 26.9%.
According to INE calculations, each tourist left an average of 138 euros a day in Spain, 29.1% more year-on-year.
The average stay of tourists was 7.8 days, which represents a minimum decrease of 0.1 days compared to the average of September 2020.
During the first nine months of 2021 (January-September), the total expenditure of international tourists in Spain increased by 23.6%, reaching 21.93 billion euros.
Main source markets
The main source markets for tourists, in terms of spending level in September, were Germany (accounting for 19% of the total), United Kingdom (16.4%) and France (10.3%).
The total expenditure made by German tourists increased by 960.8% in the annual comparison. British tourist spending rose 447.6% and French tourist spending rose 137.9%.