With the days getting longer and warmer, children being on vacation from school and many tourists and newcomers coming to Helsinki, the choices of places to visit are wider and longer around this time of year. Museums in particular are a very interesting and fun way to be entertained while learning something new at the same time.
According to a Community Research and Development Information Service (CORDIS) study, there are around 300 museums across Finland. Out of those, and according to our own research, 77 exist in the Helsinki area alone. Their themes are just as extensive: natural and national history, design, architecture, modern art, toys, military, photography, technology, university or city related. There is a particular museum for virtually every taste and situation.
From group visits to romantic dates to educational experiences for the kids or a place to visit with friends, Helsinki has a vast range of museum choices that reflect the city's and country's passion for culture. And with the arrival of spring and summer, the open hours are longer and some museums, like the Open Air Museum of Seurasaari can only be visited during these seasons.
Which ones should a person visit obviously depends on their individual interests, where are they from and what they plan to learn about, but for foreigners and tourists alike some are more appealing than others.
Wanting to know more about the country's history and 'personality' requires a visit to the usual suspects: the National Museum of Finland, Ateneum, Open Air Museum of Seurasaari, the Suomenlinna Museum or Natural History Museum. If the interest lies in contemporary art or design then Kiasma, Amos Rex, HAM or Design Museum Arabia are the typical choices.
So to help with selecting the best ones, here are 15 suggestions for the spring/summer season.
Art Museums
Ateneum Art Museum
In downtown Helsinki, just a 3 minute walk from the central railway station, houses the biggest and oldest collection of classical art in Finland. There are always several exhibits happening at any one time and it is a great place to visit either alone, with friends, significant others or with children.
They are currently showing Stories of Finnish Art - Fanny Churberg and soon, on May 25th, they will held Ateneum's Kids Fest (Lastenfestari), where families can spend the day with the children, from 10h to 15h. Free admission for all under 18 years of age.
Fun fact: this was the first museum in the world to own a Vincent Van Gogh painting in 1903 and that painting - "Street in Auvers-sur-Oise" - is still in exhibition today.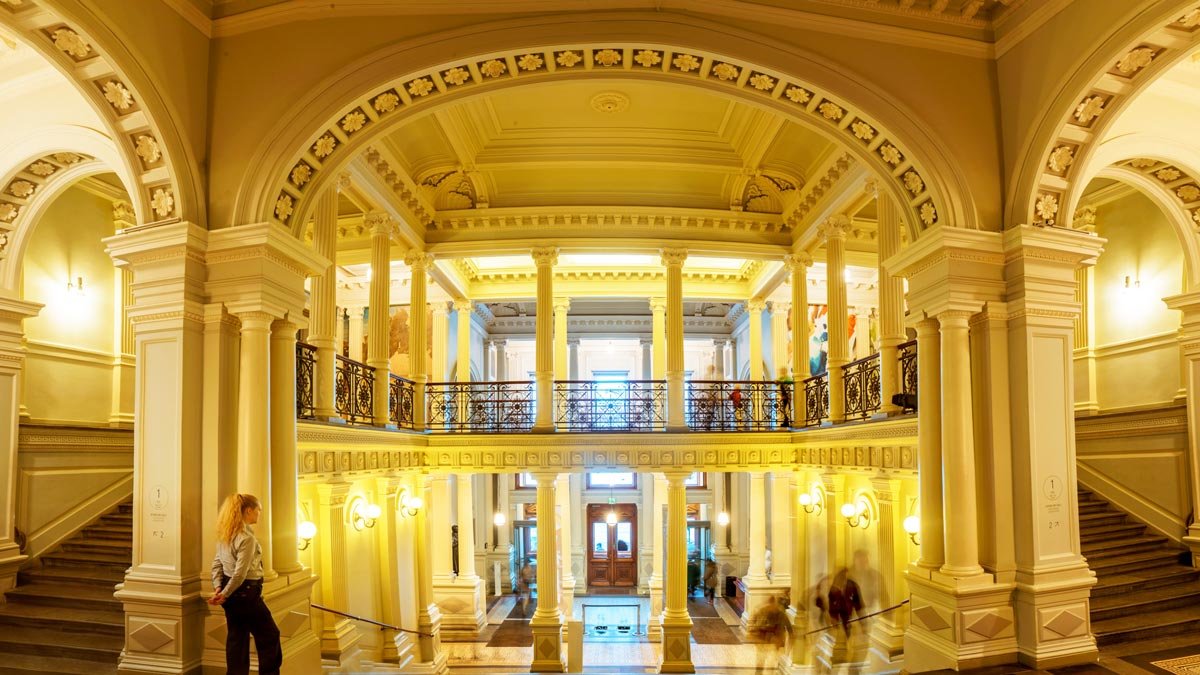 The Ateneum staircase. Photo: Yiping Feng and Ling Ouyang - Helsinki Marketing.
Synebrychoff Art Museum
Located in one of Helsinki's main streets, Bulevardi, is an 18 minute walk or 12 minute tram ride from Rautatientori. The building was completed in 1842 and belonged to the Synebrychoff family who used it as a home and office for their brewing business. It has the former owners personal art collections among other exhibits.
Currently on display is the Heavenly Colours - Blue and Gold and the Synebrychoff Brewing Family which can be seen until August 25th 2019 and January 12th of 2020, respectively.
People who are under 18 years of age have free entry and general free admission is on the first Wednesday of every month, between 17h and 20h.
Museum of Contemporary Art Kiasma
This museum is also located in central Helsinki and is a 7 minute walk or 3 minute tram ride from the main train station. This is a contemporary art museum with four floors dedicated to several different exhibitions. It was opened in 1998 and it is one of the most visited museums in Helsinki.
They are currently showing six different exhibits, some of which are Shoplifter, The Stage is Yours and Dry Joy, by the famous Finnish artist Iiu Susiraja.
Free admission for persons under 18 years old and general free admission on the first Friday of every month.
Design Museum
In Helsinki, close to the Johanneksenkirkko and the city park Tähtitorninvuoren is a 15 minute walk and 13 minute tram ride from Rautatientori. All kinds of design related exhibits are shown here year round and there is a general free admission on the last Tuesday of every month between 17:00 and 20:00.
Amos Rex Art Museum
Located in the Kamppi area in Helsinki, is an 8 minute walk from the central train station and is one of the most recent museums in the city. It is a contemporary art museum that opened up last year with a huge flux of visitors almost every day.
In fact, in just the first few weeks over 10,000 people saw exhibits at Amos Rex. Because of this, it is convenient to visit it with time as waiting period in line can be up to one hour and a half. This museum is currently closed as new exhibits are being prepared but it will reopen soon, on June 19th, with the showing of Art Fennica 2019 and The Frosterus Collection.
The admission is free for all under 18 years old and there is a reduced price of 12 euros for pensioners, teachers with union cards, conscripts, non-military servicemen and holders of disability card. There is also reduced price tickets of 5 euros for students, unemployed and people under 30 years old.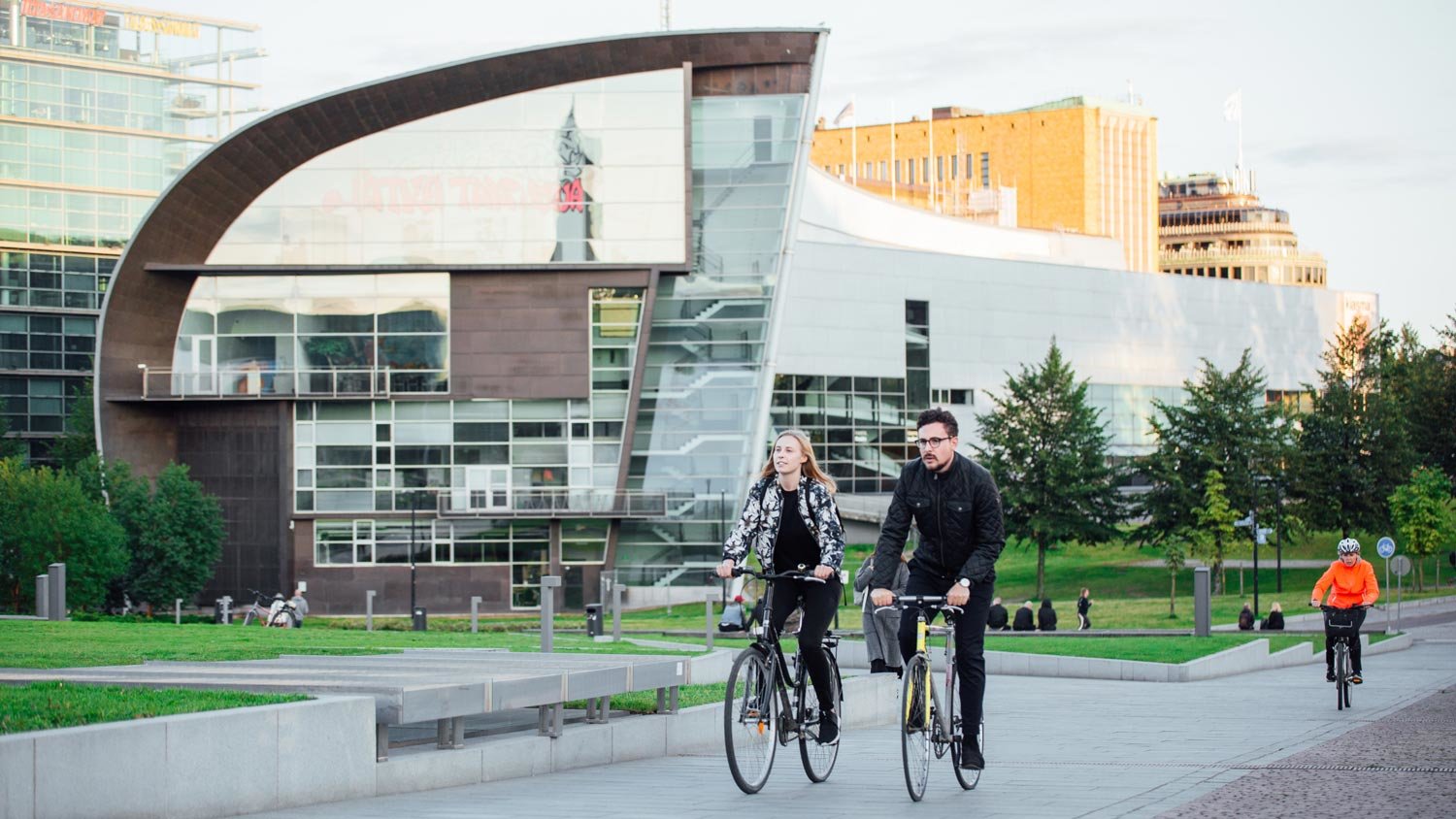 A group of cyclists passing by Kiasma. Photo: Julia-Kivela - Visit-Finland.
History Museums
Open Air Museum of Seurasaari
It is a 32 minute trip from Rautatientori well worth the effort and time. It is located in the Meilahti neighborhood of Helsinki and hosts a vast number of historical collections like the Independence era or the Finno-Ugric, spreaded across 87 separate buildings, each one regarding its own Finnish province. It is a great and unique way of discovering the traditional rural Finnish way of life in the capital city.
The museum is only opened during the spring and summer seasons and pensioners, students, unemployed, conscripts and groups of over 10 people have a reduced price of 7 euros entrance fee. There is free admission on International Museum Day (18th of May) and on Helsinki Day (12th of June).
Fun fact: there are two nudist beaches in the island.
The National Museum of Finland
Located in the centre of Helsinki, near the Parliament, it is an 11 minute walk or 8 minute tram ride from the train station. It houses multiple exhibits of different themes but it is the permanent exhibits about Finland's history, pre-history and the Realm (Finland's history under church and swedish rule and the Russian Empire's annexation of Finland) that are truly fascinating to see and learn about.
There is a reduced ticket price of 9 euros for students, pensioners, senior citizens, people over 65 years of age, unemployed, conscripts, people serving in the military and groups bigger than 10 people. There is also free admission on Fridays between 16:00 and 18:00, International Museum Day and Helsinki Day.
Helsinki City Museum
Situated in one of the oldest neighborhoods of Helsinki, near the Senate square, it is a 11 minute walk or a 7 minute tram/metro ride from the central train station. The exhibits present are a reflection of the daily life and experiences of Helsinki's inhabitants and four other museums belong to the Helsinki City museum: Hakasalmi Villa, Burgher's House Museum, the Worker Housing Museum and the Tram Museum.
Around one million photographs and 450,000 items are part of this museums collection, making it a unique place to explore and visit. The entrance is free of charge every day.
Design museums
Alvar Aalto's Studio
Located in the Munkkiniemi area of Helsinki, is a 25 minute tram ride from Lasipalatsi, near Rautatientori and can only be visited by booking a guided tour (usually held in english). Since the tours are limited to 20 people it is highly recommended that reservations are booked well in advance.
There are no free admission days, but there are half priced tickets at 9 euros for students, senior citizens and unemployed people. This museum focuses on Alvar Aalto's office's architecture and history and it is a must see for all design lovers and Alvar Aalto fans.
Design Museum Arabia
Situated in the Arabianranta neighborhood of Helsinki, it is a 22 minute bus ride from the central railway station and it houses exhibits with products in a display of Finnish top ceramic and glass work design. The entrance is always free of charge.
Specialized museums
The Finnish Museum of Photography
Located in the Ruoholahti area of Helsinki, it is a 33 minute walk and a 11 minute metro ride from Rautatientori. It is the oldest photography museum in Europe and its goal is to promote photographic art and culture in Finland through exhibitions, education, research, collection management and a vast scope of community and public programs.
The exhibitions show Finnish and international contemporary photography and also this art's rich history. Admission fees are 5 euros for students, pensioners, military and civil servants and job seekers. The entrance is always free for persons under 18 year of age and for everyone on the last Wednesday of every month between 17:00 and 20:00. There is also a free admission entrance to the process space area of the museum.
Suomenlinna Museum
Situated in the centre of the fortress island of Suomenlinna, it is a 47 minute trip between tram or walk to Kauppatori, the boat ride to the island and then another walk from the harbour to the museum.
It is very much worth the somewhat long trip as the museum's main exhibit displays the 260 year old history of the island and its inhabitants through items like tools, utensils, weapons and ammunition found in the excavations of the island, as well as touch-screen operated picture books.
Entrance fees vary from 8 euros to 4 euros, but are free of charge for children under 7 years old.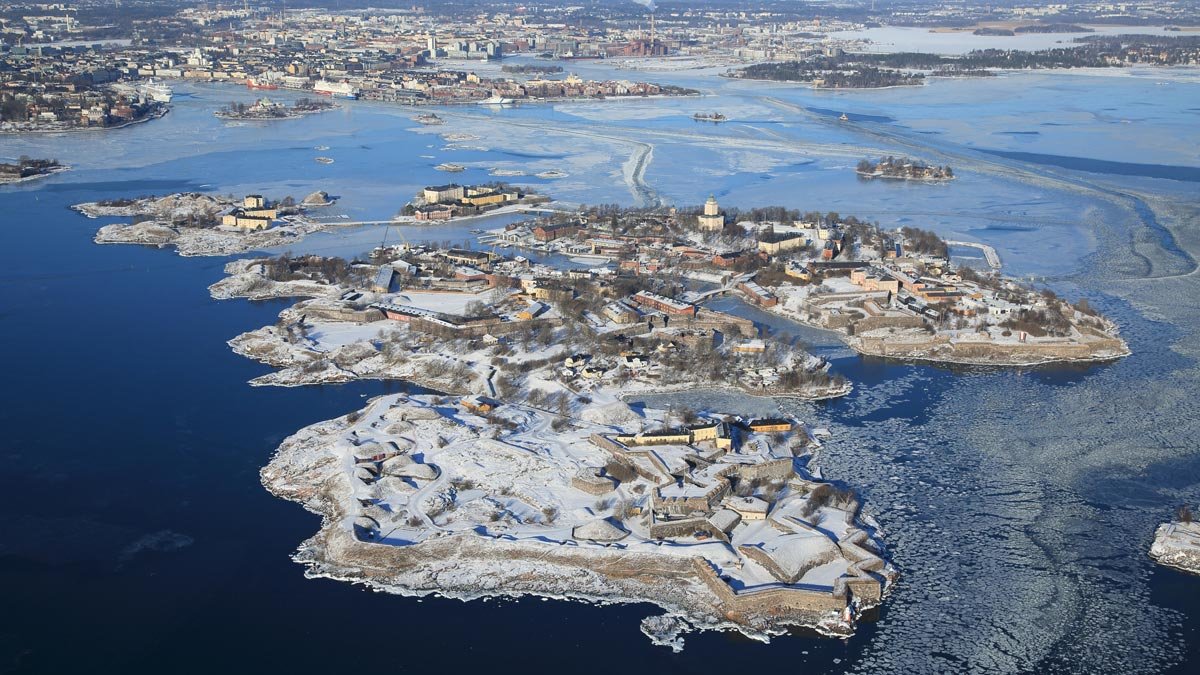 An air view of Suomenlinna. Photo: Suomenlinna-Governing-Body - Suomen Ilmakuva.
Military Museum
It takes about the same time as the previous one as it is also located in Suomenlinna Island. Its permanent exhibit showcases the four wars Finland fought during its independence (Civil War in 1918, Winter War in 1939-40, the Continuation War in 1941-44 and the Lapland War in 1944-45), and that is called 'Finnish Defense Forces-100 years at War and Peace'.
The ticket fees vary from 7 euros to 4 euros but the entrance is free of charge for children under 7 years old. The ticket to this museum also allows to visit the Vesikko Submarine stationed nearby.
Suomenlinna Toy Museum
Also in Suomenlinna takes the same time as the two previously mentioned museums and it is particularly interesting to children, although adults can also enjoy the unique exhibitions of antique teddy bears, dolls and other vintage toys that date back to the 19th century up until the 1960's.
There are also games and toys from the wartime era which are one of the museum's specialties. There are no free admission fees or days, but the prices vary from 17 euros (for families 2+2) to 7 euros, 5 euros and 3 euros (adults, students/pensioners, children).
Tram Museum
Located in the Töölö area of Helsinki, at the Korjaamo Culture Factory and very close to the Sibelius monument, it is a 11 minute bus ride or a 26 minute walk from Rautatientori.
Here one can see over 100 years of history of this particular form of transport by interacting with and explore the old trams, watching movies, study old tram tickets and even learn how to stamp a tram ticket old school style. This museum has been opened since 1993 and can also be used for private events. The entrance is always free of charge.
The opening hours of every museum vary from one to another so it is always best to check each museum's website for their particular calendar. For group visits we also advise to contact the chosen museum well ahead of time as these seasons have a spike in the number of visitors. Whatever the choice, an interesting and fun day is guaranteed.