Russia came out firing on Friday as they condemned any suggestion of drug cheats within their ranks at the Olympic Games, saying God would be the judge of critics.
Competing as the Russian Olympic Committee (ROC) in Tokyo, due to recent state-sponsored doping scandals that mean their national flag and anthem are absent from the Games, the team comprising Russian athletes are flying high in the medals table.
They believe insinuation of cheating continues to plague their competitors, who they are adamant are clean.
A post on the ROC Twitter page read: "How unnerving our victories are for some of our colleagues. Yes, we are here at the Olympics. Absolutely rightfully. Whether someone likes it or not. But you have to be able to lose.
"The old hurdy-gurdy again started the song about Russian doping. Someone is turning the handle diligently.
"English-language propaganda, oozing verbal sweat in the Tokyo heat. Through the mouths of athletes offended by defeats. We will not console you.
"Forgive those who are weaker. God is their judge. And for us – an assistant."
That was posted alongside photographs of two swimmers – American Ryan Murphy and Great Britain's Luke Greenbank – plus United States rower Megan Kalmoe.
Как же нервируют наши победы отдельных коллег по цеху. Да, мы здесь, на Олимпийских играх. Абсолютно по праву. Нравится это кому-то или нет.

А вот проигрывать надо уметь. Но не всем это дано. Старая шарманка снова затянула песнь о русском допинге. Кто-то усердно крутит ручку➡️ pic.twitter.com/1OgizY5cK0

— Olympic Russia (@Olympic_Russia) July 30, 2021
Thoughts and trouble
Murphy and Greenbank both questioned whether their race was clean after taking silver and bronze respectively in the 200 metres backstroke final, which was won by Russian Evgeny Rylov.
"I've got about 15 thoughts, 13 of them would get me into a lot of trouble," Murphy said in a news conference when asked if he felt the race was fair.
"I try not to get caught up in that. It is a huge mental drain on me to go throughout the year that I'm swimming in a race that's probably not clean, and that is what it is."
Greenbank joined in, adding: "It's obviously a very difficult situation, not knowing who you race against is clean."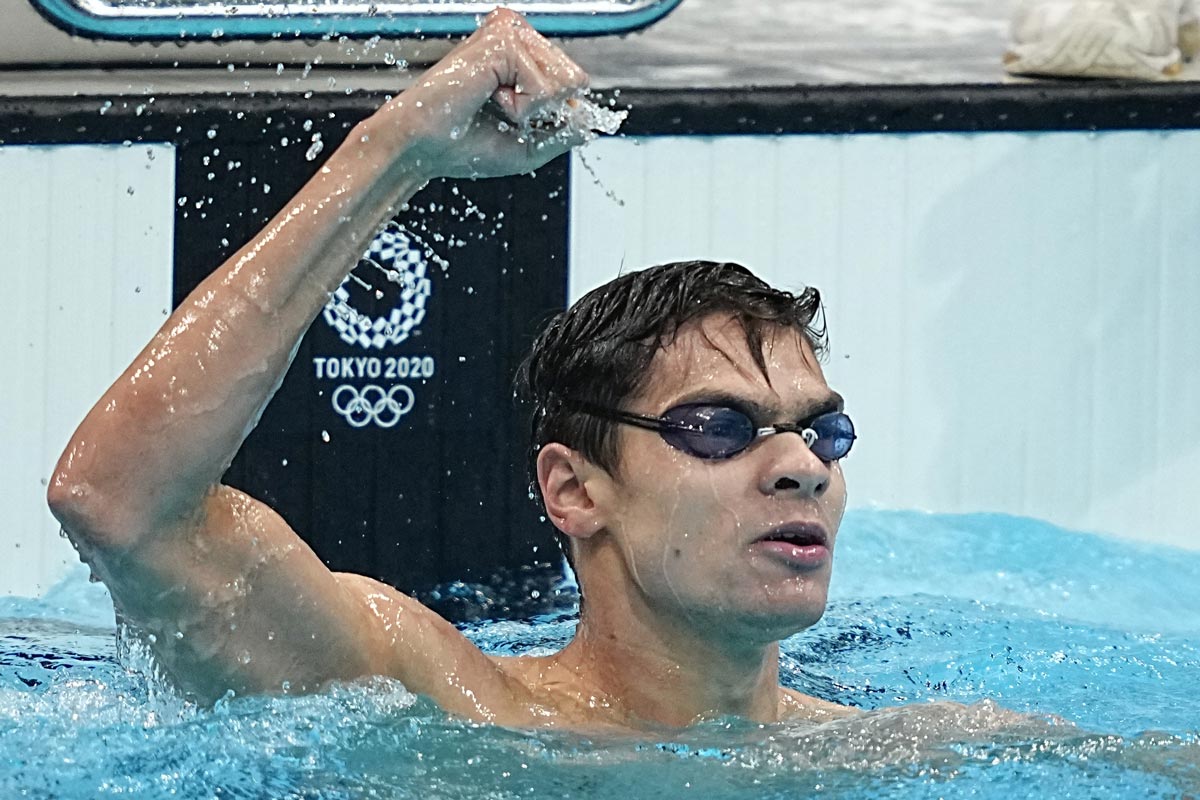 Evgeny Rylov celebrates winning the Men's 100m Backstroke Final. Photo: Michael Kappeler/dpa.
Rylov, who has also won the 100m at the Games, insisted he does not dope, telling the same news conference: "I have always been for clean competition, I am always tested, I also fill out all the forms so from the bottom of my heart I'm for clean sports."
Kalmoe said on Thursday it had been "a nasty feeling" to see the Russian Olympic Committee win silver in the women's pair rowing event.