There are only a few days left for Finland to attend the debut of their national team in a first-class football championship.
The 'Huuhkajat' (Eagle Owls, in English), as the team from the Nordic country is known, will make history next Saturday by playing their first match of Euro 2020 against Denmark at the Parken Stadium in Copenhagen.
The squad trained by Markku Kanerva has already achieved its greatest success by qualifying for this championship. Now the Finns' goal is also modest: to put on a respectable performance in the group stage, where they will also play Russia and Belgium in St. Petersburg.
Finland will attend their first major tournament having finished runners-up to Italy in Group J. Coach Markku Kanerva has been in the federation set-up since 2004, working first with the under-21s and then as assistant before taking over himself in 2016.
While lacking a true world class star like national icon Jari Litmanen, Norwich City striker Teemu Pukki delivered a crucial 10 goals in qualifying.
Goalkeeper Lukas Hradecky is another prominent figure, playing in the Bundesliga with Bayer Leverkusen.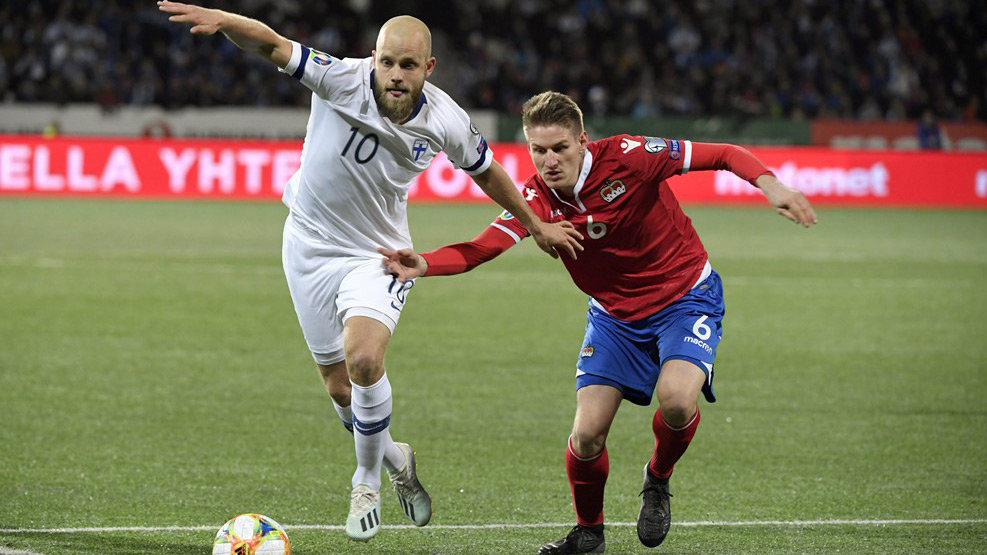 Norwich City striker Teemu Pukki (L) is Finland's star. Photo: UEFAcom/file photo.
The example of Iceland
Finland will relish their appearance in the finals but will find the step up in quality a real challenge.
Successfully passing the group stage and qualifying for the second round would be a huge success for the Eagle Owls.
However, the Finnish team and their fans dream of imitating the example set by the Icelandic team, which in the previous Euro 2016 in France managed to reach the quarterfinals.
The bravery and good play of the Icelanders, who even eliminated England in the round of 16, caused global admiration.
Many Finns rely on what they call 'sisu' (a mix of tenacity and resilience) to make their team match that feat. Let's see if that 'sisu', which the Finns describe as a national trait, works as it is supposed to.