Daniil Medvedev believes he is in a good spot despite letting slip his chance to claim the world number one ranking at the Miami Masters, losing 7-6 (7-5), 6-3 to Hubert Hurkacz on Thursday.
Medvedev had to deal with dizziness and fatigue during the match, taking a medical timeout against the defending champion in Miami, and was disappointed he was not able to produce his best tennis.
The defeat means the 25-year-old will stay behind Novak Djokovic, who has not played on the ATP Tour since losing to Jiri Vesely back in the quarter-finals in Dubai.
Heading into the clay season, the Russian world number two is buoyant after a 4-2 record across Acapulco and Indian Wells.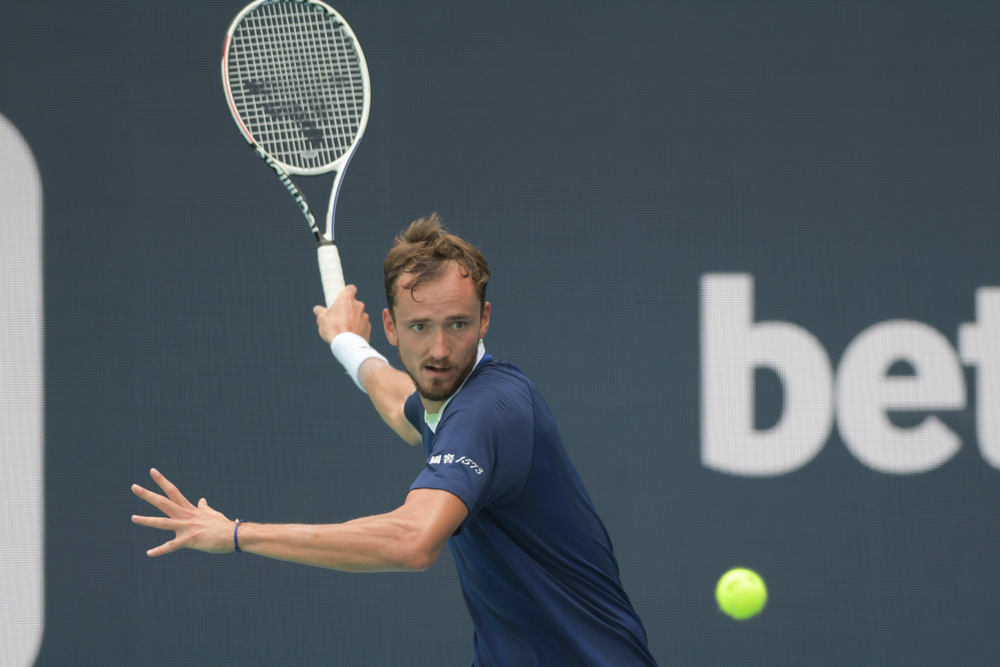 "I'm kind of happy about the tournament in Miami in a way of tennis... I managed in Miami to find just a little spark to make it work," Medvedev said post-match.
"Today was not enough, but I'm happy that I saw that I'm able to do it. I'm in the right direction, so it's good."
Hurkacz Vs Alcaraz
Hurkacz will face Carlos Alcaraz, who made his second ATP 1000 semi-final after a thrilling 6-7 (5-7), 6-3, 7-6 (7-5) victory against Miomir Kecmanovic.
Both Alcaraz and Kecmanovic exhibited extraordinary court coverage in a match-up between two of the more adept returners of serve on the tour, but the 18-year-old Spaniard could simply find a higher gear as points progressed.
Alcaraz played some inspired tennis to break back in the seventh game in the opening set, shifting Kecmanovic around the court to set up a stunning cross-court backhand pass for break point, before stepping in on the second serve to restore parity.
Despite Kecmanovic holding to love in his next two service games, it did not put consequent pressure on his teenage opponent, who forced a tie-break. However, Kecmaovic clawed back from a mini-break to take a riveting opening set.
Hitting 52 winners for the match, the world number 16 pulled out his best tennis of the match in Kecmanovic's opening service game of the second set, coming up with a magnificent lob on the run to set up the break.
Saving break point while serving for the set, he held out to force a deciding third. Coming back from a mini-break in the third set tie-break, Alcaraz ended the match on fitting note, scrambling to the net to slice past Kecmanovic at the end of a frenetic rally.