Finland fought bravely but two goals from Belgium condemned them to a 2-0 defeat in St Petersburg on Monday and an anxious wait to see if their maiden tournament will continue at Euro 2020.
A draw would have given them the runners-up spot in Group B behind perfect Belgium but keeper Lukas Hradecky, who had an inspired game, was helpless when Thomas Vermaelen headed off the post and the ball rebounded off him into the net 15 minutes from time.
Finland's last lingering hopes of automatic qualification ended when Romelu Lukaku fired in another and they finish third in Group B.
They must wait to see if they are one of the four best third-placed sides that reach the last 16.
Denmark beat Russia 4-1 elsewhere to take second on goal difference and leave Russia last with all three teams on three points behind Belgium on nine.
"We didn't reach the goal today to get at least one point to go through from the group stage so in that sense we're disappointed," said Finland coach Markku Kanerva.
"But overall I'm very proud of the work the team has done and the work they did against a very strong team today."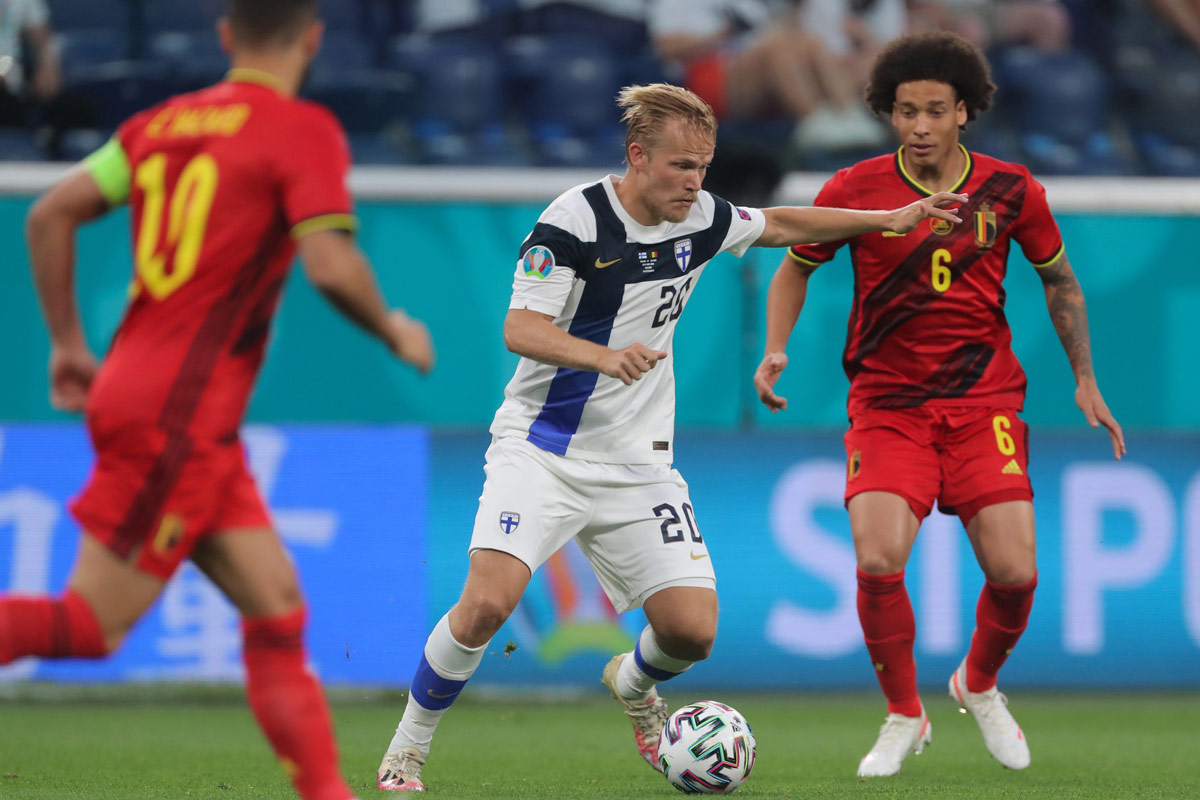 Finland's Joel Pohjanpalo (C) and Belgium's Axel Witsel (R) battle for the ball. Photo: Igor Russak/dpa.
World number one Belgium will face a third-placed team on Sunday in Sevilla with Denmark playing Wales in Amsterdam a day earlier.
"Until now it's been okay but now it's back to zero," Belgium's Kevin De Bruyne said. "We need to see who we'll play. We're in good in form and we'll see what happens."
Belgium rotated their side with recently injured De Bruyne, Eden Hazard and Axel Witsel starting.
But ironically it was defender Vermaelen who sparked the breakthrough with a header from a corner in the 75th minute which struck the post, Hradecky and then scraped over the line.
Kanerva: goal was 'unlucky'
Kanerva said the goal was "unlucky" but admitted Belgium deserved to win.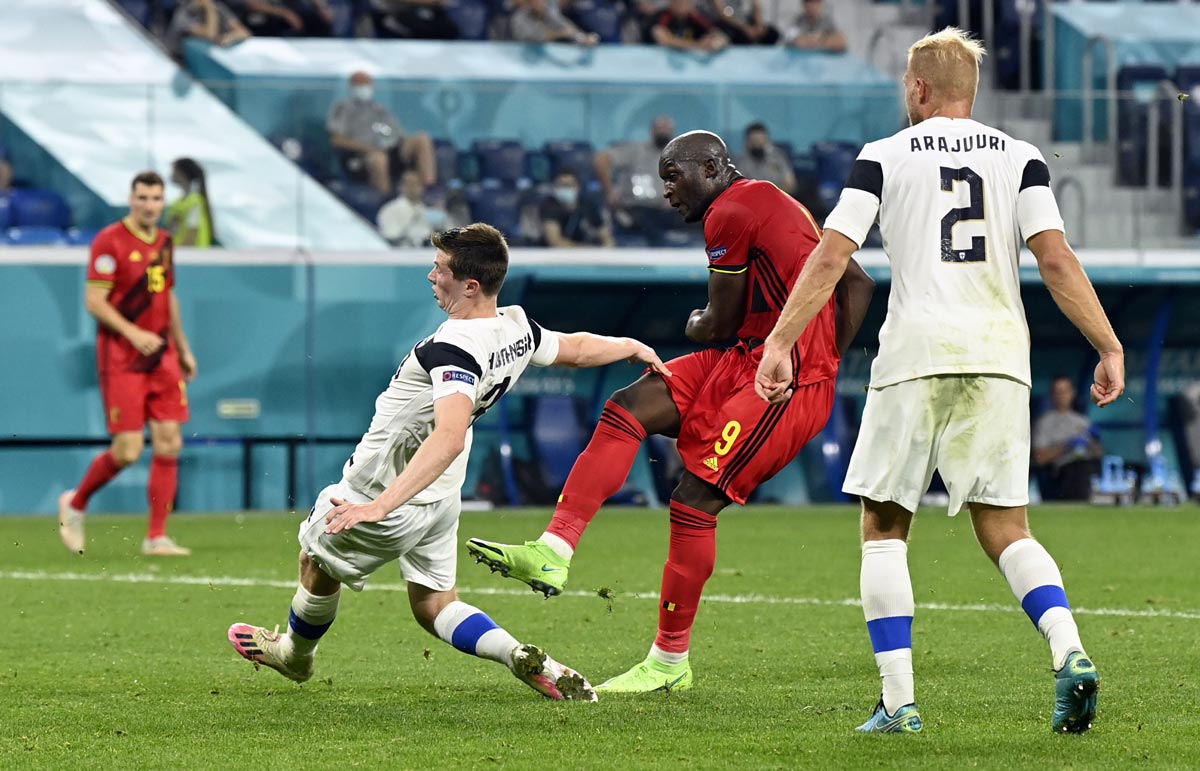 Belgium's Romelu Lukaku (C) scores his side's second goal. Photo: Dirk Waem/dpa.
Bayer Leverkusen's Hradecky had been super in saving from youngster Jeremy Doku and Hazard, twice, though he was beaten by Lukaku only for the forward to be denied by a marginal offside on video review.
That happened as Belgium were turning the screw after struggling initially to crack open the resolute defence.
But once the goal came Finland never looked like levelling and Lukaku's clinical finish nine minutes from time put a fairer gloss on the final score.
De Bruyne: 'A tough game'
"It was a tough game today," said De Bruyne. "We knew that Finland would play very compact and would be difficult to break down.
"But from the moment we scored, we knew they had to come out and it was more open. Our second half was a lot better."
Lukaku now has three goals in three games, level with Netherlands' Georginio Wijnaldum, Cristiano Ronaldo of Portugal and Patrik Schick of the Czech Republic.
Ronaldo and Schick have only played twice.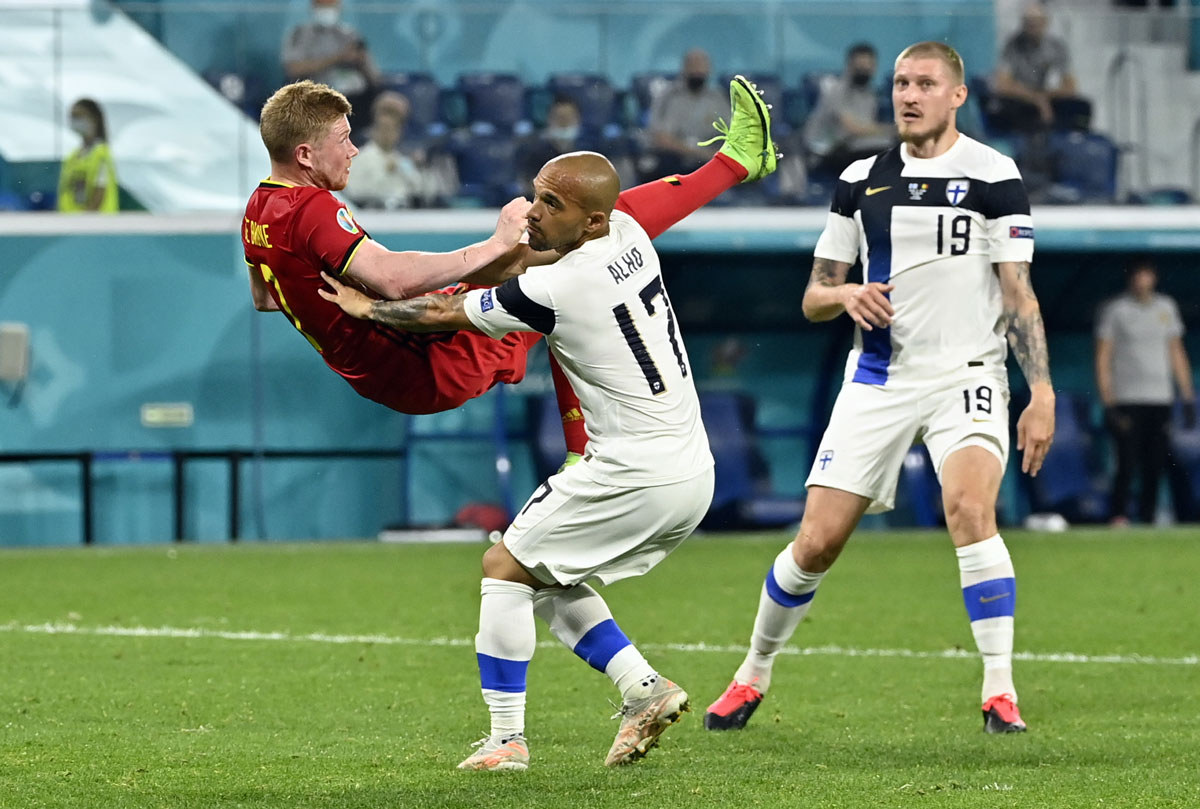 Belgium's Kevin De Bruyne (L) and Finland's Nikolai Alho battle for the ball. Photo: Dirk Waem/dpa.