June 13, 2021 at 12:56 AM
Denmark lost 1-0 against debutants Finland in a Euro 2020 match on Saturday that was suspended for almost two hours after Denmark's Christian Eriksen was rushed to hospital after collapsing on the pitch.
Joel Pohjanpalo headed a surprise winner on the hour as Finland goalkeeper Lukas Hradecky later saved a penalty from Pierre-Emile Hojbjerg.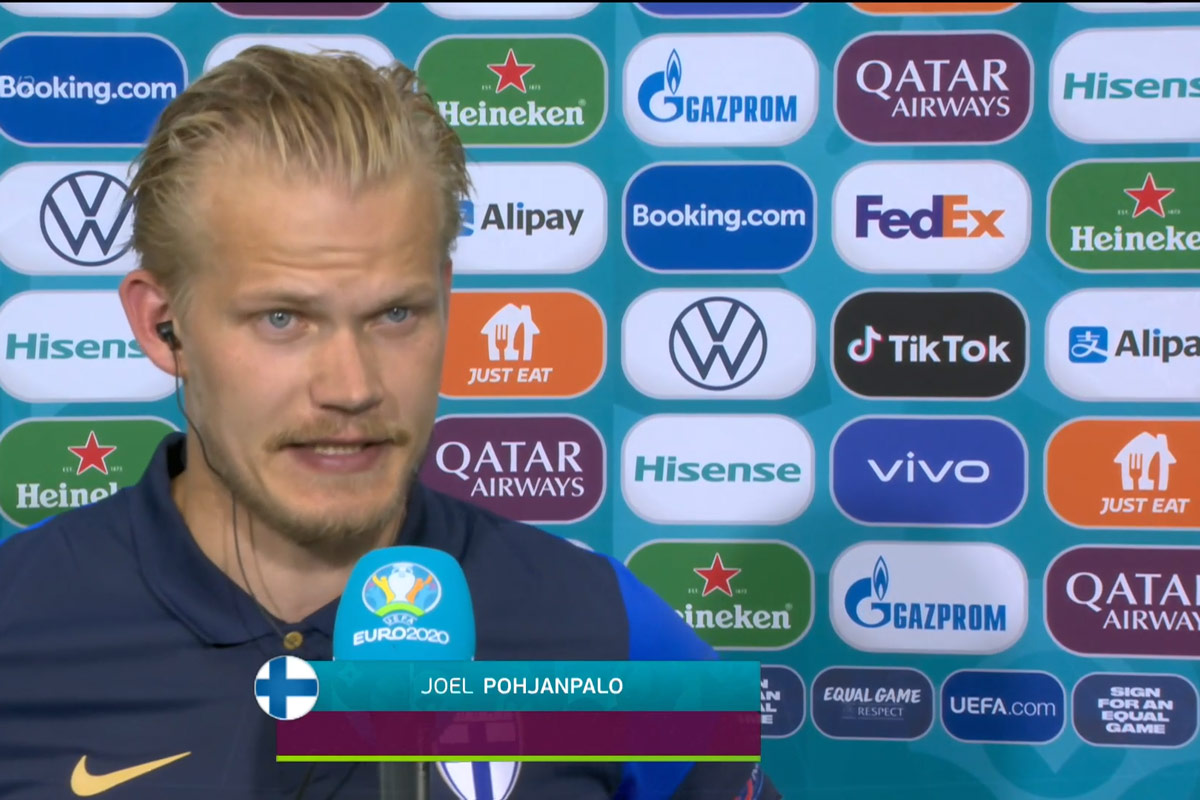 The Finnish scorer, Joel Pohjanpalo. Image: screenshot from TV.
The 1992 champions Denmark failed to score despite dominating the match before and after the shocking incident which occurred shortly before half-time in front of 16,000 at Parken Stadium and made the final score a somewhat secondary event.
German broadcasters ZDF said, citing sources close the Danish team, that the Danish players talked to Eriksen via Facetime before the decision to continue.
The Danish federation said the game resumed "after the players have confirmed that Christian is OK" and the ruling body UEFA tweeted: "Following the request made by players of both teams, UEFA has agreed to restart the match between Denmark and Finland tonight."
A shield of team-mates
Mathias Jensen took Eriksen's place when the game restarted just under two hours after Eriksen went to ground, free of contact from any opponent, in the 43rd minute.
Team-mates formed a shield around the 29-year-old from Italian champions Inter Milan, with everyone on the pitch and in the stadium in shock as he received emergency treatment from paramedics.
Some of the Denmark players had tears in their eyes and UEFA tweeted the match had been "suspended due to a medical emergency."
Eriksen was carried off on a stretcher, shielded by team-mates and two large sheets.
Denmark captain Simon Kjaer and goalkeeeper Kasper Schmeichel comforted Eriksen's partner, Sabrina, on the pitch.
Fans had been asked to remain in the stadium. The Danish FA and UEFA tweeted that Eriksen was OK, with the domestic federation saying: "Christian Eriksen is awake and his condition remains stable. He remains hospitalized at Rigshospitalet for further tests."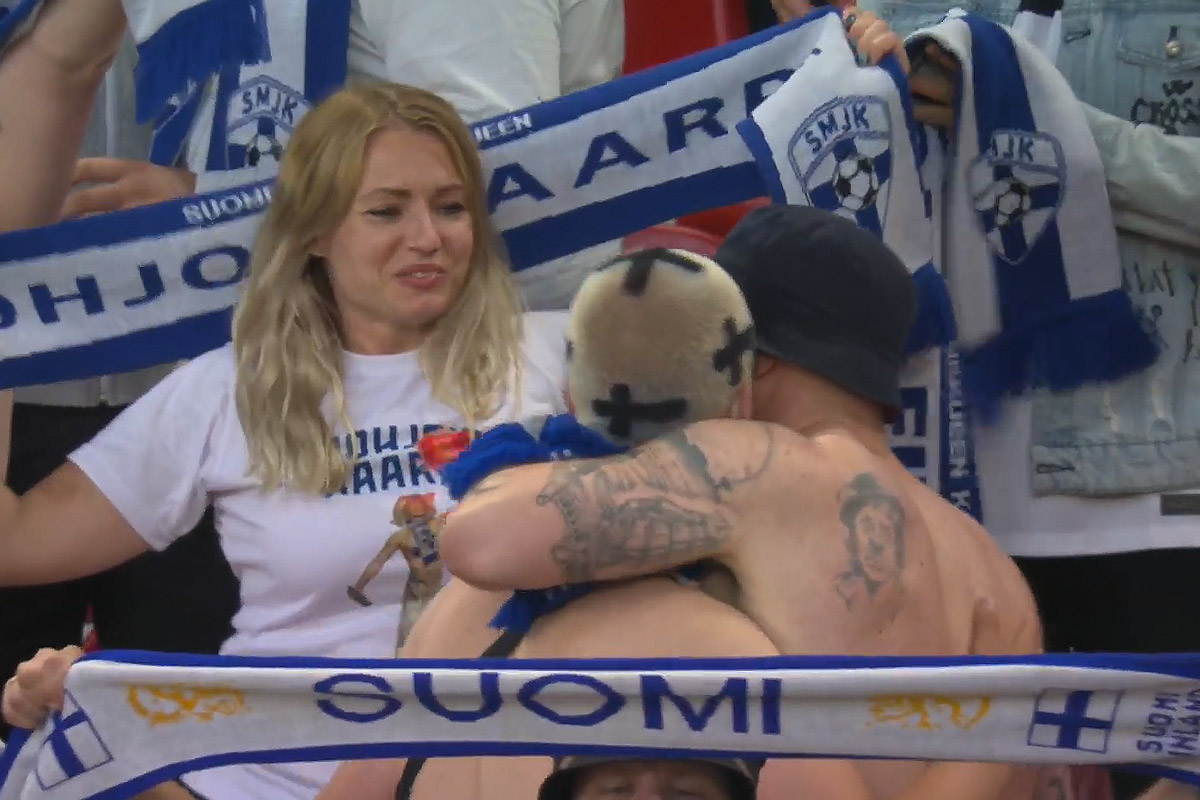 Finnish fans celebrating victory. Photo: screenshot from TV.
Well-wishing
There was plenty of well-wishing for Eriksen from the football community.
"Forza Chris, all of our thoughts are with you!" Inter tweeted, and his ex-club Tottenham Hotspur said: "All of our thoughts are with Christian Eriksen and his family."
UEFA president Aleksander Ceferin said: "Moments like this put everything in life into perspective. I wish Christian a full and speedy recovery and pray his family has strength and faith."
Eriksen had been among those who were frustrated by Hradecky who made his third big save against him in the 18th minute, after diving to his right to deny Jonas Wind and tipping a shot from Hojbjerg over the bar.
But it was the Finns who scored, with Pohjanpalo from Bundesliga club Union Berlin beating his marker to head in a cross from Jere Uronen.
Tottenham's Hojbjerg then wasted a golden opportunity to equalize when his tame 74th-minute penalty into the right corner was saved by Hradecky, after Paulus Arajuuri had brought down Yussuf Poulsen.
The unexpected win put Finland top of Group B, with world ranking leaders Belgium playing Russia in the other group game in St Petersburg later on Saturday.