August 3, 2021 at 9:25 PM
US gymnast Simone Biles took another Olympic bronze medal on the beam on Tuesday after returning to competition following a break to safeguard her mental health.
The 24-year-old, who also managed bronze on the same apparatus at Rio 2016, watched on as China's Guan Chenchen took gold with the last routine by scoring 14.633.
Chinese 18-year-old Tang Xijing took silver with 14.233 as Biles produced a strong 14.000 after a double pike dismount.
Her landing was not totally clean but huge applause rang out from those in attendance at the Ariake Gymnastics Centre, including International Olympic Committee president Thomas Bach.
"It's been a very long week, a very long five years. I didn't expect to medal today, I just wanted to go out and do it for me, and that's what I did," said Biles, who won four golds in Rio to become a global star.
"It definitely feels more special, this bronze, than the balance beam bronze at Rio. I will cherish it for a long time."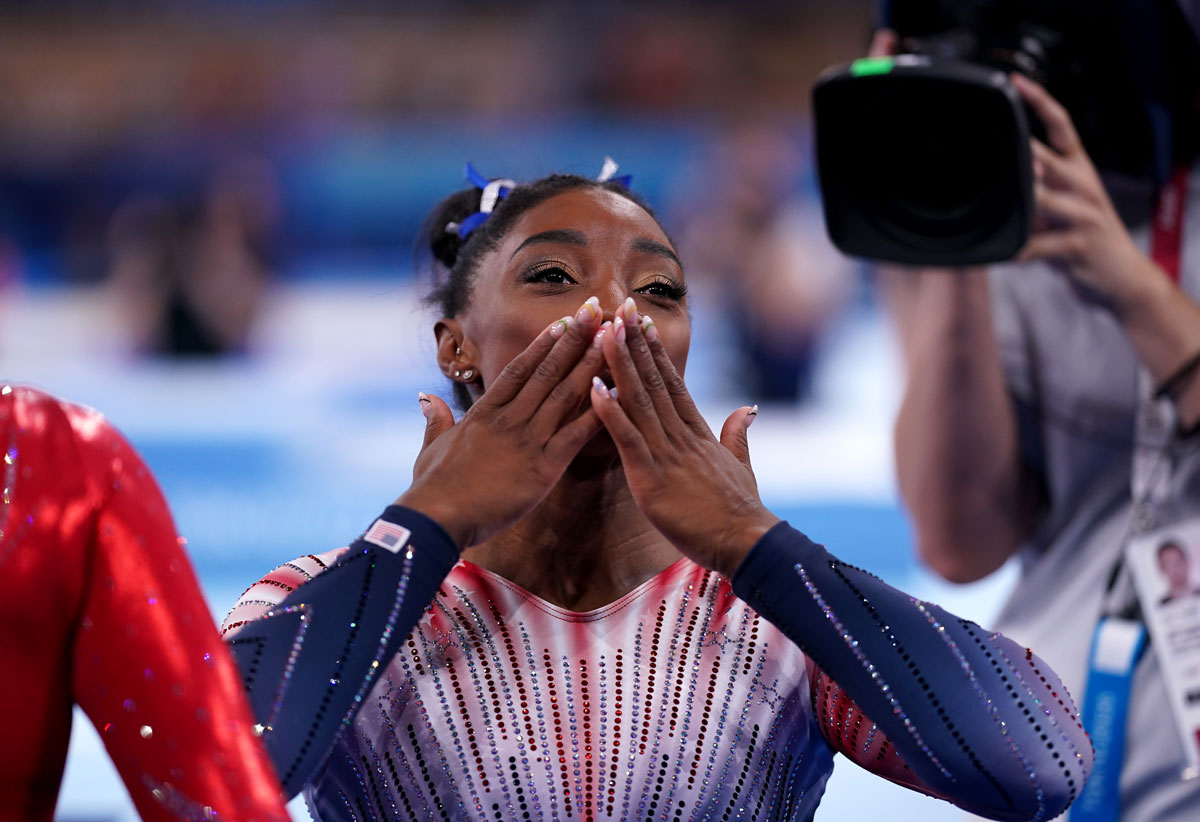 USA's Simone Biles reacts after winning bronze. Photo: Mike Egerton/dpa.
Seventh Olympic medal
The bronze was Biles' seventh Olympic medal overall meaning she is tied with Shannon Miller for the most by a US gymnast.
The balance beam was Biles' last chance to medal again in Tokyo having withdrawn during the team event last week where the US took silver.
Biles then skipped all apparatus finals except the beam as she said she was struggling in training to synchronize mind and body.
She had been seeking a record six golds heading into Tokyo and was seen as one of the biggest stars of the Games.
Her willingness to openly talk about her problems has won widespread praise as sport comes to terms with the fact that even top names struggle with their mental well-being.
Men's competition
China's Zou Jingyuan produced a superb display to take gold in the men's parallel bars, even if he didn't think so himself.
The 23-year-old Zou, a double world champion on the bars who was part of the Chinese team who sealed bronze last week, set a high score of 16.233. Germany's Lukas Dauser secured silver and Turkey's Ferhat Arican bagged bronze.
"Actually I don't feel I did a very good job, and I don't know why I still got the gold medal," Zou said.
Daiki Hashimoto of Japan added the horizontal bar title to the individual all-around gold he won last week as he prevailed ahead of 2017 world champion Tin Srbic of Croatia and Russian Nikita Nagornyy.
Overall in artistic gymnastics in Tokyo, China ended up with the most golds with three compared to two for the US and Japan via Hashimoto while the Russians took the two team titles.