February 4, 2022 at 3:52 PM
The Beijing Winter Olympics were opened on Friday by Chinese President Xi Jinping in a ceremony featuring spectacular visual effects and a plea from International Olympic Committee (IOC) chief Thomas Bach to "give peace a chance."
Xi, who along with Bach and everyone else was wearing a face mask owing to the ongoing coronavirus pandemic, kicked off the Games before two young Chinese athletes, cross-country skier Dinigeer Yilamujiang and Nordic combined skier Zhao Jiawen, lit the snow-flaked formed Olympic cauldron at National Stadium.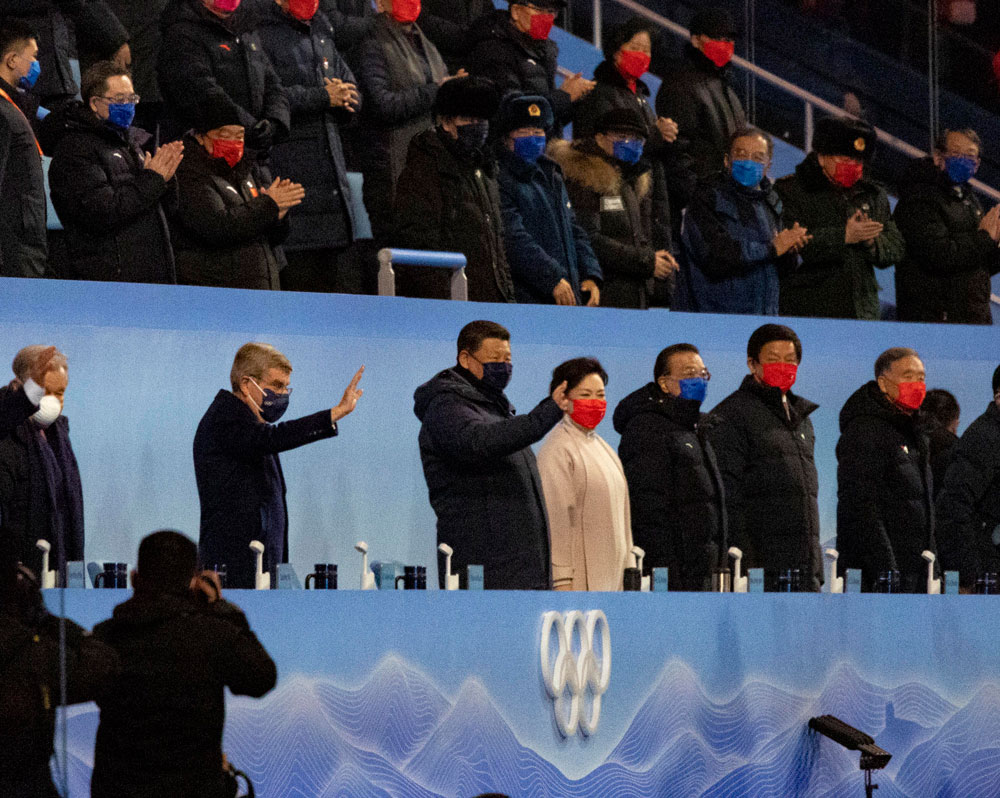 Xi Jinping (3rd L) and Thomas Bach (2nd L) arrive for the opening ceremony. Photo: Daniel A. Anderson/dpa.
Some 2,900 athletes from 91 countries are to compete until February 20 for 109 gold medals in seven sports and 15 disciplines amid a strict health protocol and against the backdrop of political tensions directed at China but also concerning the Russian policy towards Ukraine.
Several mainly western nations led by the US are not sending government officials in protest of China's human rights record in connection with threats towards Taiwan, the suppression of the democracy movement in Hong Kong and the treatment of ethnic minorities such as the Uighur people.
"In the Olympic spirit of peace, I appeal to all political authorities around the globe" to "give peace a chance" by observing the Olympic Truce, Bach said in his speech.
"In our fragile world, where division, conflict and mistrust are on the rise, we show the world: yes, it is possible to be fierce rivals while at the same time living peacefully and respectfully together," he said, insisting: "There will be no discrimination for any reason whatsoever."
Looking at the ongoing pandemic, he added: "Thank you for making these Olympic Winter Games happen. And making them happen in a safe way." He said "our heart goes out to the athletes" who are missing the Games owing to the virus.
Organizing committee chief Cai Qi pledged "simple, safe and great Games."
Putin in Beijing
Russian President Vladimir Putin, who earlier Friday held talks with Xi, and United Nations secretary general António Guterres, were among dignitaries present as Beijing became the first city to stage Summer and Winter Olympics.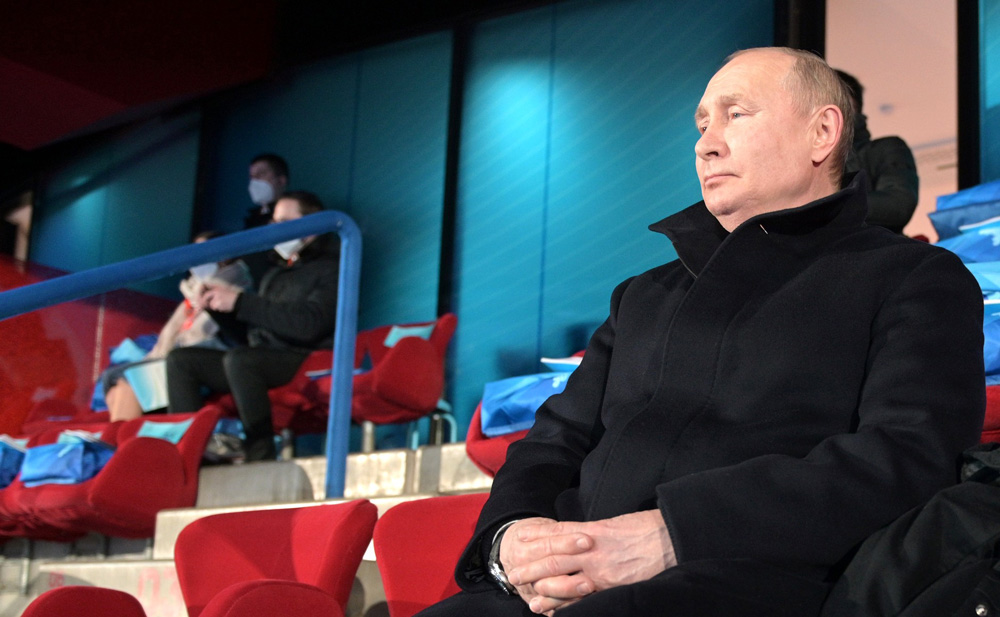 Putin attends the opening ceremony at the Bird's Nest National Stadium. Photo: Kremlin.
The same arena held the lavish opening of the Beijing 2008 Summer Games but Friday's event had a very different feeling.
The director was the same in Zhang Yimou but this time the 110-minute ceremony featured no stars, professional singers or dancers - and rather 3,000 university and school students as well as ordinary citizens.
Themed "One World, One Country," it impressed with extraordinary visual effects to showcase China, the solar terms of its lunar calendar, ice and snow, as well as paying tribute to previous Olympic Winter Games hosts.
The main stage was an LED screen of 11,600 square metres which together with lasers and fireworks provided the visual effects for the half-full attendance and millions more via TV around the world.
Flag bearers in the parade of nations included German speed skater Claudia Pechstein, the first woman set to compete at eight Winter Olympics.
Skeleton slider Nathan Crumpton carried the American Samoa flag well-oiled and bare-chested, wearing only a traditional skirt-like cloth around his waist despite the sub-zero temperatures, bringing back memories of Tonga's Pita Taufatofua who did the same in 2016, 2018 and 2021.
One of the biggest cheers apart from that for the host team, which came last according to tradition, was for the Russians who are again competing without national symbols owing to doping related sanctions. The US team and others from the west got muted receptions.