November 5, 2021 at 9:29 AM
During the period from January to September 2021, the Spanish security forces (Police, Civil Guard, autonomous and local police forces) registered 1,421,344 criminal offenses, according to the latest data published by the Ministry of the Interior.
This figure represents an increase of 8.5% compared to 2020, when there were 1,310,315 criminal offenses within the exceptional situation caused by the restrictions of the pandemic, which caused a decrease in crime.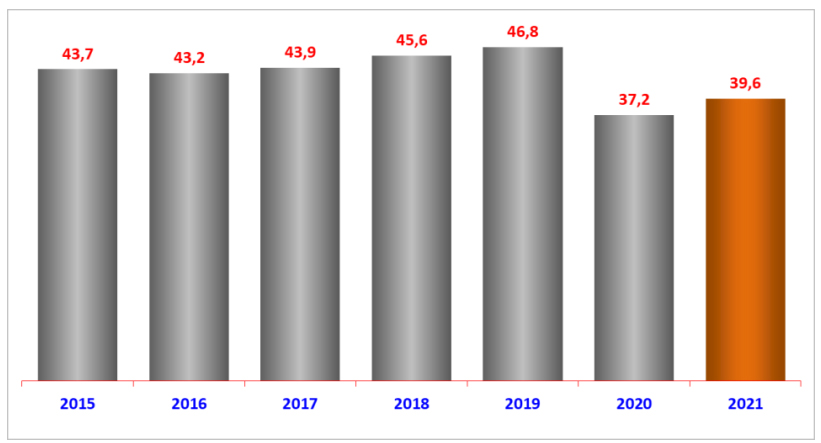 Source: Ministry of the Interior.
Despite the rise, which places crime in Spain again at levels similar to those of the years prior to the pandemic, the government highlights that the data up to 30 September shows a decrease in the crime rate to 39.6 offenses per thousand inhabitants, the lowest in recent history except for the atypical year 2020.
The most alarming sign included in the report of the Ministry of the Interior is the strong increase in sexual assaults. Between January and September there were 12,638, which represents an increase of 27% year-on-year.
In the case of penetrative sexual assaults (rapes), there were 1,601 and the rise is 30%.
Compared to 2019
The government report highlights that so far in 2021 crime has decreased compared to 2019, the year before the pandemic, in large part of criminal offenses. For example, there were decreases in the number of intentional homicides and murders, injuries, robberies with violence, robbery with force, theft and other crimes against property. .
Again, the statistical decline is spoiled by the sharp increase in registered sexual crimes (12,638 between January and September 2021 compared to 11,571 in the same period of 2019, with an increase of 9.2%). In the case of rapes, the increase registered up to September is 14%.
The Ministry of the Interior says that when looking at the data, one must also take into account the policies promoted by the government to increase "social awareness" about this problem, which have led to a greater willingness of victims to report sexual crimes to the authorities.