December 21, 2021 at 7:05 PM
The Spanish Police arrested two men in Murcia who were managing an illegal drug sales point where, in addition to supplying their clients with all kinds of narcotics, they allowed them to consume inside.
According to police information, in one of the searches carried out, the police found a template on the wall where customers signed up and participated to win a narco-basket in the case of hitting the last two figures of the Christmas Lottery draws (El Gordo de Navidad, to be held on 22 December) or El Niño (6 January).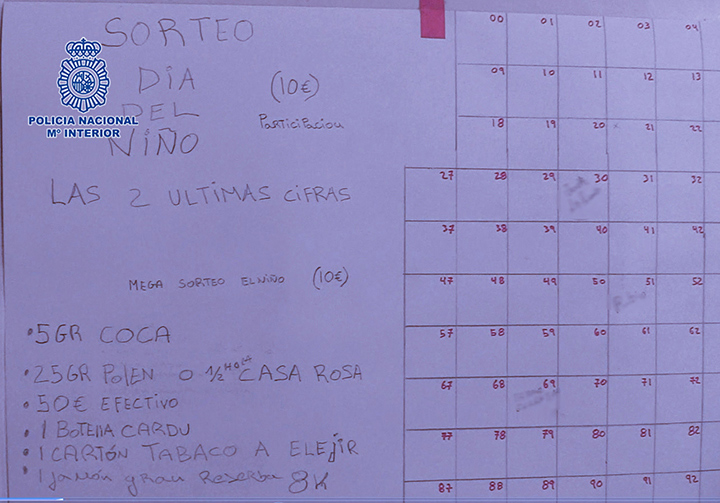 Template with the bets for the El Nino Lottery draw. Photo: Policia Nacional.
The first prize included various amounts of cocaine, hashish, alcohol, cash and even a ham.
In the operation, the police arrested two people and seized 165 marijuana plants, a kilo of minced marijuana, more than five kilograms of marijuana buds, and various amounts of cocaine and hashish. They also dismantled an indoor crop made up of 33 halogen lamps, transformers, an extractor and four air conditioners used to grow the drug.
In conducting the search, the investigators found something surprising and never seen before by the police: The detainees had made a huge template on the wall of the home for consumers to participate in the raffle for a basket of drugs.
The winning basket
After betting a different amount of money - 5 euros for the Christmas draw and 10 euros for El Niño - to get the last two figures right, the winning basket included cocaine, hashish, alcohol, tobacco, cash and even a ham of eight kilos.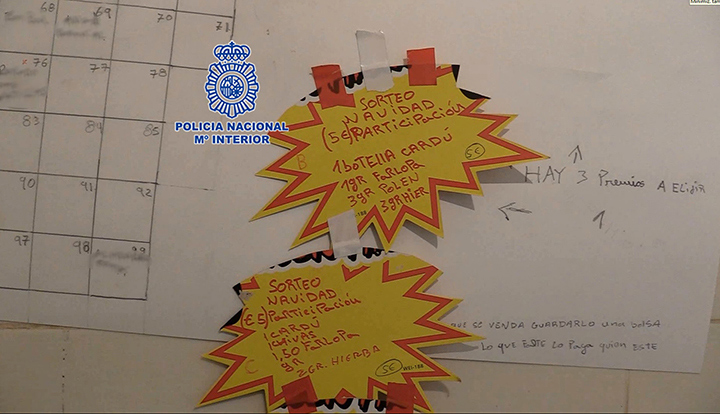 Template with the bets for the Christmas Lottery draw. Photo: Policia Nacional.
Those arrested are two men of 30 and 45 years of age, one of Spanish nationality and the other Argentine.
They were brought before the judicial authority as alleged perpetrators of a crime of drug trafficking and another of fraud of electricity, for having illegal connections to the electricity network.