Jan-Uwe Ronneburger October 20, 2021 at 6:23 PM
A decade after the Basque terrorist group ETA renounced violence and disbanded, its legacy remains divisive in Spain, where separatist movements continue to play a central role in national politics.
Pablo Casado, leader of the conservative People's Party PP, the largest Spanish opposition party, has accused the left-wing government of Prime Minister Pedro Sanchez of attempting to "whitewash" ETA.
"ETA was brought down by the police and not by concessions by (former prime minister) Zapatero," Casado said in parliament on Wednesday.
He added that he suspected the government wanted to release former ETA members convicted of terrorist offences in exchange for the support of Basque MPs for the government's draft 2022 budget.
Sanchez rejected Casado's accusation. "The end of violence has been a success for democracy. I don't see how it can't be celebrated," he said, adding that there were no plans to release ETA prisoners.
It was under former Socialist prime minister Jose Luis Rodriguez Zapatero that ETA renounced terrorism in the struggle for Basque independence on October 20, 2011, after 43 years.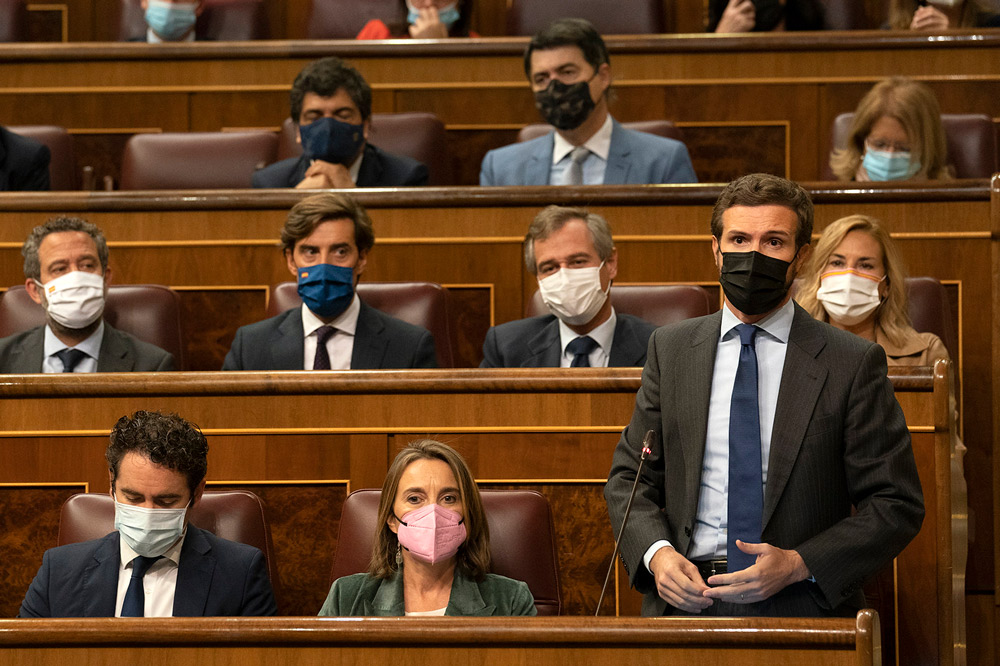 The leader of the right-wing People's Party (PP), Pablo Casado (R), speaks in Parliament. Photo: PP.
Euskadi Ta Askatasuna, which means Basque Country and Freedom in the Basque language and began as an anti-Franco resistance group, asked forgiveness from all "innocent" victims of its past attacks in 2018.
315 unsolved killings
"Mistakes or poor decisions" had lead to the deaths of many with no connection to the political situation, the statement said.
ETA waged a bloody struggle for an independent Basque state for decades, killing a total of 857 people and injuring a further 2,600 in its approximately 3,000 attacks.
To date, at least 315 of the killings carried out by ETA remain unsolved, the newspaper La Vanguardia reported, citing the Association of Victims of Terrorism, a support group for those injured in terrorist attacks.
There are currently 206 former ETA members still serving prison sentences for their roles in terrorist attacks, of whom 184 are in Spain and 22 are in France.