December 30, 2021 at 10:47 AM
Prices in Spain continue to skyrocket. That means in practice that families can buy less with their wages and savings, because the money they have is worth less.
The annual rate of the Consumer Price Index (CPI) rose again in the last month of 2021, reaching 6.7%. This is the highest rate since March 1992, almost 30 years ago.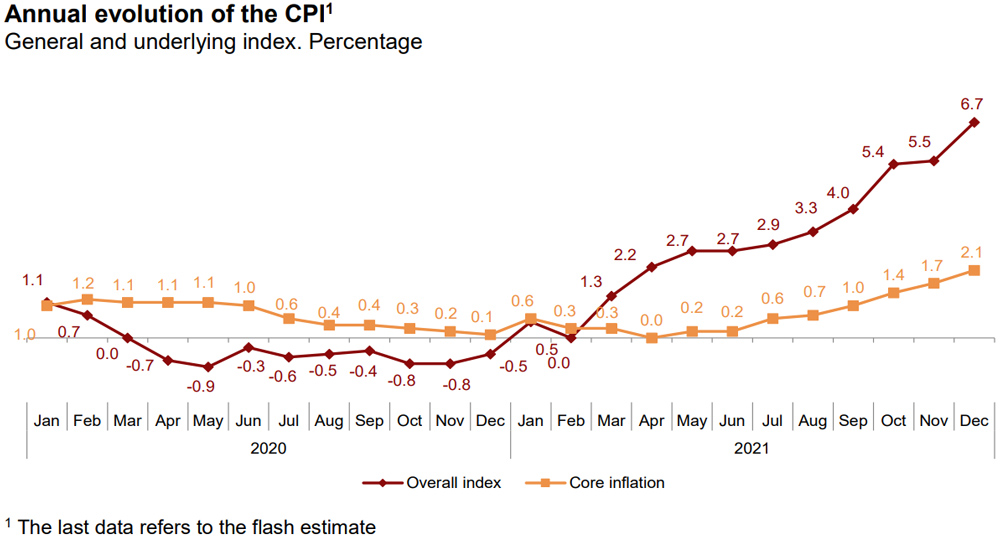 Source: INE.
This is the flash estimate published at the end of the year by the National Institute of Statistics (INE). "If confirmed, it would mean an increase of more than one point in its annual rate, since in November this variation it was 5.5%," explains the statistical office in a press release.
According to the INE, in this evolution the annual rise in the price of electricity stands out, which is much higher this month than in December 2020.
Rising food prices also drove inflation, albeit to a lesser extent, compared to the decline recorded last year.
Core inflation
The statistical office also notes, although in the opposite direction, the drop in the prices of fuels and lubricants for personal vehicles, which increased in 2020.
The estimated annual variation rate of core inflation (general index excluding unprocessed food and energy products) increased four tenths in December, to 2.1%. Therefore, it is almost five points below the general CPI rate.