March 11, 2022 at 10:21 AM
The Spanish National Institute of Statistics (INE) corrected its own estimate of inflation for February two tenths upwards on Friday. The prices of goods and services actually increased by 7.6%, their biggest increase since December 1986, when the CPI rose by 8.3%.
The costs associated with housing, especially electricity and heating oil, were the main responsible for the increase, shooting up 25.4% in February.
The prices of products and services linked to transportation (+12.8%) are also out of control, due to the increase in gasoline and diesel
Food and non-alcoholic beverages rose by 5.6%, with the INE highlighting the increase in the cost of basic foods such as bread and cereals; legumes and vegetables; milk, cheese and eggs and fruits.
The increase in prices is a general phenomenon in Spain, which cannot only be explained by temporary factors such as the war in Ukraine. Proof of this is the high core inflation, which does not take into account the most volatile elements such as energy and fresh food.
In February, the core inflation stood at 3%, its highest rate since September 2008, although it is still 4 and a half percentage points lower than the general Consumer Price Index (CPI).
Inflation by region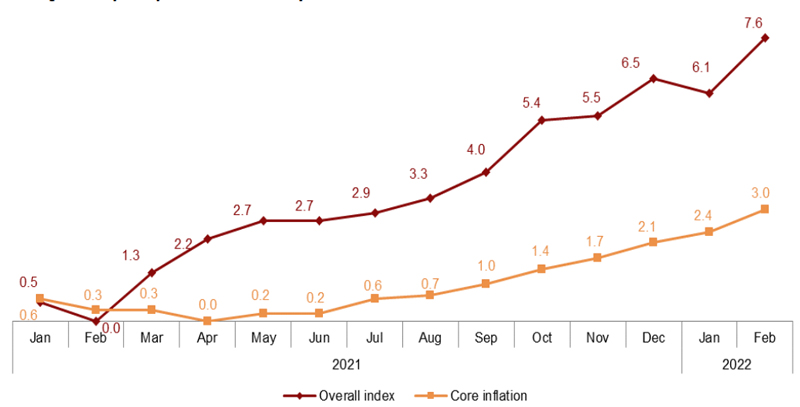 Inflation is uneven by region. The Spaniards that most noticed the rise in prices were those who live in Castilla-La Mancha (9%); followed by Aragon and Castilla y Leon (both 8.5%), Extremadura and La Rioja (both 8.1%) and Galicia (8%).
Those that had a slightest increase in the CPI were the Canary Islands and Ceuta (6.8%), the Community of Madrid (6.9%) and Catalonia (7.4%).
The monthly increase in inflation is 0.8 points.